So I have had a few people ask me how to install the led lights behind the grill like I have, So i decided I would make a guide to the simple procedure.
Pic=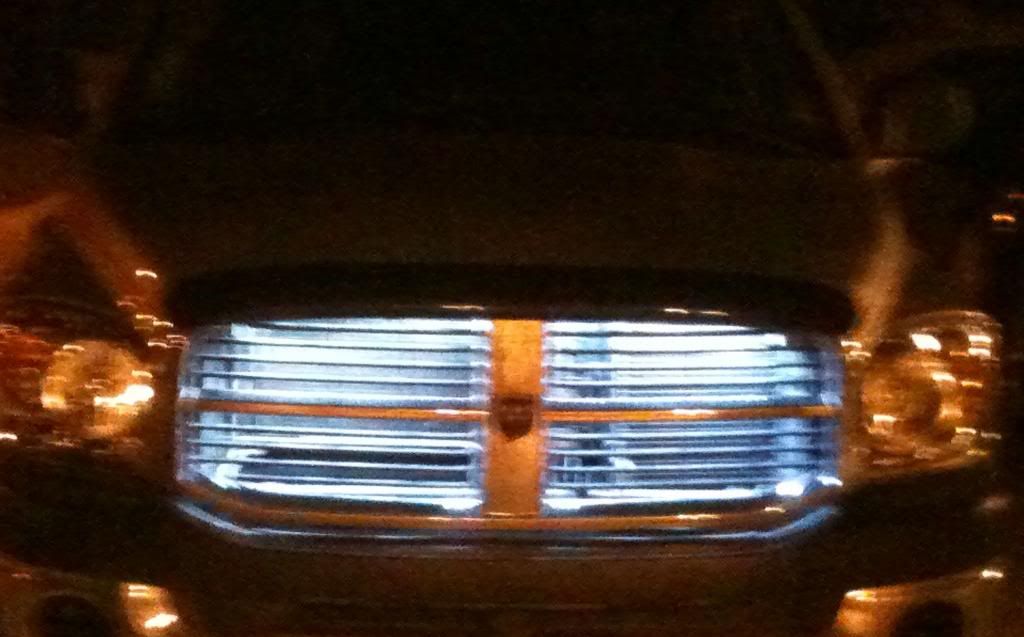 So first the supplies needed.
(1)Tube fuse and cover with wiring, make sure it is fast blow..(recommended to buy extra fuses as I did blow a few during set up and had to test different amp fuses to find the proper one.. I believe it is 10amp in mine now).. if 10 amp doesn't work.. Try different sizes.
http://thumbs1.ebaystatic.com/m/myQy...6vvagw/140.jpg
(2)Led strip, weather proof.. either 2 12" or a 24"( 24 is easier for wiring).
http://www.canadiantire.ca/AST/brows....jsp?locale=en
(3) Toggle Switch=15amp 12V
http://www.canadiantire.ca/AST/brows....jsp?locale=en
(4)14 gauge wiring
(5) electrical tape
(6) connectors, Both hoops and wire to wire connectors.
(7) wire crimpers, cutters
Sooo.
I ran a wire(4) from the battery to the fuse(1), from the fuse(1) through the firewall (went through main grommet with wiring(4)) to a switch(3) that I mounted inside.. then from the switch(3) a wire(4) back through the firewall all the way to the light strip(2).. I mounted the light strip(2) on the horizontal pillar with the hood latch on it right infront of the rad... and then from the light strip(2) I ran a wire(4) for a ground for the leds to the truck, I already had a ground set up for my HIDS, but any strong metal place would work. I made sure to use plenty of electrical tape to wrap all connections, and used zipp ties to secure the LED's(2) to the horizontal pillar incase the double sided tape ever gives out.
It is fairly simple to do.. I reconmend being gentle on the Led's wiring because I noticed that the saudering wasn't the best and could probably be pulled out easily if not taking care during set up. It is a lot easier then how it sounds.
Feel free to ask any questions or to see closer pictures as I will answer as fast as possible.