Story time!!!
So I got the truck and drove it about 1400 miles before picking up a set of Bilstien 5100s for it. Purchased 4 Treadwright Guard Dogs (retreads, can't tell what so ever) about 3 weeks prior and got them the same day as the shocks. At the same time I bought the shocks, I bought 4 Black Rock steel D-Window rims from Jegs.com (military discount). The website said they were going to SHIP ON the 24th of April. Awesome!! But it never really works out as intended, does it?
The Friday after I got my shocks and tires, anticipating on getting the rims a day or 2 later, I went ahead and delved into the level kit. Not too difficult... Hardest part was the first side and figuring out how to get the A-Arm to go low enough to remove the shock (HINT: Unbolt the TOP of the sway bar link). After we got that, I pretty much single handed installed the other side in the course of an hour.
Here she is the following morning:
Come Monday, the rims still hadn't gotten there (That would have been the 29th of April, 5 days after they supposedly shipped.) I even checked my Jegs account and they said STATUS SHIPPED, but no tracking. I was really disappointed because I was going camping that evening and wanted to take the truck on new tires. But my dumbass decided to take it anyways as we weren't going on any trails. Mainly just to get to a camping spot we needed to get through a small dip. Well, I ended up hitting a small rock at about 3-4 MPH and shredded the left front tire (massive hole in sidewall). In the morning, I noticed my left front was flat as well!! One spare, 75 miles from Vegas. Awesome... Anywho, truck had to stay back and my buddy picked me and a friend up and we went home. Made it back out last Friday to get the truck using my other friend's spare. But the same dip I made it through loaded down with wood and gear was proving impossible to do the opposite direction with 1/2 the wood and all the gear I started out with. I was pushing dirt and rocks with the POS plastic front "bumper". We had to build a small bridge using a few rocks. My buddy's leveled 02 Dodge Dakota made it no problem.
So I called Jeg's last Friday evening and finally got ahold of someone. They informed me they had sent the request to the manufacturer to build the rims on the 24th (even though the site said would SHIP on the 24th) and I should have them in 4-6 weeks. This wouldn't do so I cancelled my order and placed an order with Summit Racing at 5 PM Friday night. At 9 PM I received an email stating they had shipped. I LOVE SUMMIT!!! I got them Monday mid-day. I also decided on the circle windows rather than the D-window. Dunno why, just tickled my fancy at that time.
So I got off work this morning and raced home to load everything up and head to Discount Tire. All was going well, booked me in and everything until one of the service managers came and looked at the tires. He said "Treadwright? Never heard of em." And my big mouth let slip they were "retreads". Immediately they started saying they couldn't do those and they were unsafe and I shouldn't drive on them. Blah blah blah. "Just 2 seconds ago, you guys were willing to mount them. You can't even tell they're retreads, so what difference does it make?" They fed me some line about liability and store policy. Whatever. So I drove down the road to Tire Works, same place I had my alignment down the Saturday after I leveled it. Never even said one word about the tires. Nothing. Remembered me and started shooting the breeze and then after they'd mounted the tires I asked them if they noticed anything about the tires that was odd. They said no and they looked utterly perplexed. I told them about the Discount Tire guys and the tires and gave them some background. The first thing the guys said was they couldn't tell they were retreads and they wanted a set for themselves when I told them what I paid! Haha
Anywho, here she is in all her glory!!!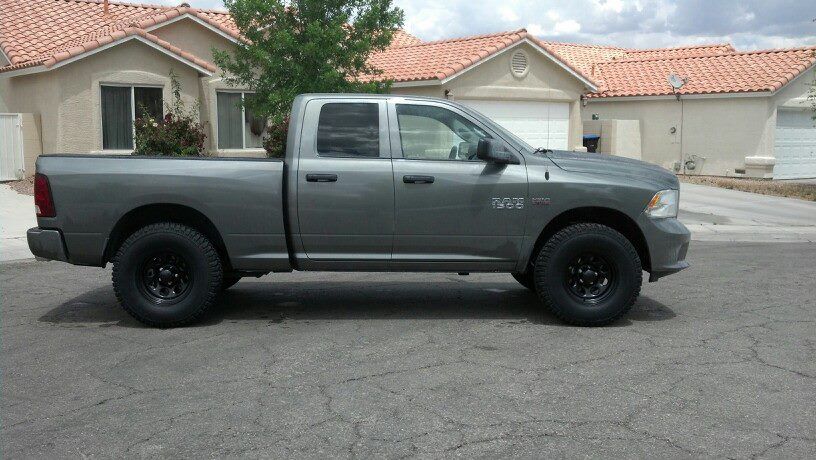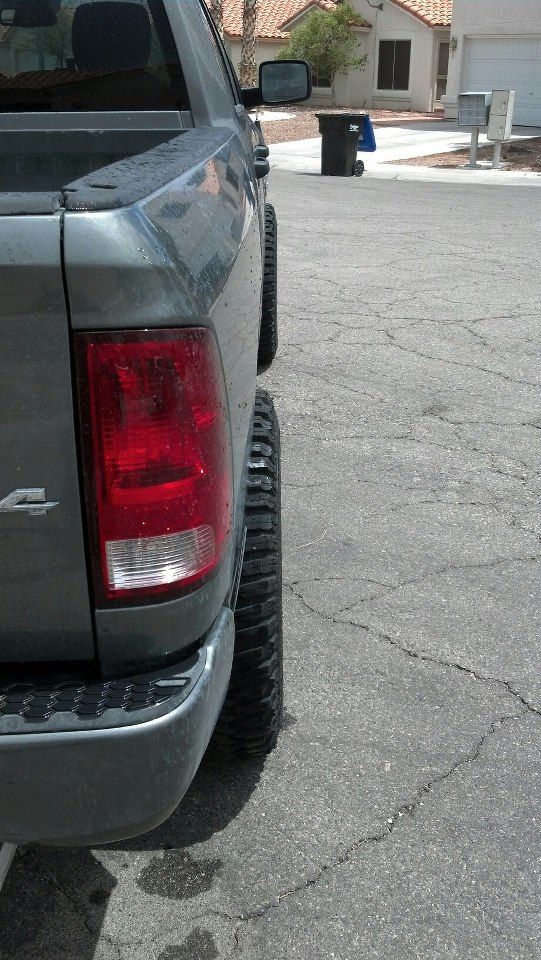 As she sits, she's 1" high in the back, but you can't really tell and a little rake isn't killing me. The rims are 17x9, 4.5" Backspace, -13mm offset Black Rock steelies. Tires measure about 34" (advertised as 34.7") in diameter on the truck.
Future mods to include: Homemade bumper, smoked tails with added brake light bar, tinted front windows to match rear, new black headlights, billet grill, spray in bed liner, CAI perhaps?