The next hose goes from the bottom of the hydrobooster to the bottom of the rack. Now, the hose I got had the end cut off so I don't know if the fitting that comes on it will be a direct fit so I just cut the end off the original hose and used another 3/8" coupler to join it together. Now, there are 2 different sizes of hoses on the rack so you actually can't screw this up.
The next hose you need to install is the factory hose from the top of the rack to one side of the cooler. It doesn't matter which port you use on the cooler.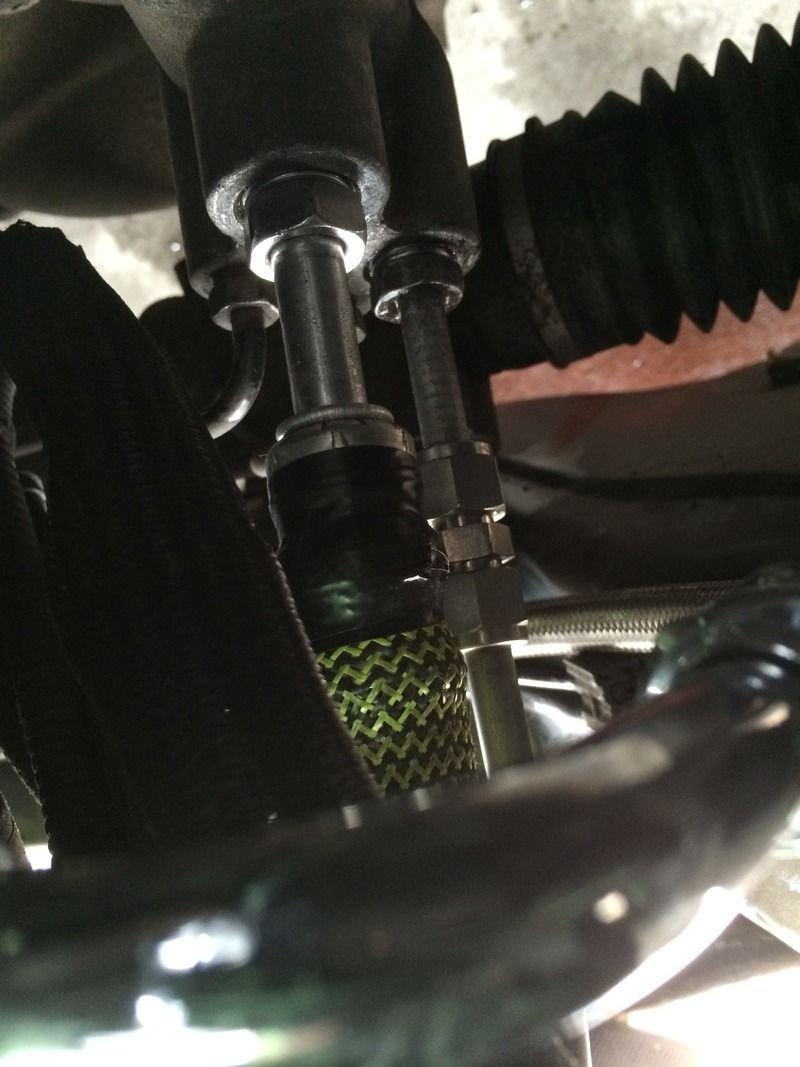 And the last hose is the tee'd hose. The small 3/8" hose runs up to the hydroboost overflow return, and the main ends go from the other end of the cooler to the bottom of the power steering pump reservoir. These are not pressure lines so they are just held in place by the factory compression clamps or a worm gear clamp.
Tighten everything back up on the hydraulic side of things. The great thing about o-ring hydraulic fittings, tighten them until snug, no torquing required, just don't crank down on them.
If you got a master cylinder with the same sized brake lines then just hook them up again. If you ended up with smaller lines like me, I just rented a double flaring kit from the local auto parts place and bought a 20" piece of brake line with the correct fitting for the master cylinder and made my own, it's dead simple to do with lots of videos on YouTube about how to do it.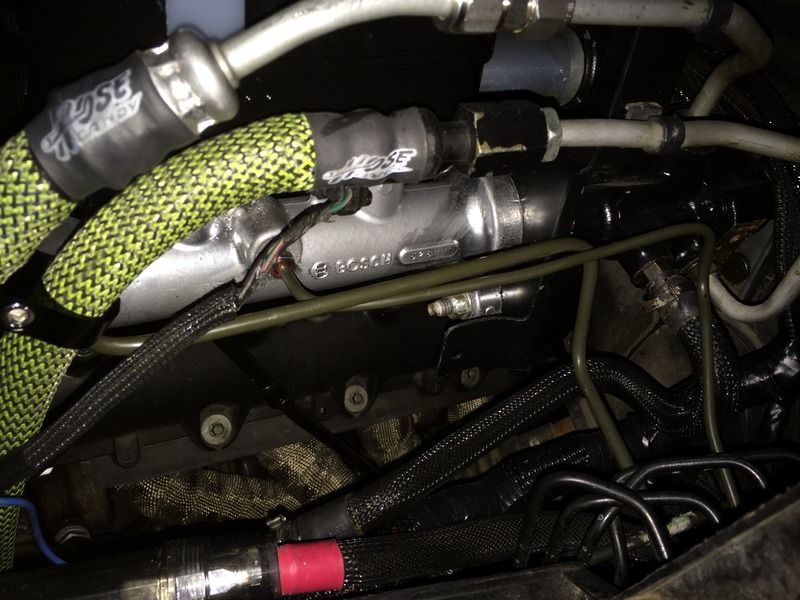 Make sure you tighten the nuts on the inside of the firewall holding the hydrobooster and reinstall the arm to the brake pedal. Plug the factory connector into the reservoir level sensor. The last step is to fill the power steering and brake fluid reservoirs and bleed both of them. Bleed the brakes as per normal, I had issues the first time I did this install just having someone pumping the brakes so I bought a Motive Power Bleeder and it was a night and day difference in how easy it was to do and not have any air trapped in the ABS module.
To bleed the air out of the steering just turn the engine on and turn the steering wheel lock to lock a few times, refill the reservoir, repeat until there's no air bubbles coming out and the level stays constant after several cycles.
Now, besides the MUCH better braking of the hydrobooster over the vacuum booster, you can also see how much room you have to work with to change spark plugs!