Love the "bonus" pics!
Sorry for the delay in updating the thread. As you know I loaded ST onto my trailer and hauled it to Michigan in late July. I placed in storage until our house in Joplin could sell and we could move into the house we have an accepted contingent offer on.
I stopped at Flying J and used the scales just to get an idea of how much weight I was forcing my *cough*F-250*cough* to pull through the Ozark Corridor. Total weight was just over 20K, so 3k to spare according to the manual. Vader, the tow rig, had no trouble even on the steepest inclines.
Just over 800 miles later, here's how things sit now...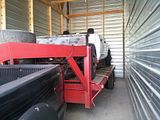 ST is still on the trailer in storage. The storage unit had a 12 ft door, so clearing that wasn't an issue. However, the storage unit only had about 2 inches to spare to allow the door to close.
I've since packed the unit with the mounted wheels and tires that came up separately and ALL my tools.
We are still waiting for our house in Joplin to sell, so we are renting a townhouse in Lansing in the mean time. Until we can move into our permanent home, I'm afraid there will will be no progress on the StormTrooper.