I picked up my wheels today. All things considered, I'm overjoyed Stazworks thought of me when these became available. You'll see their twins in TTC this year due to a change in backspacing by the original customer. For me, it just meant revising my original intent to run with the hubs in. Now with the hubs out, I can add disc breaks in the future if I feel the need.
Also finished getting the hubs freshened up and put back together. I'm replacing all the wheels studs due to their condition and should get them from FleetPride sometime tomorrow.
Ran into a hitch when putting the breaks together. When I bought the calipers, I mistakenly neglected to account for flipped my rear chunk and whole front axle, so my bleed valves are both down.... something I will remedy tomorrow, but they served their purpose for mock-up.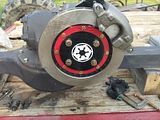 As long as this truck has been in project status, it's been known as StormTrooper, but with all the red I have been instinctively adding, I'm thinking about going with ShockTrooper once the project is over... I can even add some "Shocker" gussets.