2102??? My truck is not from the future it is actually a 2012. I made a typo when posted this and I cannot figure out how to change the thread title, even if there actually is a way to do so.
Anyhow, I would like to start things off by saying this is the BEST Ram forum on the net. I have been doing a lot of web surfing the last few weeks and this forum is the best for advice and information. So, I have decided to make this my home. I have been greeted by some really nice people and have really enjoyed my time here and I have seen a lot of very nice rides posted on here. I am not normally a long winded person, but my new truck has me feeling like a kid again.
I got the bright idea on 12/30/12 that I was going to go truck shopping. A local dealer had an unbelievable ad in the paper and I should have known it was too good to be true. My wife was less than pleased with this idea, but I was only going to go and look. Long story short, the next day I traded in my 2009 GMC Z71 Crew Cab for a 2012 Ram 1500 4x4 Crew Cab Red Wings Edition Misfit/Reject. I should explain why I call it a misfit/reject. The dealer told me the truck was originally shipped to a dealership in Ohio and did not sell, which makes sense. Who in Ohio would buy a Detroit Red Wings Edition truck? The truck did not sell so the dealership in Ohio removed all of the Red Wings logos including those on the seats and had the seats recovered with Katzkin leather with red stitching.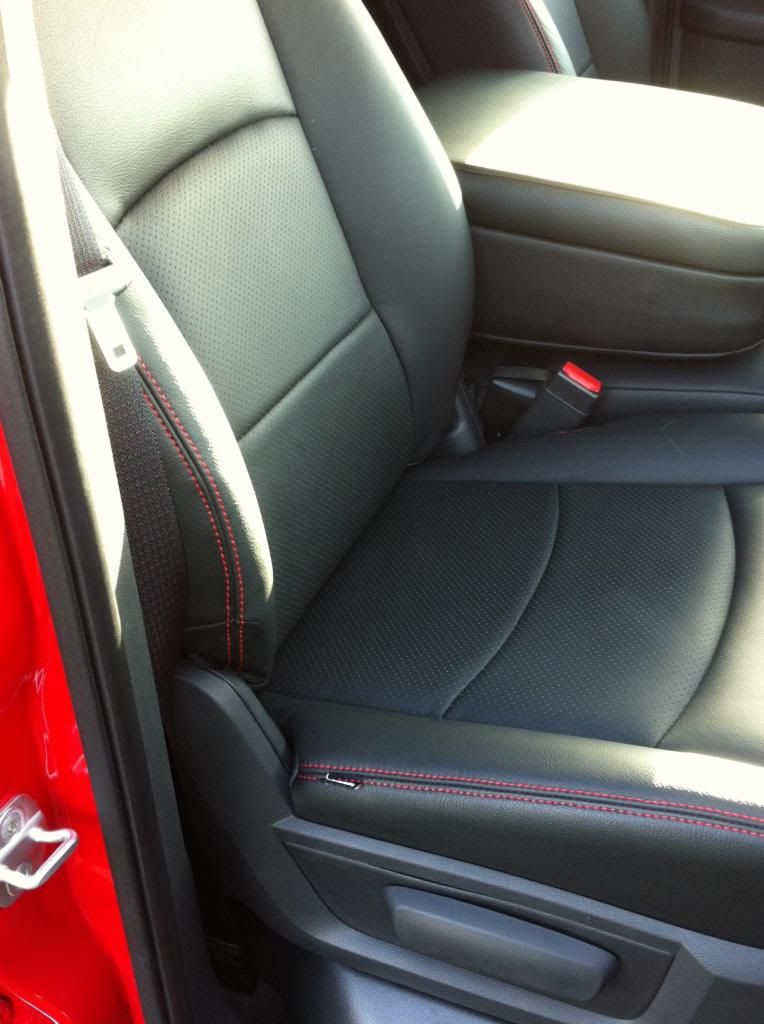 Still no sale, so the truck was sent to the dealership here in Michigan where I purchased it. Wife was not happy and I was in the dog house for a few days, until she got into a fender bender in her SUV. I am a firm believer in the unspoken checks and balances system and I think she might be to. Thankfully no one was hurt and it is just going to be an insurance claim to get her vehicle repaired again (another long story). Needless to say all is good now and she actually told me today that she was happy that I have a new hobby. Hobby? No, more like an addiction, thanks to all of you. I have put together a nice list of things I want to do my new ride.
I thought it would be cool to put something on this forum to keep track of my progress and to get your opinions/advice. Last Saturday I was getting ready to go to the local truck accessory store and buy a tonneau cover. Before leaving I decided to take a look on Craigslist and I stumbled across a Mopar hard folding cover. Considering the price difference in this and the Extang trifold I was going to buy, this was a no brainer. I ended up getting the Mopar cover for $ 400.00 and installed it that day.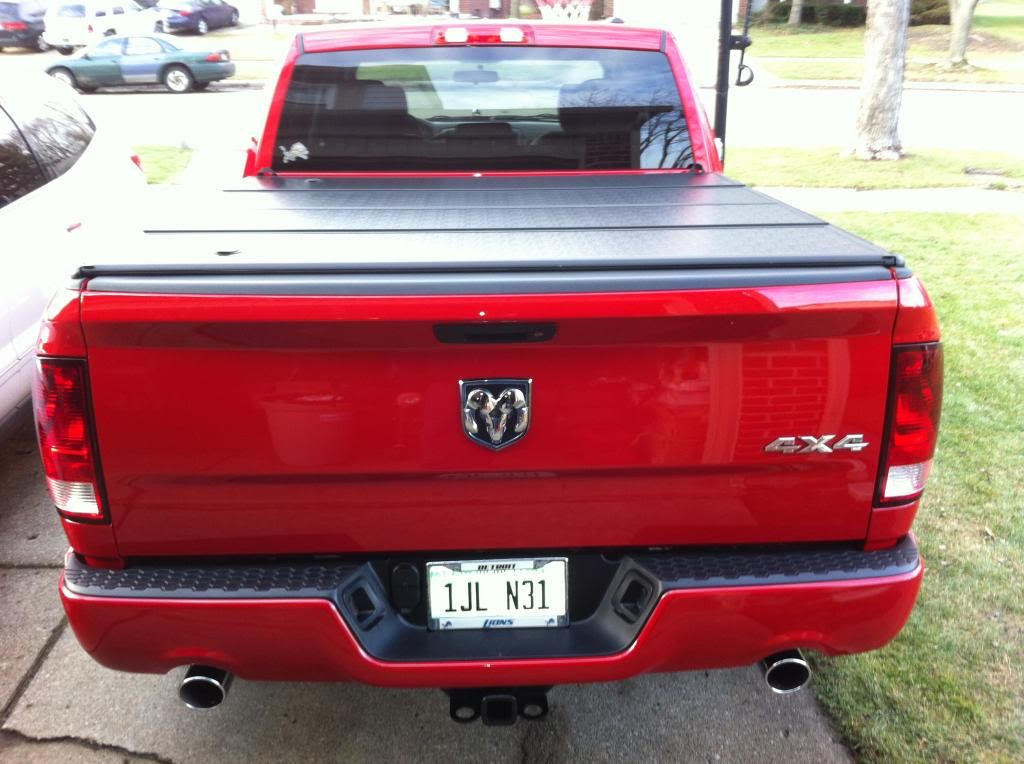 The following morning I went to the auto parts store to get a set of vent shades.
This week I ordered a set of Metallic Silver rally stripes from BMC Extreme Customs. The stripes shown below are darker color possibly charcoal. Mine are going to be a bright silver kind of like the color of the truck shown in the sample photo.
Yesterday I was looking at some things on Ebay and found a very nice gauge face from US Speedo. I think the Silver background with the red outline will really tie things together with the metallic silver rally stripes. Have any of you installed one of these? It does not sound like it will be very hard, but from what I have read about them they are fairly simple to install, but you need to take your time with the gauge needles.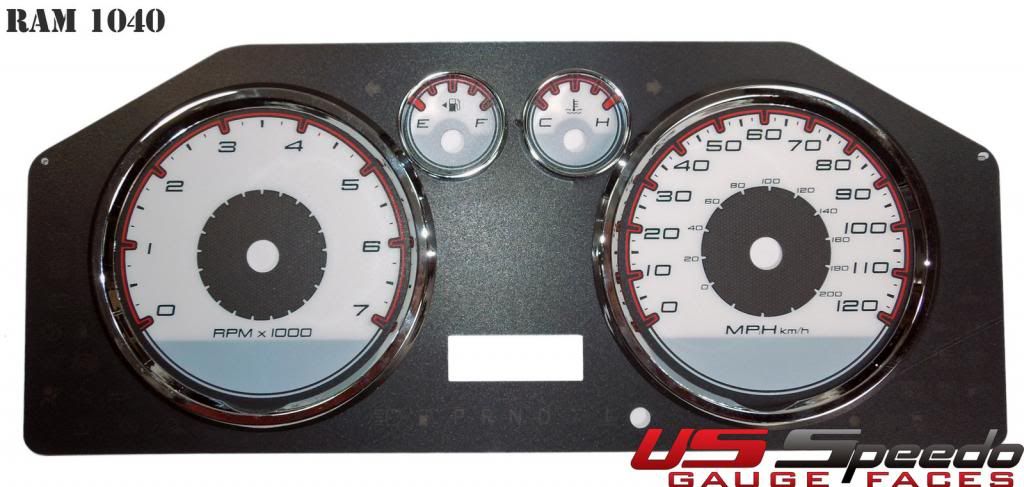 I just reached 600 miles and I am planning on doing the following very soon.
Headlamp & Fog Lamp Upgrade (thinking about Sylvania ZXE's, but it does not look like they offer the 9145's.
Dome Light Bulb Upgrade? (I am not sure what my options are here)
Catch Can
Flex Fan (really like the sound of those and their benefits)
Air box mod (removing the splash guard behind the headlamp)
Homemade Cowl Induction (I was thinking about cutting the hood seal along the cowl/firewall underneath the raised portion of the hood to allow hot air out and cool air in)
Cannot wait to get rid of the factory engine oil and put in some Royal Purple to go with the Royal Purple Ice I am putting in today.
Future plans include:
DVD/Nav/Bluetooth/Back up camera head unit (been looking at a JVC)
Diablo Sport Tuner
Ceramic coated headers possibly, but not sure how they would work with the stock exhaust. I really do not want anything really loud and do not want the drown sound I have read others complaining about. Maybe dump tubes would be the way to go.
P.S. I do not work for or am I paid by Royal Purple. I am just a firm believer in their products. Years back I had a 1999 Dodge Ram with the 318. The water pump seized while I was in route for a test I needed to go take for a certification for a job I had at the time. I was 20 miles away from my destination and and in the middle of nowhere. I kept driving. That thing sounded like a semi-truck with a hint of a machine gun coming down the road. I actually stopped about 5 miles from there to let it cool for a bit, then started back up and kept going. The water pump and belt got replaced and I kept driving that truck for almost another year before trading it in. I will admit I was always about going on long trips in that truck after that, but never had any problems.
Well, thanks for reading. I promise I will not be so long winded in future posts, but this truck has really got me exited. I am also looking forward to your comments and suggestions.