Hey All,
So I've got pictures covering the life of the truck since I got it (about 5 months ago). It started out as a stock 2007 Black Ram 1500 QC Hemi with aftermarket headlights. Some more mods have been done but truck ain't even close to being done yet. Now, onto the pics.
It started as this in early October 2012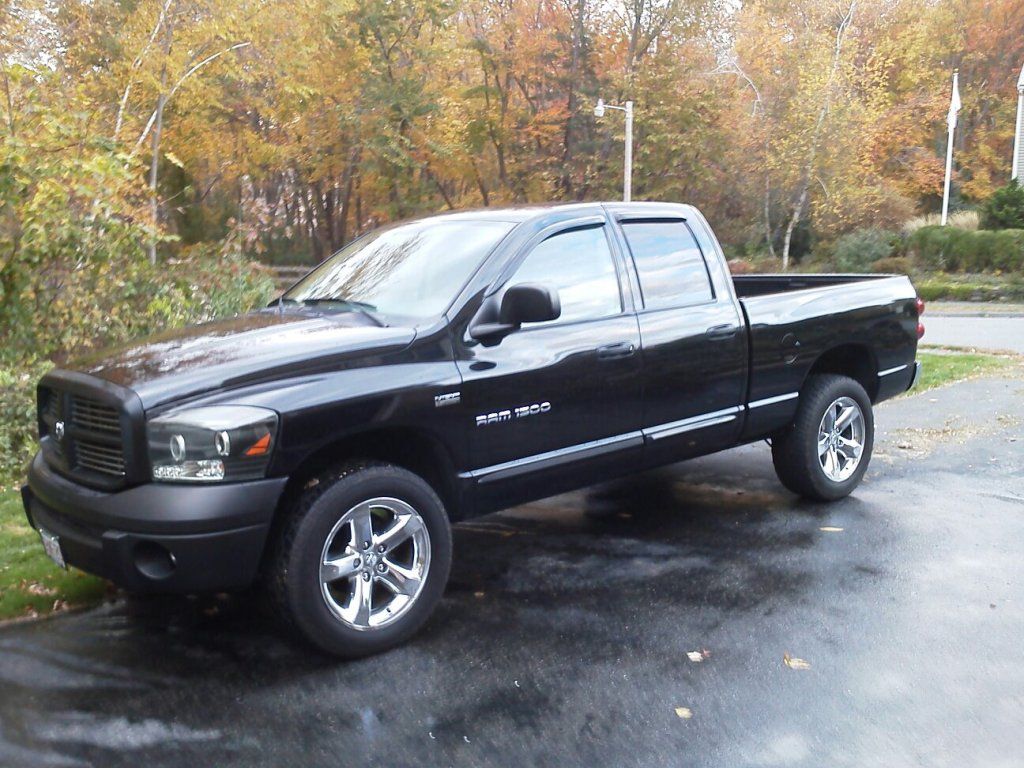 Then about a month later I joined my friend's car club, Dropzone Customs, and proceeded to have some custom grille work done, a little vinyl striping on the tailgate, and the calipers/rotors painted.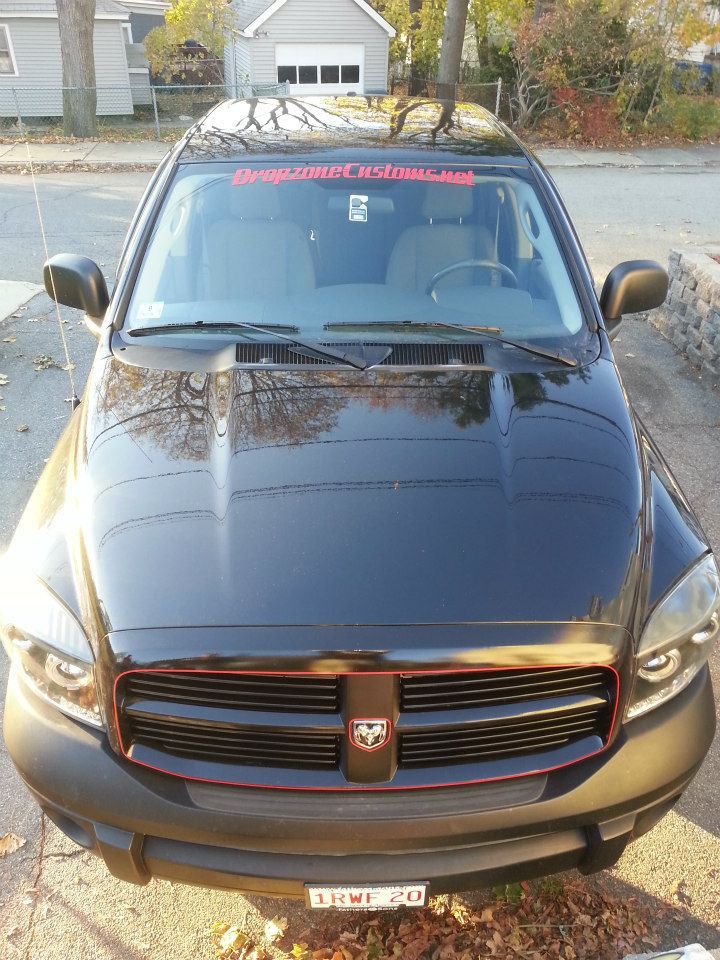 Nothing done to the truck until Christmas. Shortly after Christmas the K&N CAI went in (side note: the size of the filter shocks all the guys in the club since it's all cars and lowering, etc. Funny reactions)
Then about a month later I saved up enough money for a magnaflow cat-back exhaust, 18" muffler. Absolutely love it.
Also had some side striping done on the truck, and this is what it looked like before things took a dark turn in late February:
I love this picture. Nicely shows all the custom work. Headlights, grille, striping, exhaust. Also decently shows my bald as heck tires which brings me to the next part of the story thus far.
On a trip to Maine a light pole stepped out in front of me in the street and this happened: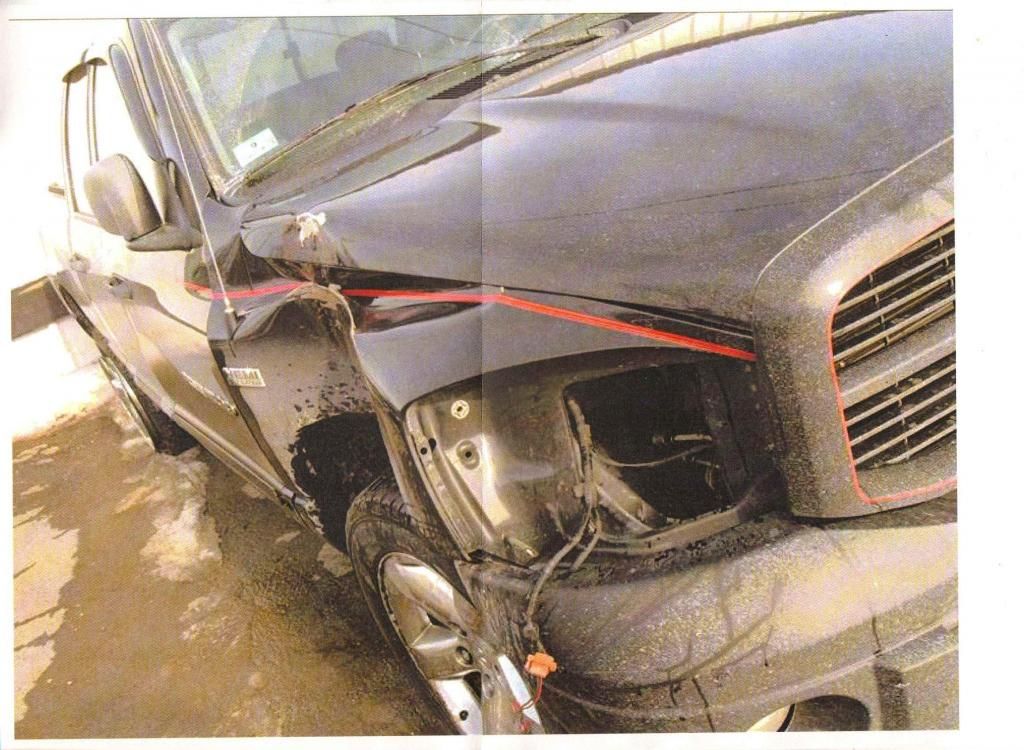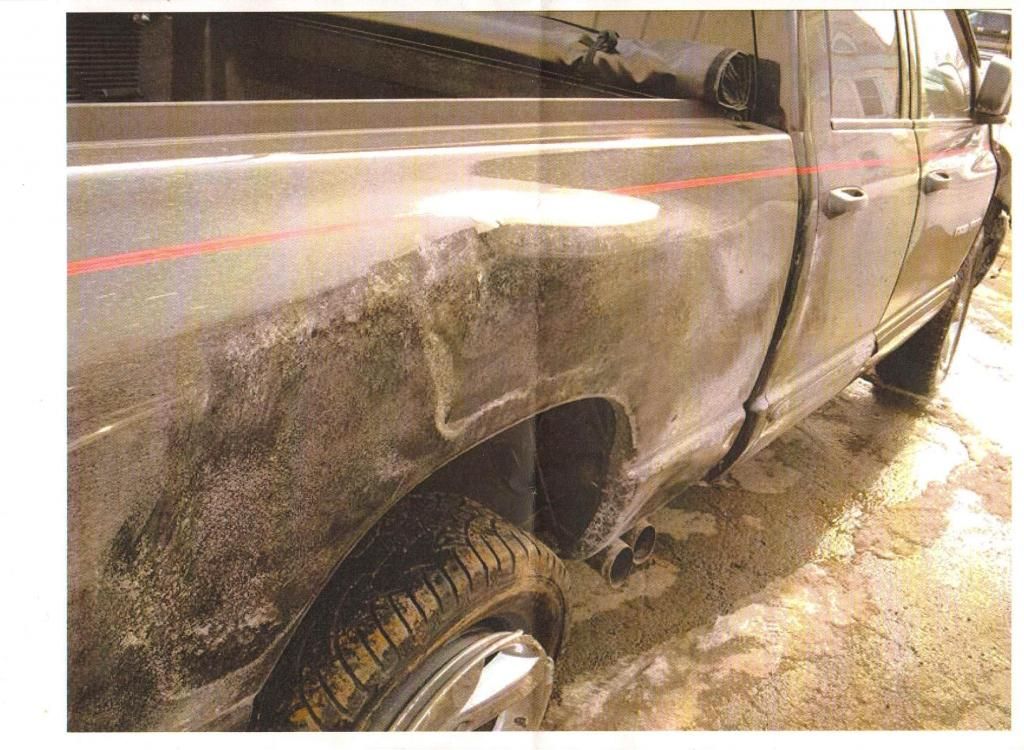 Physically I was fine, emotionally I was heartbroken though. Nonetheless the body shop doing the work is recommended by a personal friend and is being very helpful through the whole process. Throughout this whole process it was determined I'd be getting new wheels and tires (new tires were necessary to pass inspection, new wheels I was going to buy in June/July anyways). Decided to go with BFG All-Terrains and some ATX Artillery Teflon Coated wheels.
This image clearly shows that these new wheels absolutely dwarf that of a 2012 Chevy Silverado 1500. This only solidifies the fact that we own the best truck on the market, bigger is better!
The wheels are being brought to the shop this weekend. I'm 1-2 weeks out from getting my truck back. When I get it there will be some changes - no red striping down the side, the new wheels and tires, the plastic bumper cover will be matched to the body color, and the grille may or may not be color matched to the rest of the truck (the red striping and such will stay on the grille though).
So yeah, that's the story thus far.
Future mods - Lift kit of some sort. Eventually going for a pre runner look as much as possible (so whatever this entails will likely be done). Will be doing sound system upgrade very shortly. And the rest is up to my imagination (and wallet).
And just some pics of the car club for those who may be curious - this is our winter meet in late January of this year.
Missing about half the team in those pics.
TL;DR
My 2007 Black Ram 1500 QC Hemi started with aftermarket headlights and now has a custom grille, magnaflow cat-back exhaust, K&N CAI, BFG All Terrain tires, ATX Artillery Teflon coated wheels, and some red striping on the tailgate and the sides of the truck.