I just took a road trip to Austin and before I left I was averaging 17.3mpg (that's around 1000miles since I last reset the EVIC). So on my way back from Austin I decided to track some mpg/temps because around 350 miles into the 450 mile round trip I was already at 19.8mpg on the EVIC.
Here's a Pic of my EVIC after filling up with about 100miles left in the road trip....take note my DTE was 585mi
Another pic after 32miles since the fill up....
The last pic after 60miles since the fill up....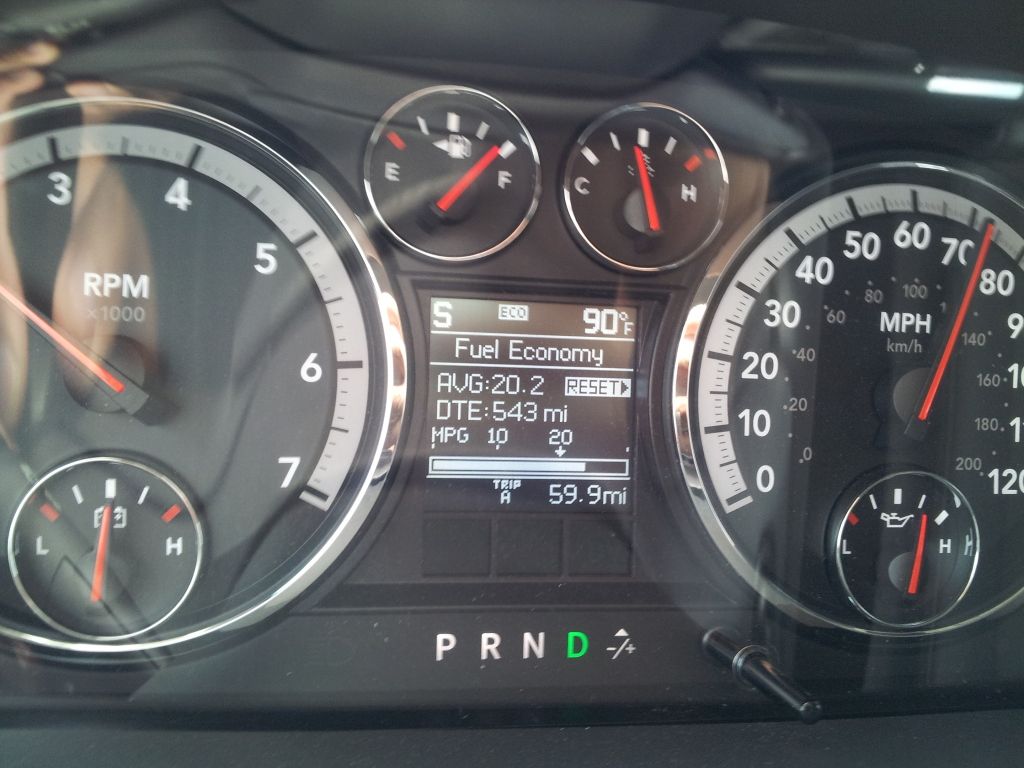 To prove I was not "faking" the pictures I took a couple of quick vids after the last picture at 60miles.
Take note I'm showing you the time on the navigation with arrival time (around 14 miles away from my house). Also showing you the EVIC along with the transmission temp to prove that a higher stall doesn't drastically increase trans temps like some love to say.
Here are the final numbers.....My MPG finished at 20.6 but quickly changed to 20.5. Remember if I would have reset my evic before the trip I would believe I would have average at least 22mpg if not more because I started at 17.3mpg. Also my DTE at fill up was 585 but after 100miles if you take the miles traveled+DTE= 612miles and I'm pretty sure that number would have kept rising if I had more miles to travel. Lastly the transmission temp ended up at 147 degrees but keep bouncing from 145 and 147.
I just wanted to prove that not only an aftermarket higher stall TC is better in performance but will also net you better mpg. I can say this comfortably....on a road trip I can easily avg 22mpg in my heavy ass crew cab
__________________
Peformance-HemiFever Tuned,Circle D TC,Mag 22" w/y-pipe &Raceland e-cut,Vararam CAI,87mm TB,JBA Headers,180T,& CatchCan
Appearance-2/4 BT drop w/airlift kit,F&R Hellweg SBs,PC'd 22" Boss 338s w/Nitto 420s,Pro HID 6000k,BW Flares,Undercover SE,Bestop PB,Led tails,Light Bar,CF Dash kit