So, I threw my old headlights back in for a while. I was having condensation issues again so I'm pulling them both apart to use a different sealant this time. While I have them open I'm going to try something different with some LEDs I picked up. The '13s have nice amber running lights as well as functional turn signals, well, that doesn't transfer over to the pre '13s, which is unfortunate. I've tried working the harness, adding relays, and in general failing miserably at making it work on the pre-'13 lights. *sigh*
So, instead I'm working around the problem:
adding my own white LEDs so I'll be the only truck with '13 headlights with a true white DRL that will be on its own circuit.
Here is the circuit board in its OEM form
Here's the set of LEDs I'm using, they are all pre-resistored for 12V operation and come with an adhesive pad on the back, not bad for $1.50 per LED. There's 15 per headlamp.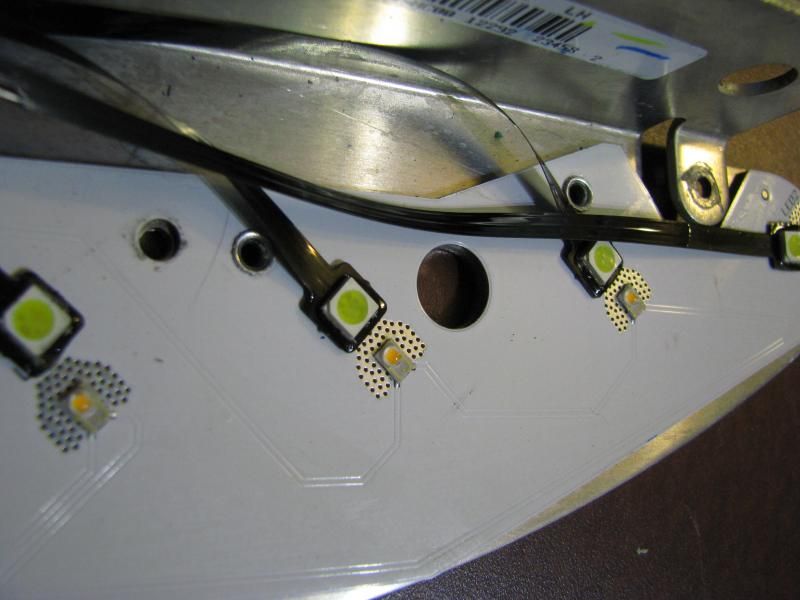 Now the wiring will all be hidden by the main bezel
This is how they look under the lower LED reflector. Some aren't 100% under the reflector, but I'm hoping that there's enough showing that I won't have "dark" spots through the reflector.
I'm off for the next week and the weather's supposed to be good, so I'm hoping to get a lot of the engine bay cleaned up, get my catch cans installed, loom a bunch of loose wiring, install my new boost tubing, and in general make hay while the sun isn't a frozen ball of ice.