I recently ordered and installed the Amp Research Powerstep. It came with wire connectors called Posi Taps. They are awesome! So easy to use! I was skeptical at first because if it's not a pain in the ass to use, it probably doesn't work very well.
I was so excited when I used these I almost wet myself.
Maybe I'm late to the party and everyone knows about these, but I thought I would share the product with you guys. Here is a link and the picture. They have a few different kinds for different applications and different wire sizes. Happy Modding!
http://www.posi-lock.com/index.html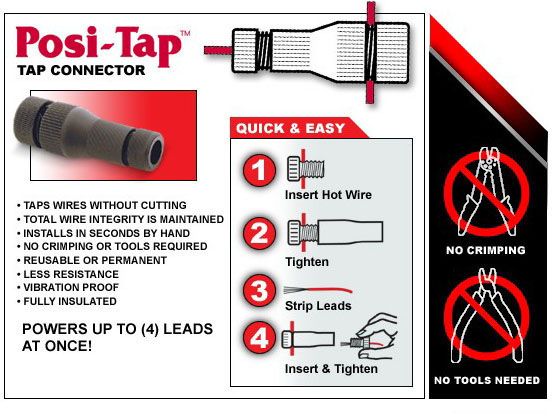 __________________
2015 Ram 2500 6.4L Hemi, 4:10 gear ratio, 5" Rough Country Lift, 20" MotoMetal 962 Wheels with 0 offset, Nitto Trail Grappler 37 X 12.50 Tires, Bakflip G2 Box Cover, LineX Spray-on Bedliner, Amp Research Power step