So, I guess it's time for a bit of a write up on the lift!!!! First, measurements!(all taken with a full tank of gas all taken from ground to bottom of fender flare (centering on hub cap)):
before lift:
LF: 40.365" RF: 40.625"
LR: 42.25" RR: 42.875"
After lift (this includes Carli lift springs and Thuren shackles on center holes):
LF: 42.365" RF: 42.5"
LR: 43.125" RR: 44"
This yields about 2" of lift up front and about 1" of lift out back. If just the front were done, the truck would sit pretty much exactly level. Doing the rear setup yields a truck that still maintains a little rake for load carrying.
My buddy helped me with the install. (do NOT try it alone! the rear springs are way too heavy for one person!!!) I can post some installation pics if anybody is interested! All in all, it took 24 hours but, that was with MANY runs for tools/parts that we didn't think of prior, meal breaks, etc. Plus, staying up all night in 35 degree weather doing an install slows one's work rate down a little, LOL! (had to have it done to drive the next day, it's my only vehicle) With a lift and air tools (two things we didn't have) it'd go WAY quicker!!! Also, we only have a handful of lift installs under our belts between the two of us so, kind of a learning curve!
First impressions:
On road at low speeds- the ride is VERY rough, you feel EVERY imperfection to the road.
On road at moderate speeds- the ride is pretty rough, you feel almost everything
On road at high speeds- slightly improved over moderate, does feel more sporty than stock, corners VERY level!!!
On road summary- you feel everything. the only thing that is smoothed is big hits.
Offroad at low speeds- about the same as stock
Offroad at moderate speeds- much smoother than stock!!!!
Offroad at high speeds- haven't had a chance yet
Offroad summary- faster you go, smoother it gets!!!
A warning for off road use- the front shocks are actually a little shorter than our Power Wagon shocks, the rears are the same length as stock. It seems to me that a little bit of articulation is lost. Also, the reservoirs on the rear shocks are very vulnerable to rocks- mine already have several scars on them from only two wheeling trips!!!!
I will be fiddling with the shock pressure some to see if I can get a smoother on road ride out of the truck. I really am disappointed with onroad ride quality at the moment, the F-450 box truck I used to drive for work felt smooth compared to my Power Wagon's current ride. I will update once I do some tweaking. As it stands right now (assuming things don't improve) I would recommend keeping stock shocks unless you plan on doing some serious mobbing in the desert!
The overall look of the truck is AWESOME with the mild lift and 37s!!!!! The 37s fit quite well, rubbing only on the control arms, the lower rear corner of the driver's side front wheel well, every once in a while on the inner wheel well at the front bumper on that same side, and the vertical portion of the rear wheel wells that run parallel to the tire. I don't see the need for any trimming whatsoever after having wheeled it on some flex tight trails. I only miss the tighter turning circle that the stock 33's afforded (by not rubbing the control arms) on the road and in parking lots, I haven't really noticed a loss of maneuverability on the trail, and that counts wheeling in tightly tree lined Jeep trails!
The main issues I have seen with the lift thus far are:
1) ride quality (in Carli's defense, the shocks are valved more for zooming across the desert than my use also, I haven't spoken with them regarding this issue yet, I'll see what they recommend)
2) airbox and shock tower want to occupy the same space (Carli is curious as to this since they've never come across this issue before, I'm talking with one of their guys about it)
3) when flexed the passenger leaf spring hits the exhaust (but, my exhaust seems different from that of some others in pics I have seen, it seems Ram used a few different tailpipes, even differing amongst 2012 Power Wagons!)
4) when flexed, the rear springs forced the driveshaft into the gas tank skid (I've cut away the piece now)
The pluses:
1) better ground clearance!
2) better approach, departure, and especially breakover angles!
3) the parts look awesome!!!
4) the truck looks awesome!!!
5) room for 37s!!!
6) Did I mention room for 37s?!?!?!?
Anyways, I guess some pics might be nice!:
Stock:
Lifted with stock tires (they look so tiny now!!!):
Lifted and 37s on:
From the other side: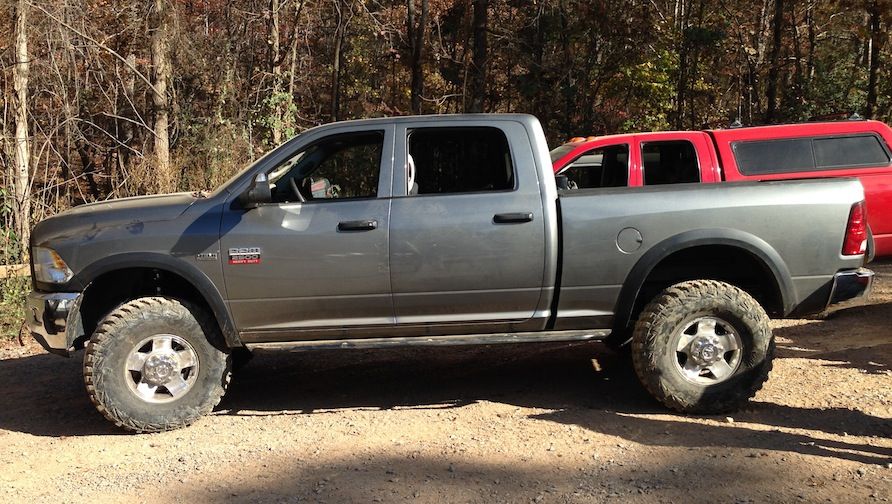 Met another Power Wagon owner at Carolina Trail Blazers club run at Uwharrie, it was his first time wheeling, EVER!!! He did awesome!:
My buddy three wheeling my truck on the articulation course (I two wheeled it on a little different line, LOL!):
Some more flexy fun: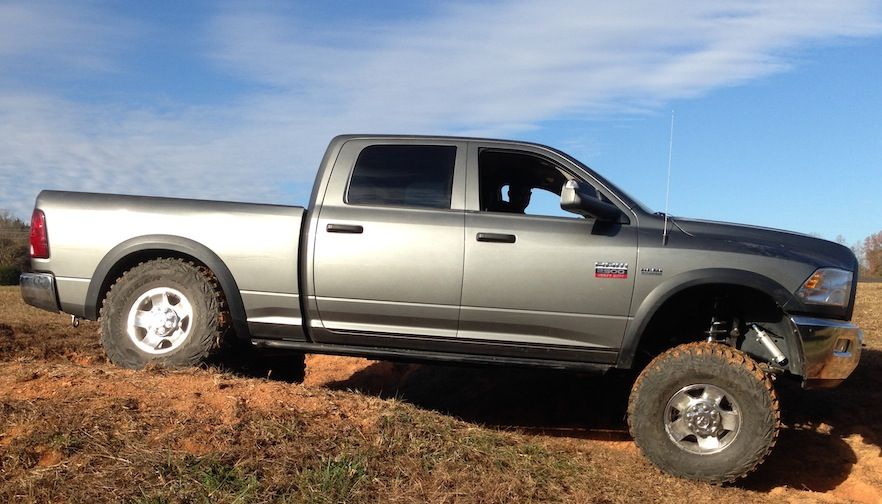 Can't resist one more pic!:
Not quite full stuff but, can see the 37's fit the rear wheel wells quite well! (thanks to the Carli springs moving the axle back 1/2"):
They fit the front fenders well too (thanks to the Carli arms being 1/2" longer than stock!!!):
Those beautiful Carli arms see their fair share of tire rub though!: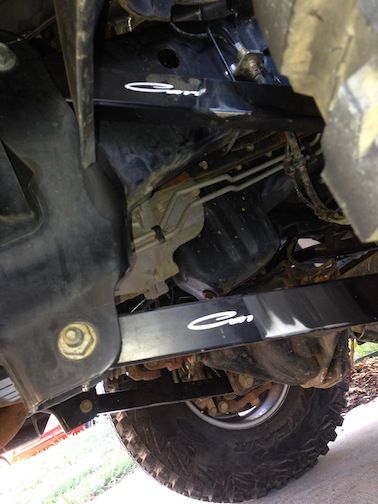 Speaking of rub, here's a few clearance issues I came across with the lift:
Airbox/tower (the air box is just sitting loose right now until I cut the bottom to clearance the tower):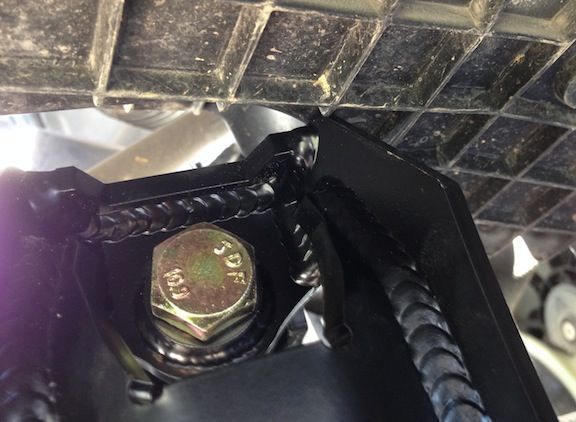 The passenger side leafspring hit the tailpipe when flexed:
Resonator delete and after axle dump fixes that: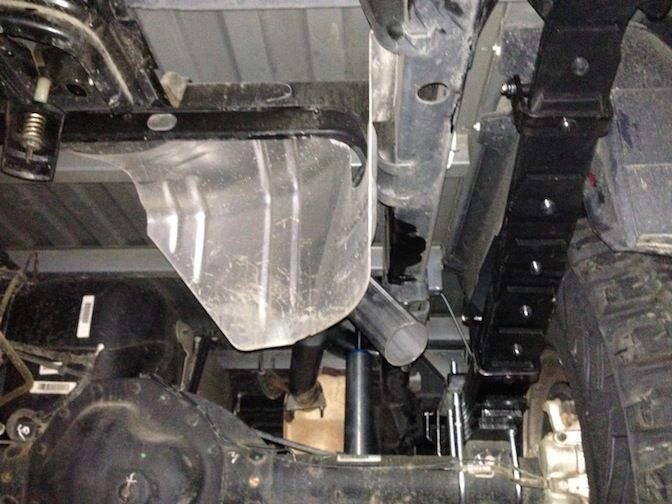 Driveshaft hit the gas tank skid at flex, and tore the weights off (cutting the offending portion of the skid off and spending $105 getting the driveshaft rebalanced solved that (just ignore the Cheerwine box, I put it there to keep sparks off the gas tank when I cut the skid! (had to cut it at the campsite right before the morning's trail ride!)):