Here is by far the main reason for me purchasing my 2013 Ram 1500 Sport CC 4x4. My dad use to own a 2008 Ram 1500 TRX4 QC 4x4 that I use to use and abuse. Because of me the truck had pretty much bald tires. But its thanks to it I can still function normally or am even alive. My dad now owns a 2012 Ram 1500 Sport CC 4x4
Almost 3 years ago, I was on my way home from work. I work midnights so I was up from 10pm the previous day (so 10+ hours) and had about 3-4 hours sleep with work, school and the girlfriend at the time. So needless to say I was pretty tire, drove for 8 hours at work and now a long boring straight road home (about 15min drive).
It was September so it was raining a lot around that time. Just so happened to be pouring rain that as I was on my way home from work. Tired and almost home. I found myself sitting at the lights about 3-4 kms from my house. It started to rain harder and harder to the point were i couldnt even see the wipers going anymore.
Something in my head and stomach told me to just put it in 4x4 but I said to myself ahhh forget it im almost home i'll be fine.
Not even 1km later the back tires break loose and the truck hydro planes across the road. I couldnt even see the wipers let alone on coming traffic. now im in the on coming lane heading for the shoulder. I hit the shoulder and tried to let it bite in the gravel and hit the gas and send it back towards the road.
But let me tell you, when i hit that wet grass. It was like hitting the Red arrow in Mario Cart racing because i picked up speed like you wouldnt believe.
I then looked forward at the big concrete culvert corner that the Ram was gonna hit head on. Said FORGET THAT, and forget it. Threw the back end of the truck in the ditch and just prayed not to role over.
I then it the culvert so hard i bounced off and hit it again. Turned the driver side door panel to jell-o.
I walked away from that with only a sore a back and hip.
If it wasnt for how safe these trucks are built now days i dont think i would have survived that car accident. Im so lucky i wasnt driving my 89 s10 at the time. i would be dead.
20' ditch, hit at about 100km/h (damn wet grass).
Needless to say the accident could have been avoided if i wasnt burning rubber all the time but the truck saved my life. For that hands down I will never have a problem buying a Ram.
I am not a fan of driving in the rain.
Pics: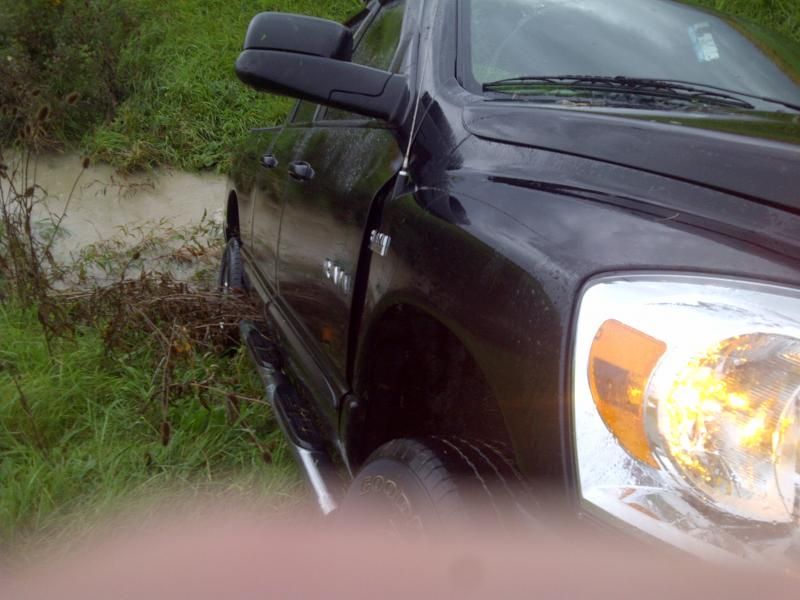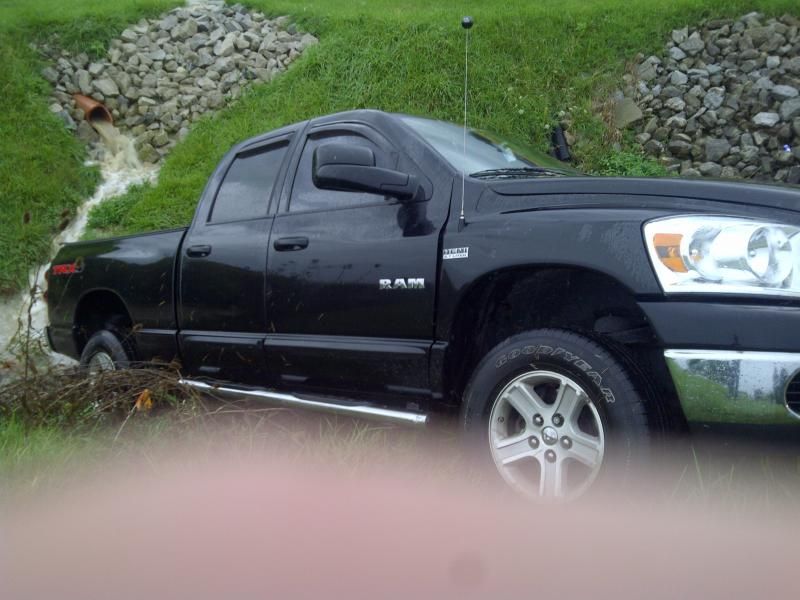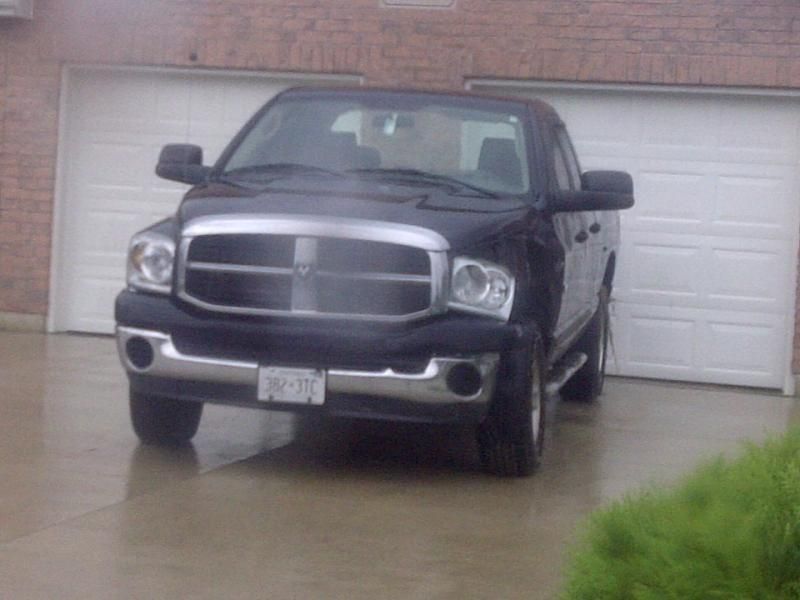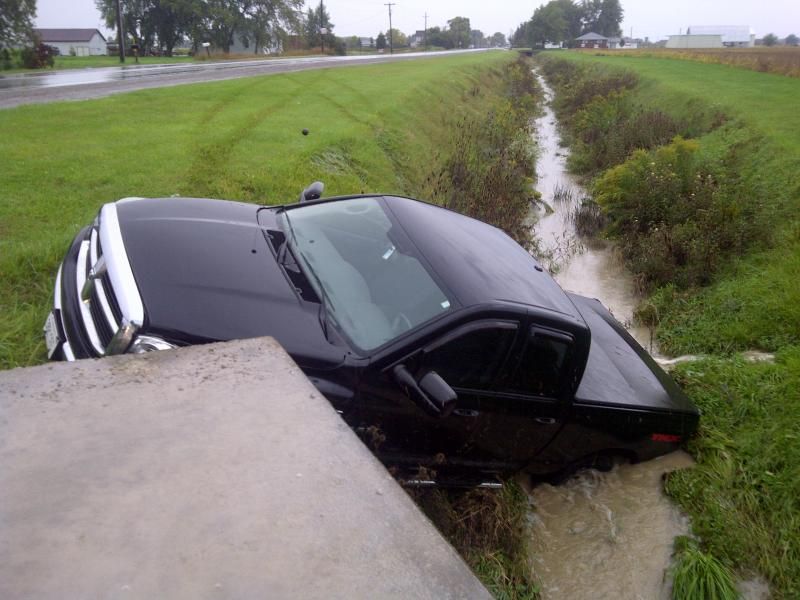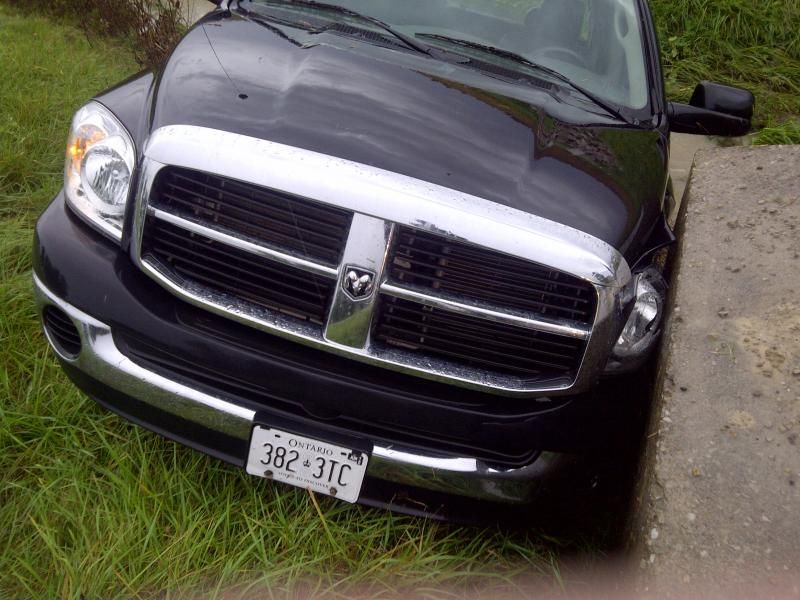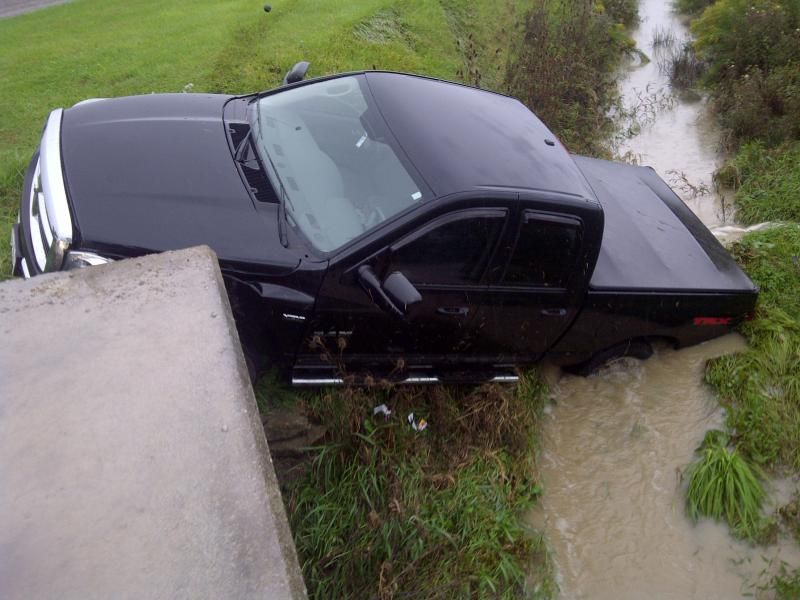 Vid:
http://s83.photobucket.com/user/IMC_...00004.mp4.html
after hospital