For the last six months I've left my subdivision about the same time as a built up Mits EVO
I can hear that he's definitely tuned fartin and sputtering at WOT with huge dual ricer Fart Cans pointing up
and the smell of rich exhaust when he's idling at the light in front of me.
looked similar to this...
but pipes angled up almost to the white paint level
front end similar to this
We end up single lane bumper to bumper 2 or 3 times a month as we approach the nearest highway on-ramp.
Seems we take turns playing follow the leader to see who can pull away the fastest
...and he's usually right on my rear bumper when I'm in front.
But I can also hang on his rear bumper when he tries to pull on me
...drafting behind him is a huge benefit for my 5200lb brick.
Well this morning was the first time we met up again in over a month
...only this time I have an extra 170 HP surprise under my hood
a Ripp Supercharger installed on the weekend.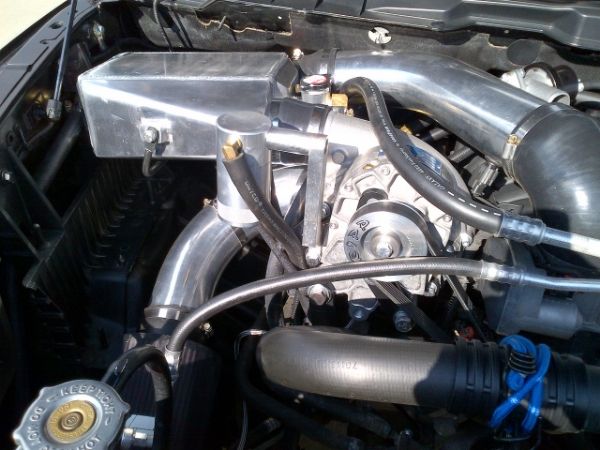 So just after 6:00 am I was waiting at the light watching my rear view mirror
and sure enough he turned the corner and pulled in behind me ...
so now I'm as giddy as a little school girl waiting at the light
Light turns green and make the left turn slowly and wait for him to do the same ...but then Hammer Time and I'm Gone!
He's trying hard to catch me but there is no way in he!! this time
I watch him slowly getting smaller and smaller in my rear view mirror as I motor down the on-ramp (about a quarter mile long).
I hammer on the brakes near the end so I could get down to the speed limit and merge into traffic.
Finally we have a "Significant" winner after 6 months of taunting each other.
If I ever get a chance to talk to him I'm going to invite him to the track for a real lesson
when I'm in track trim on my little 28" Drag Radials instead of 33" Grappler's/20's!
I Don't usually condone street racing, prefer to take it to the track, but this was not a side by side drag race,
no other traffic on a long merge lane in the early morning hours.
Just two drivers getting up to speed on an abandoned merge lane significantly "quicker" than most
.