Figured I'd update this almost 1.5 years later...lol
The car is in PA now. Pulled the engine and trans for a clutch swap and insane cleaning.
About the clutch...well...it was non existant. Actually, the rivets in the clutch were almost ground all the way down.
Yea.......lol
Well...took the oil pan off to replace all the gaskets in the engine and found the rod bearings had a minuscule amount of play, so, I'm getting a rebuild kit for it with new rings, bearings, head gasket, etc. I'd rather it not blow up instantly with the supercharger on top.
And...about the supercharger. Well...the original plan was to go with an Eaton M62 (62ci) supercharger off of a 3.8L v6 running at about 8 psi.
Well. Slight change of plans. I came across an Eaton M90 (90ci) on a Thunderbird Supercoupe...
so...I'm using that now.
Under driven, should be running at about 8psi well in its efficiency range. As a matter a fact, the supercharger is so large for the engine and will be underdriven so much, according to Eaton, intake temps should not be much higher than 120 degrees...lol
But, it should be a beast when its back together.
While I have the engine/trans and all out, I'm planning on finishing up the sanding/primer/painting and making her as pretty as she can be...haha.
Oh, and before it left FL, I was driving it around town a little
Got a temp tag through the DMV and put about 100 miles on it. Never an issue minus the clutch slipping like crazy...haha. Even got pulled over for having a headlight out
Took it through the Wendys drive thru...got all kinds of looks. Actually got a lot of compliments of people saying it just looks like it has something evil about it
Oh...and did I mention it had an open Hooker long tube header on it at the time
But...most recent pictures...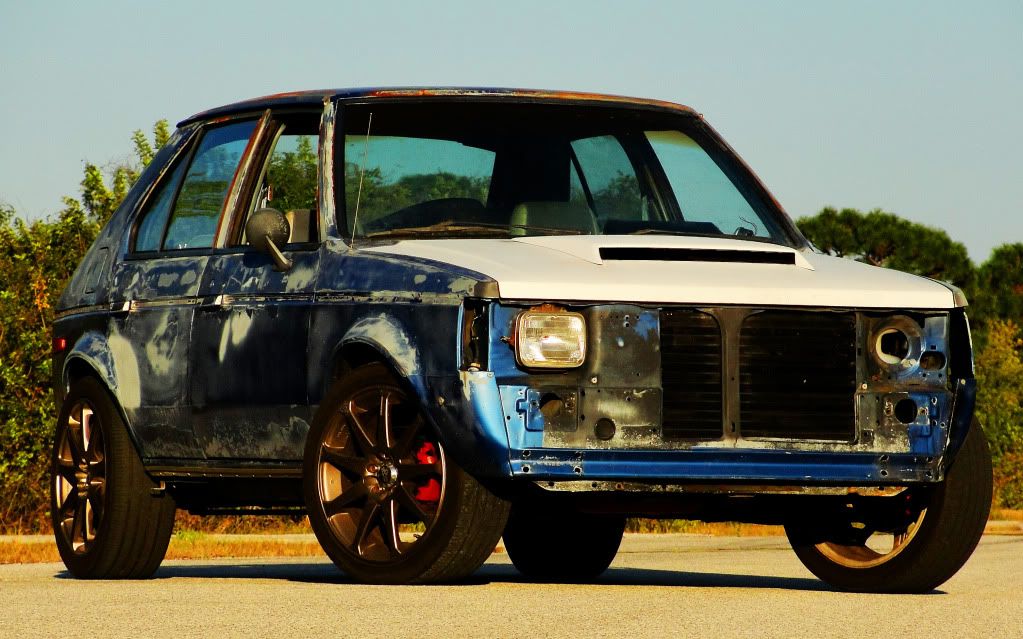 On the way from FL. (Yes I miss the Ram
) Oh...and by the way...its squatting so much because it had an engine/trans, 4 steel wheels, and all my clothes/etc under the bed cover, plus the very front biased Omni which was full of stuff itself...lol