My first post! I currently have a 08 Tundra 5.7 and tow a 20ft Vnose with a VQ (V6) powered SE-R in the trailer (6500lbs). The Toyota is nice but it rides like absolute garbage. My wife wont even ride in it around town. Granted it came with the TRD sport suspension from the previous owner, which simply intensified the poor handling.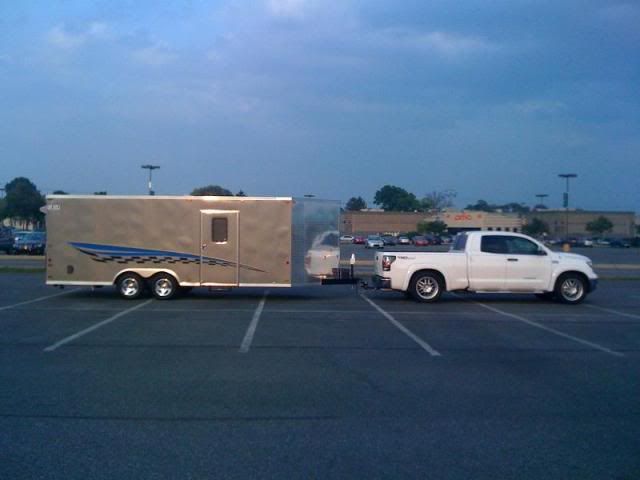 Anyway, on Monday I dropped by the Dodge dealer (Palmer Dodge, Atlanta) and they had a couple '10s on the lot. All were marked down 10K from sticker. Drove it and fell in love. The ride is so much better than the Toyota. I found a white Laramie with the 3.92 LSD, mygig with voice control (no navi) RER radio (?), OWL tires (e-rated?) and front tow hooks.
Stickered for 40,800. Had the dealer add the mopar step bars, class IV hitch receiver and bed liner for no charge. Final selling price is 30,500 with 20K trade on the Tundra XSP.
I've read some people lose a little mileage with the 3.92s. Some say its about the same MPG. But most say its a must when towing.
OK, on the questions.
1. I'd like to unlock the video in motion. I believe our two options are Nav-TV (allgig) and Lockpick V.3. I plan on adding the Mopar backup camera in the tailgate handle and I have a wireless camera on the back of my trailer (so two camera inputs). Would the Lockpick be the better option here despite the poor customer service ? And how can I integrate bluetooth (which my radio currently doesnt have, only the mic for the voice command)?
2. Will I need helper bags for towing 6500lbs? I had them on the Tundra. I use a WDH with sways so I can level the truck using the WDH. Wondering how well this new rear suspension holds up to towing.
3. I've read a couple folks having trouble with the Mufflex installs. I have a welder in the garage. Adding a magnaflow muffler should be just as effective as the mufflex, I just need to find out which magnaflow muffler they use on the mild kit and install that version.
4. I believe Bill from XDI is in Atlanta as well, is this still the preferred intake or is a K&N drop just fine?
Thanks in advance for all the help