I have recently purchased a Lance Truck Camper and will have to install a six way plug.
I picked up the plug / harness from the same dealer I purchased my camper from.
From reading a camper forum and talking around a little bit with a Gearhead or two that I know, it seems to me a Battery Isolator would be a good thing to have. As I understand it, an isolator will keep the main truck battery from being pulled down in the event the battery in the camper drops down so far that it needs juice from the main main battery - that way one stands less of a chance of getting stranded in the backwoods. Yet - the isolator does allow enough juice to flow through to charge the camper battery.
I would appreciate any recommendations and comments.
Here is a link to one I surfed up that I am thinking about picking up from the local Northern Tool store. The model number is B1201B2E. It is the only one on the Northern Tool site. If you care to check it out just click here:
Northern Tool
- and type "battery isolator" in the search box.
I will also bounce my question off of the local Lance Dealer but I want to hear from folks with real World on-the-road experience with battery Isolators.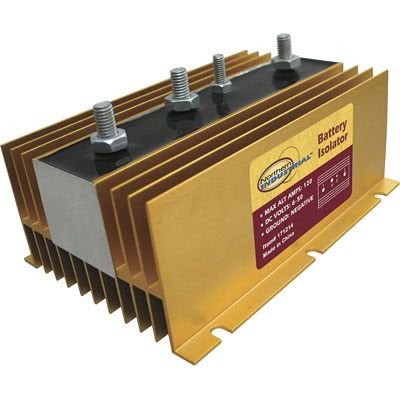 Thanks, Wes