ok so here in the final product!!!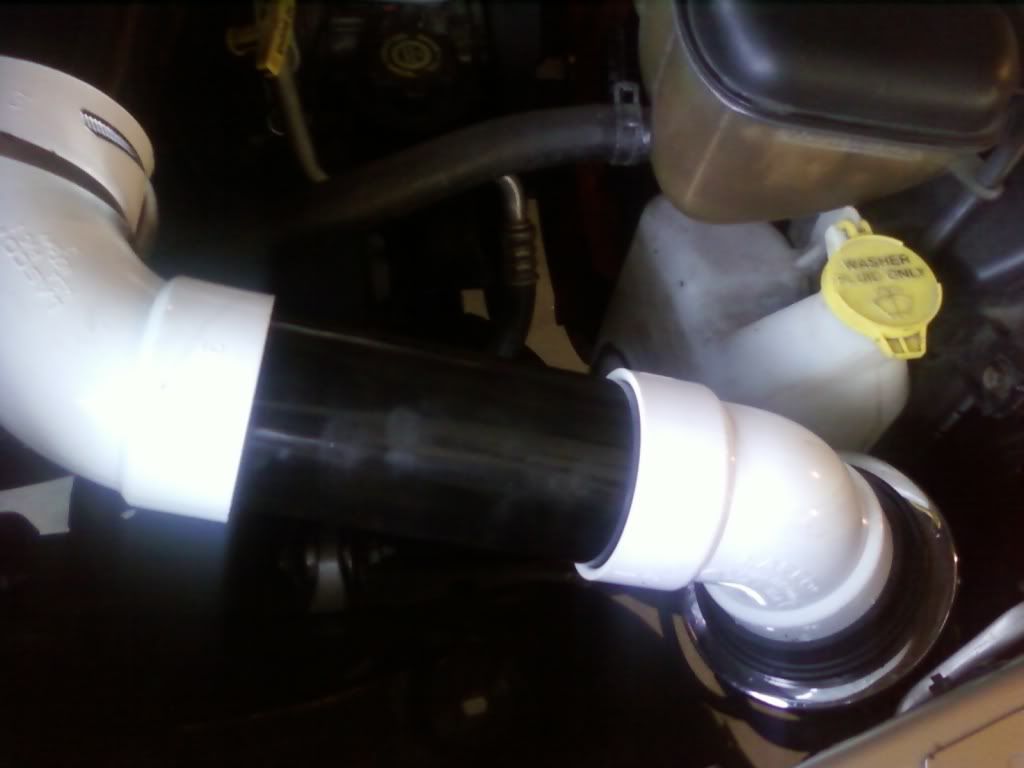 and here's how i did it
Parts List:
3'' rubber connector
3ft of 3'' pipe
2-90 degree elbows
1-22 degree elbow
1-45 degree elbow
Cone Fliter
and mounting brackets (how ever you want to mount it)
1. put the 3'' rubber connector on the throttle body
2. put the one the 90's coming out of the 3'' connector, turn it up about 22 degree's (just get it close)
3. put the 22 in the 90 to make it straight
4. take the 3ft of 3'' pipe cut about 8'' out of it and put in it the 22 degree
5. take your second 90 degree elbow and put it on the 8'' pipe/ turn the 90 elbow down slightly
6. once again cut about another 8'' piece of pipe out of the 3ft pipe (3ft of pipe just incase you mess up) and put it in the 90 elbow
7. put your 45 degree elbow on the 2nd 8'' pipe you cut and angle it slightly away from the washer fluid resivor
8. put your cone filter on the 45
9. if you dont want to cut a hole in the tube for the air for the heads, autozone i think has small air filter you can mount on the hose or if you want run it you C.A.I tube (i went with the small fliter)
to get this to fit right, i had to take out where the stock air box/filter sits on to clear the pipe and also have enough room to install the filter
but their it is! (not finished with paint yet)
if you have any questions about it just let me know!