One of the easiest cheapest ways to drop a half second on a stock Ram with 20" wheels is to pick up some cheap light weight aluminum 17" wheels/tires.
With a 26"-27" tire, you'll drop about 25 pounds (per wheel) off your weight, reduce your wheels rolling rotational mass, reduce your ride height by almost 3" for better aerodynamics...
and most importantly will drop your effective gear ratio substantially.
For a few dollars more, get some dedicated drag tires and you'll even get better traction and a better launch!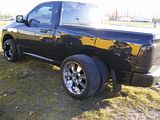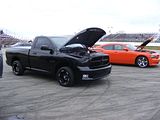 My effective gear ratio drops from 3.55:1 to 4.30:1 just be taking my heavy street wheels/tires off.