New guy here. I posted a pretty long intro in the Newbie check-in....but here is a re-cap of the back story on my new "wrecked" truck.
I bought this 2002 1500 Quad Cab 2wd from a fella in Chicago who had bought it new. It was parked out in front of his house some weeks back, and some jackass mashed into the rear drivers quarter, and took off. He told me he was just in his living room watching TV, and he heard it and thought "Shit, someone just got messed up." He got up to see who, and of course it was his truck and the car that hit it was peelin out down the road. He said he had to go back and forth with his insurance company, but they finally gave him 80% of the truck's value, and let him keep it too. Don't ask me how that works, it's just the story I got. He coulda smashed into it himself for all I know. Seemed liked a pretty respectable type of guy though.
Anyway, this guy was already bored of this truck as he'd had it since new, and decided to get a few bucks for it, and buy something different that wouldn't break him on gas. The truck was never used for anything a truck is normally used for, so I assume he's just going to buy a car. Anyway...
I ended up buying it for what I feel was a fair price. It seemed like the perfect fixer upper (except for being 2wd) and though I'm a black, white, or gray car color fan, this 2-tone with the blue was just speaking to me. I don't suppose I'll miss the 4wd too much, as I'm not an off road guy, but, I'll still miss it a bit.
So, I'm getting it in the body shop this week. They are replacing the box, both bumpers, and repainting it the factory paint scheme. I don't know that it was worth all the trouble, as after it's all done, I'll still have quite a bit of bread in it, but, I have comfort knowing that I'll have a freshly painted truck that shouldn't rust for a bunch more years if I take care of it. I just moved back to the midwest after living in AZ for 6 years, and I forgot just how much rust SUCKS. The insides of the chrome bolts on my motorcycle were getting rusty after only being in IL for two weeks! And that was in July. Crazy.
So, this isn't so much as a build-thread, but just some pictures to show the resurrection of what I'm affectionately going to refer to as 'Ol Blue. (Which is the second 'Ol Blue Dodge Ram in my life. haha. I have a '94 4x4 that I'm going to be selling.) I'll update again when I get her out of the shop. My birthday is in two weeks, so if it's done by then, it'll be the best birthday ever. : )
PS. If this should go under a different category, please let me know. Not trying to bugger up the system here, just looked like the best place to put it. Also thanks to everyone for the warm welcome, and all the good info I've read, and will read in the future. It's super cool to have a place like this full of good experience and information from a buch of good guys. Rock and Roll.
Here lies the victim in front of the PO's house.
Hit the rear tire hard enough to slice right through it and bend the leaf spring up by the front shackle.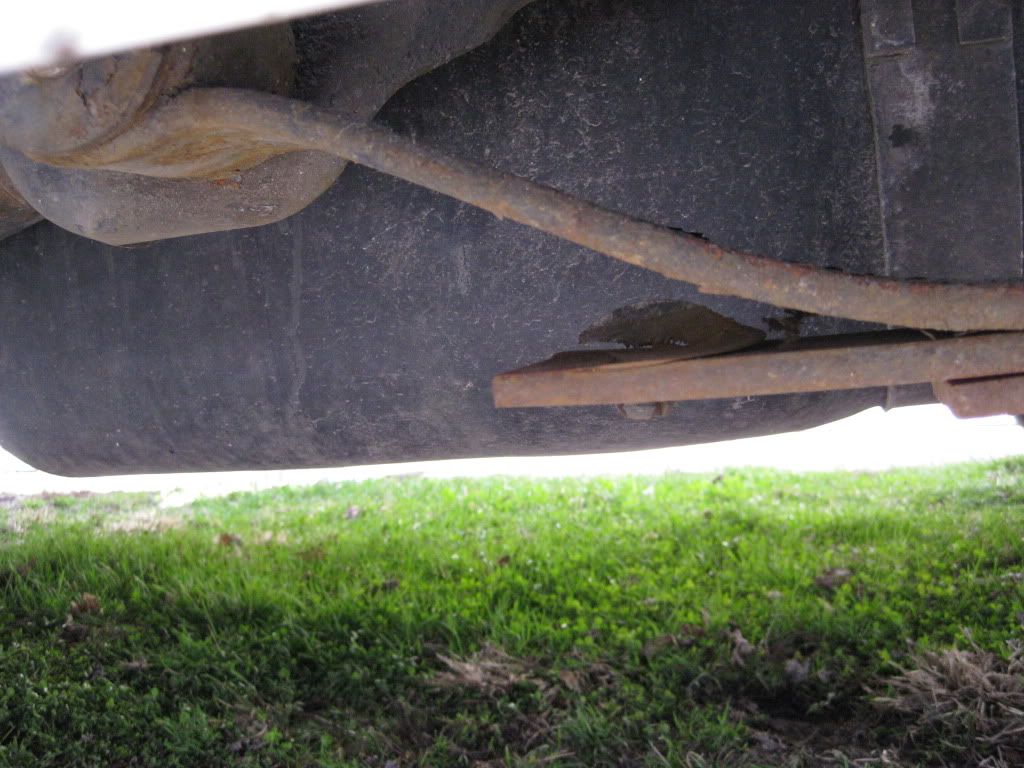 The guy's wife's car was parked right in front of the truck when the truck was hit. Pushed her right into the car bending up the front bumper too. Suprisingly enough, he said it didn't put a scratch on his wife's little Hyundai car. haha
The tailgate is salvageable, and luckily the Jason Hugger Fiberglass Tonneau didn't get so much as a scratch on it. (It's for sale by the way, hint hint.)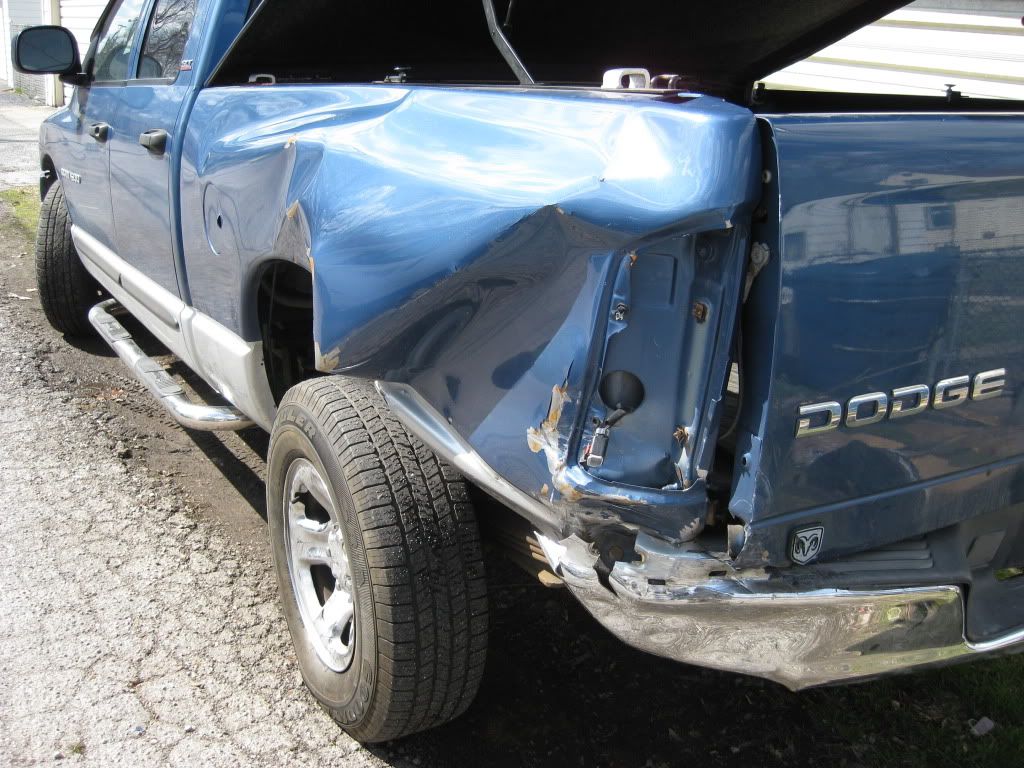 Some homegrown bodywork had already been attempted on the passenger side.
Interior in good shape, aside from some cigarette burns here and there on driver's side. Grrrr. I don't smoke, so that pisses me off a bit. : ) My last Dodge Ram was the same way, and I suppose my '94 probably is too, though I've never paid much attention.