While I have the truck all torn apart I thought I would post some pictures of how it is going.
New mods include:
- Electric Fan
- 180 t-stat
- Bored TB
- New tires
- Powder coated rims
As much as I love my new vararam intake it does unfortunately get in the way if you are to do any engine work. So first things first, that must come off. I was then able to easily take off the TB (4 bolts) and send that on it's way to get ported/bored (the news paper is to keep any crap from getting into the manifold while working).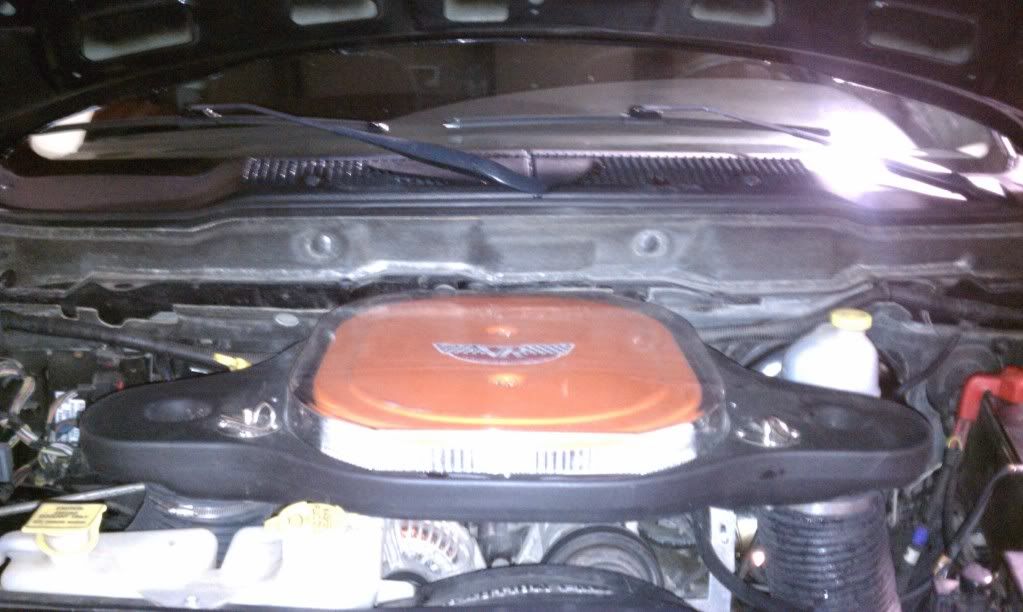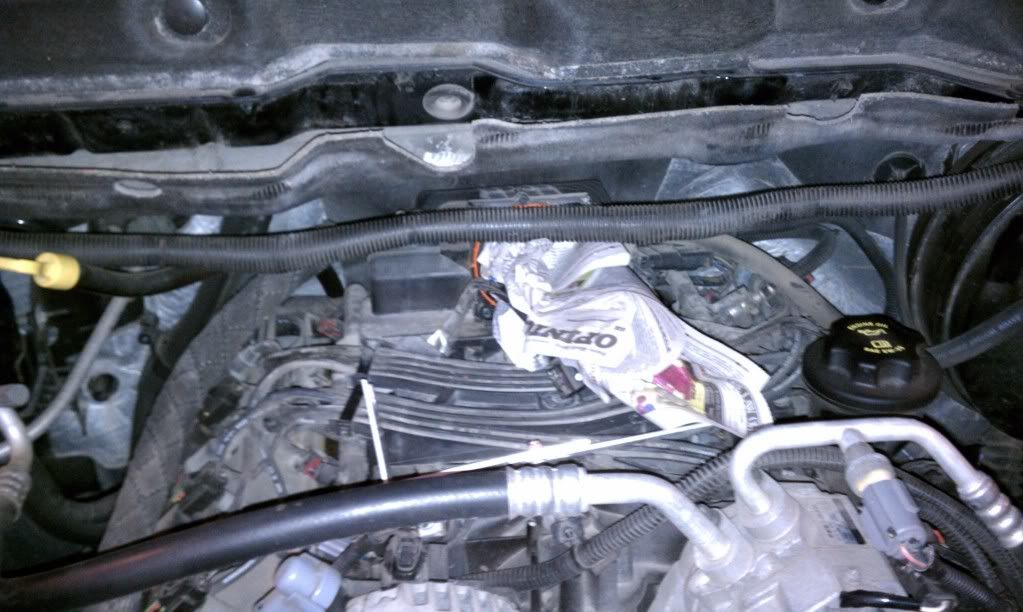 Next up was the e-fan and t-stat. Sorry, I forgot to take pic's when I was installing the e-fan. The biggest hassle was finding the tool to remove the stock clutch fan. As far as the wiring is concerned, the diagram made it pretty straight forward, just read the directions thoroughly first.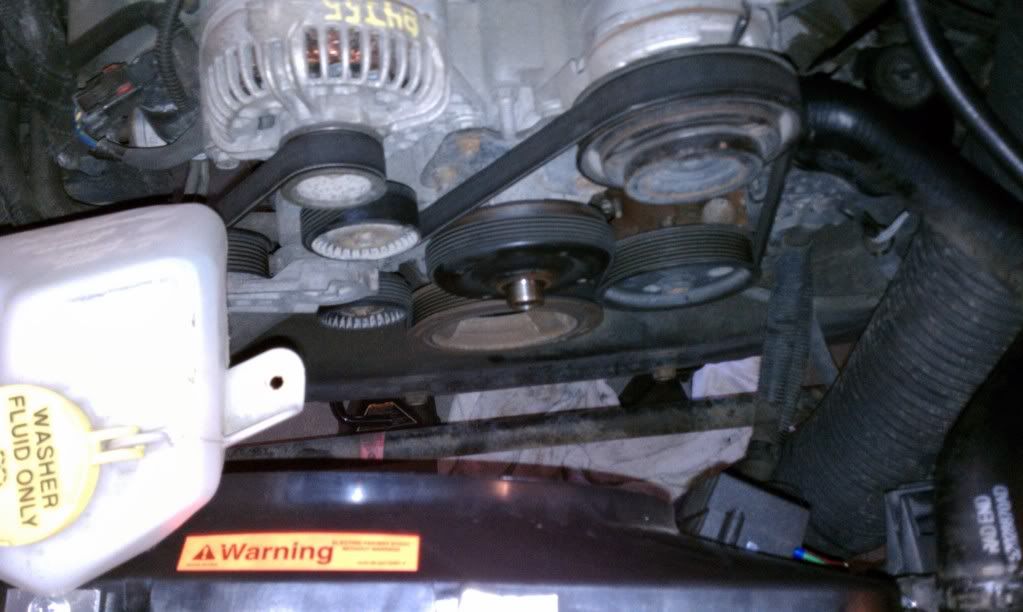 For anyone who hasn't removed the t-stat and was wondering exactly where it was; you follow the coolant hose from the radiator to the engine. There you will see where it is connected to the t-stat housing right behind the serpentine belt in the picture.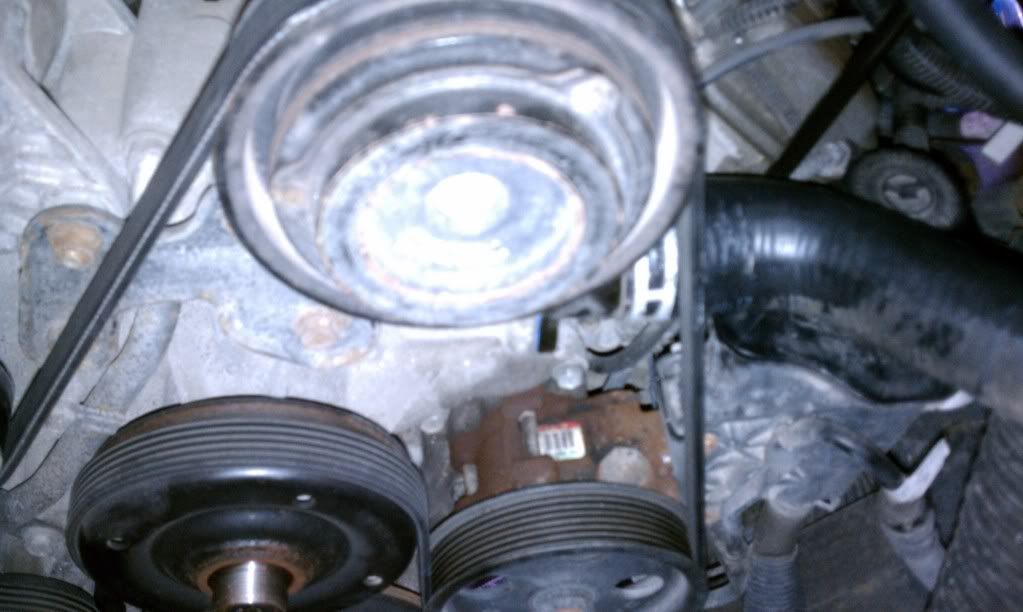 It was a bit of a pain to get at; I did remove the serpentine belt so that I could better get in there with my socket wrench. The power steering reservoir is also sort of in the way, just have to work around it. I also did replace the thermostat housing gasket... I really didn't notice a gasket there when I took the housing apart but the auto parts store makes one for my truck so I figured it should be in there. It cost about 4 bucks at my local auto parts store. Last thing to do is put it all back together and refill with coolant (oh yeah, don't forget to drain the coolant first).
Above you will see that I modified my old fan shroud so that I could use the old coolant overflow and windshield wiper fluid tanks. It is hard to tell from this picture, but I more or less cut about 2/3 of the fan shroud away and just used the side that has the notches for the coolant/windshield wiper fluid. I know moe's performance makes a delete kit for this, unfortunately I don't believe they are actively filling orders. I had originally ordered my e-fan from moe's; however I believe they are having some sort of issue with the company. They have always been very quick and reliable with my previous orders. This time I noticed that my order had been changed to "pending." I emailed and called and emailed and called to see what the situation was, but it was to no avail. They did however automatically return my money. I believe they are based somewhere out of Kansas or Missouri and I know that there have been a lot of issues with tornadoes in the Midwest recently... maybe this could be a contributing factor. Either way I can't get this:
http://moesperformance.com/index.php...oducts_id=9188
until they are back up and running. Hopefully it will be soon, I hate the look of zip-ties...
And lastly are a couple pictures of the truck up on jack stands in the garage. It takes about a week to get the rims powder coated. I'll be sure to post some pic's when I have it all back together.