Been a while since I have gotten on here to update but I have good reason. An earthquake, a hurricane and now a ignition problem in the wifes Dodge Journey has kept me pretty busy. Thoughout all this; however, I have found time to work on the box here and there. The speaker rings have been my main focus. I dont have a plunge router and I wanted a cleaner cut than a jigsaw could have given me. I ended up taking some 1/8" masonite and making templates for each set of my rings.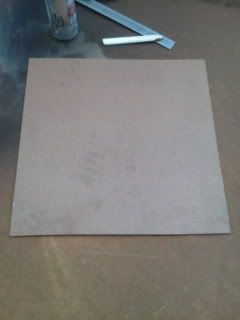 To make sure these rings were concentric i used an old fashioned gasket cutter to cut them out.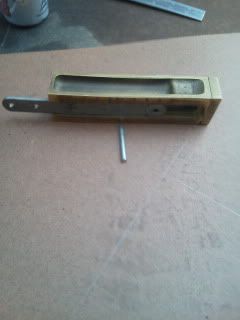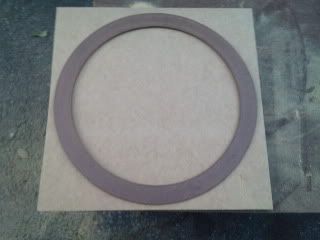 I then nailed the rings down to the MDF and used a flush cutting router bit to trace them out. I left the bottom ring a bit big so when I glued the two rings together I could run the router bit around them again and make everthing flush on the outside.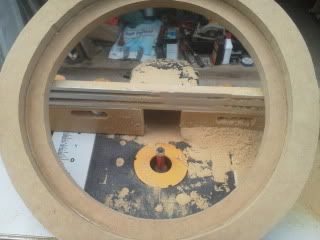 May have been a bit back asswards from what everyone does but I was happy with the turnout and the speakers fit great.
I've seen how a lot of people have suspended their rings with dowel rods hot glued in place. I was worried that this method would not allow me to get even results with my rings though because of the different angles I wanted to keep them flush with. To solve this I turned to my doweling jig. Using a bit of trig I vaguely remembered from highschool I drew parallel and perpendicular lines on the edges of the circle 180 and 90 deg from eachother. Here's a finished picture. Kind of hard to explain on the interent so I won't bore you. If anyone is looking for some good sleeping material I can post how I did it per request
This picture shows the speaker ring and lines before it was cut. The straight lines on the outsides of the circle are to help me line up the doweling jig. Each bottom ring was doweled with two holes each on three sides. The next two pictures show how the jig lined up on the ring after the rings were cut out.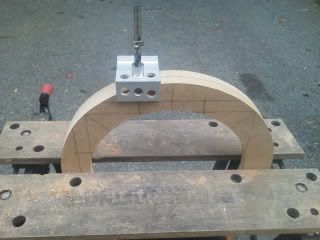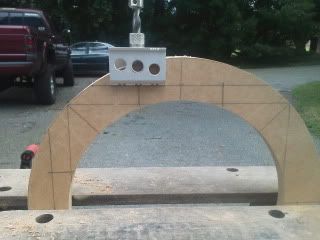 Here's what it looks like afterwards. All holes were driled 4" apart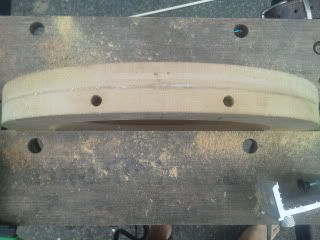 After both sets of rings were drilled I turned my attention to the box. I figured out where in the box I wanted the rings centered and drew center lines. Then I drilled holes 4" apart again with the use of the doweling jig on three sides of each box.
You can also see from this picture that I have since added fiberglass to the inside of each sub enclosure totally sealing up all the seams with 3 more layers of glass.
After all the holes were drilled, I took 3/8" dowel and cut it to length to fit each span and in no time at all I ended up with suspended speaker rings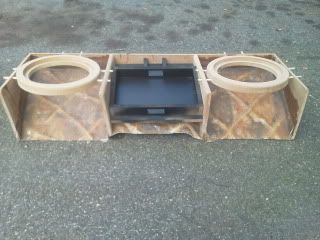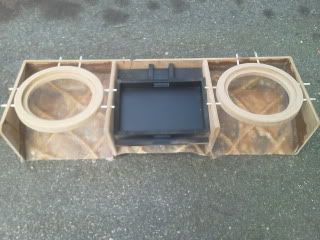 And for the first time since the build began the speakers where placed in their new home.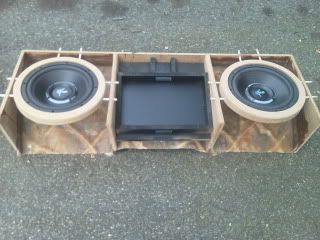 I still have to go along and trim all the dowel rod off but I'll do that after they are glued in. The rings are suprisingly rigid and I can push down on them with a decent amount of force and they won't flex. Probably overkill but it wont hurt. You can also see the amp rack in place. I have also since finished it with a can of spray on bed liner. Might add another later on. Next up comes wiring. With the ignition problem in the Dodge Journey I had an excuse to go buy a decent multimeter so I'm itiching to try it out on the wiring ill have to do for the lights and fans. Then I think i'll finally be ready to add my fleece to the whole shell.
More to come.