to start.. the reason it's a progress thread and not a build thread is simple.. i'm not going to throw tens of thousands at the truck and build it into this custom machine. but i do plan on making progress to give it some custom touches and better performance. i guess the reason i'm doing this is i need a place to organize my ideas and plans and chat and receive advice. so anyone feel free to steal my thread and use it to your advantage. ask questions etc etc
so here's what i got.. 2000 dodge ram 1500 quad cab 4x4. bone stock. its got 131,000 as of 2/7/2012.
what i've done:
new rebuilt transmission - 1/20/12
changed the oil - 1/25/12
topped off fluids - 1/25/12
removed ugly chrome (i hate chrome trim) - 1/27/12
changed all reverse/brake bulbs - 1/25/12
fixed tailgate so it stays shut - 1/27/12
toolbox - 1/27/12
DIY quad ramps - 2/1/12
what i've bought and have yet to install:
fram air filter
bosch spark plugs
bosch wires
duralast distributor cap
tailgate handle
2.5 inch front leveling kit
6000k HID conversion kit
what i plan on buying/doing soon:
bull bar with fog lights - soon
top-of-cab running lights - whenever
bigger tires 305's?? - before 2012-2013 winter (if the world doesnt end)
painting rims black - before new tires
wheel spacers - before new tires
fender flares - if/when money allows
new fuel pump - a year or so from now
so if you have any suggestions or helpful hints or any good mods you know of or anything you want to add on what i've got listed feel free to post. ask questions. give advice.
thanks,
Anthony
pic of the truck the day i got it: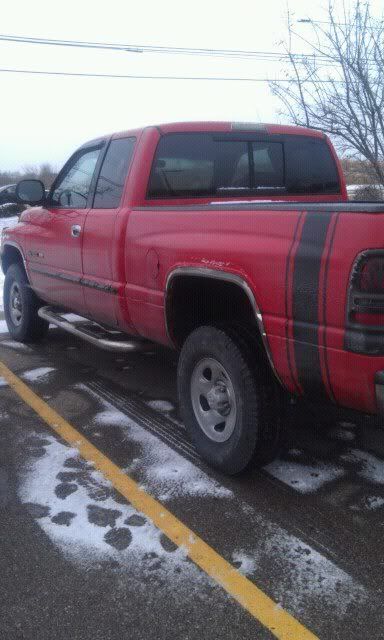 pic of the truck now:
(to be added)