Discussion Starter
•
#1
•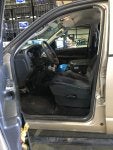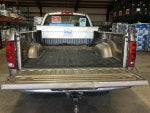 I am selling my 2004 one-ton. Have ordered a 1500 QC 4x4 Outdoorsman 3D. If it ever gets here (spp is keeping me updated as to the lack of progress) I will no longer need this truck. Here are the details:
2004.5 3500
HO 5.9 Cummins
292,000 miles
4x4
Quad Cab
Automatic
Grill guard
Bed mat
Running boards
I bought this truck at just over 90,000 miles in 2008. The only real trouble I have had with it was in 2010 when the motor was rebuilt and I replaced the transmission. Broke a ring at 138,000 miles which scored the #1 cylinder wall. Since the block had to be pulled anyway and I was planning on keeping the truck quite a while, I had them bore and sleeve all six cylinders, new pistons, rings and bearings, new oil pump. Also milled the head and worked over the valves just to be sure. 5,000 miles later the tranny went hooves up and I replaced it. Totally trouble free since then other than the normal random u-joint or water pump. Did replace the injector pump in February of last year. New tires (see pic) about 5,000 miles ago.
This truck has been a running son of a gun for me and will be sorry to see it go. Put 240 or 250 miles on it today for work at 75 mph with the a/c cranked and got 16.8 mpg. Not bad for a truck that weighs 8,200#. If I drive in Oklahoma or Kansas where the speed limit is 65, I can push 20 mpg. With a 10,000# trailer I get between 11 and 13 mpg depending upon wind.
Am asking $13,500 for the truck. NADA has it at $14,450. KBB has it a bit lower, so I'm in between.
View attachment NADA Price Report.pdf