Any of you who have followed along with my Cummins build thread new this was coming and what I had planned. I posted this in my build thread but thought it was a big enough thing that I'd separate it out into it's own thread as well for the guys who don't follow along.
Here's a summary of the products I used and my experience with the install to delete my 2012 6.7 Cummins along with my first impressions of how the truck is now.
Tuner:
First was the H&S MiniMaxx tune with custom tunes from Draconian Diesel. This includes 4 custom engine tunes and transmission tuning. Draconian is known for their very efficient no smoke tunes that provide safe (or as safe as they can be) and reliable tunes. Plus the option of always adding different modifiers and things to the tunes as I do more mods. The tunes I got (and power from them) are as follows:
Mileage - 25-40hp/80-116ft-lbs
Tow - close to stock
Street - 100hp/292ft-lbs
Street Performance - 125-150hp/365-438ft-lbs​
And yes, those numbers are all the gains at the rear wheels, not the flywheel. Kind of a downer for you guys tuning gas vehicles eh?
I also got an overhead mount for my MiniMaxx to give it a clean install. I ended up having to spend a couple hours modifying it to make it fit exactly how I wanted it but it was definitely worth it. Now it looks like it was meant to be in the truck from the factory.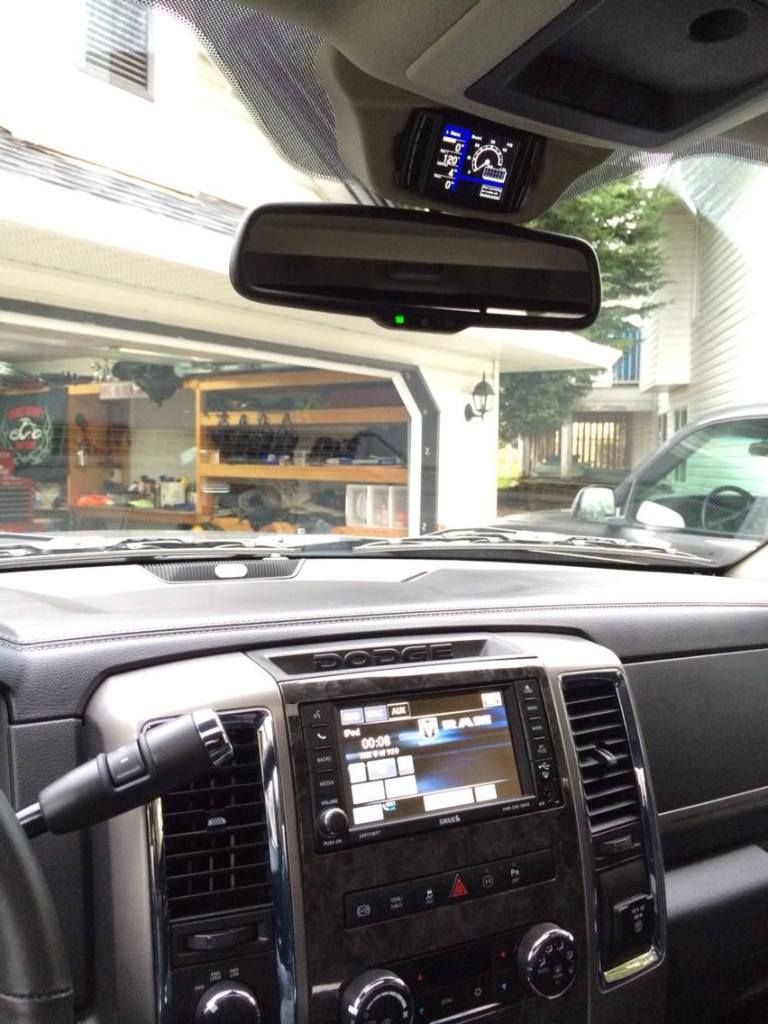 ​
EGR Delete
At pretty much the same time as I bought the tuner I got a Sinister EGR and cooler delete kit for the truck as well. I got it from a guy on CumminsForum brand new in an unopened box for $165. Couldn't pass up that deal. So it showed up and sat on the shelf for a couple months.​
Exhaust:
Finally the last piece of the puzzle was the exhaust. I definitely changed my mind a few times on what exhaust system I wanted to run. After watching tons of youtube videos I knew I wanted a 4" system rather than a 5". To me it just sounds way better. A little more raspy and not so much of a low droney sound. I was also 95% sure I wanted to run a straight pipe system after watching those videos but I was concerned about the total volume and possible drone at cruising speed. For that reason I was originally dead set on an AFE kit that came with both a straight pipe and a muffler. As time went on I was more and more sure I'd want a straight pipe and that if I did need to muffle it at all I wouldn't want the big muffler that came with the kit. So I ended up scrapping the AFE idea and with with a 4" Flo Pro stainless turbo back kit and a 4"-5"x12" stainless dual walled tip. It ended up being over $100 cheaper than the AFE kit. The muffler wasn't worth that IMO.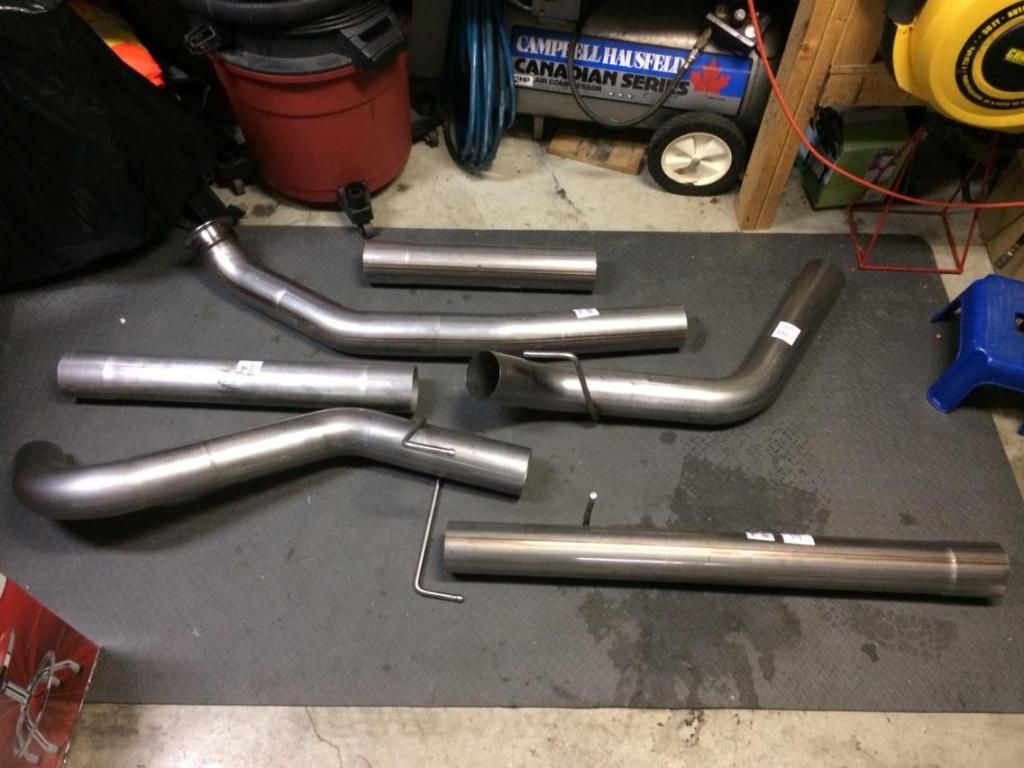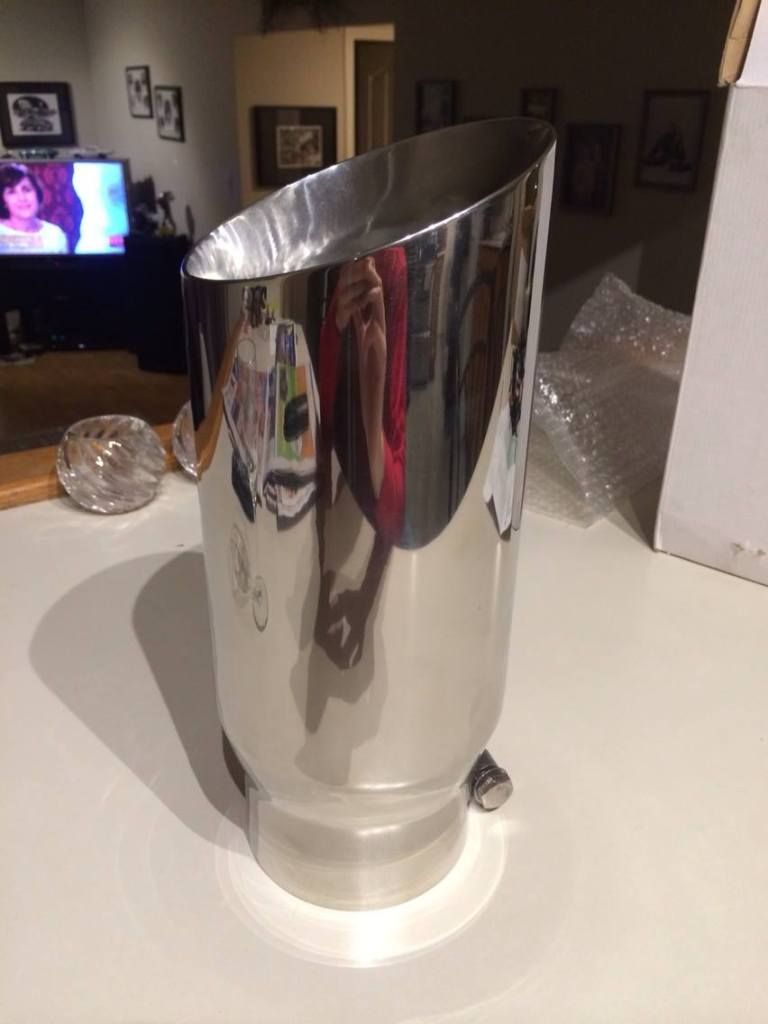 ​
Install:
Since the tuner needs to be installed on the truck when it's at operating temp I knew I needed to do that as soon as I got home from work Friday. Quickly read through the instructions once more to make sure I wasn't missing anything and then went ahead and did it. First off I can say it's much easier than my Bully Dog was on my 1500. None of that key on, key off BS that it makes you do. You first have to go through a few setting and it asks you questions about transmission tuning (I had to enter a code) and speed limiters, etc.... then it probably took about 10 minutes to actually install the tune. From there it was just one key on, key off cycle for it to clear the codes and it was good to go. Started right up.
Since I got off work early and the tuning when faster than I thought it would I said screw it, I'm doing the exhaust tonight. So I pulled the truck into the garage (or at least as far as it would fit) and started on the process. The first step was now loading my custom tunes into the tuner to make it a race tuner (for a deleted truck). It was pretty much the same process as the original tune, I just had to enter in another code and then search for the file. No big deal. After that I got underneath the truck and started ripping the stock stuff off. Most of it came off fairly easy. I had to fight with a few of the rubber hangers and a few of the sensor connections for the exhaust system were a pain to get at and unplug, but nothing any more challenging than what I expected. The worst part was probably removing the transmission cross member (had to be done to remove the down pipe). It was in there super tight and is a little wider than the brackets that support it.... so I had to use a pry bar to move it around a bit. Then there was a bit of fighting to get the stock down pipe out because of the cat that's in it and the tight space between the transmission and the floor. But once I got it past one point it dropped right out.
Putting the new exhaust on was for the most part a piece of cake. It took a little bit of fiddling around to get the down pipe clamped back on the turbo (it's hard to hold the pipe with one hand and then get the clamp on and tightened with only one had...) But after that was on it literally took me 3 minutes to bang on the pipes to the axle... they're all just straight pipes with band clamps. Then I had a little screwing around to do with the final pipe. Flo Pro leaves it long from the factory in case you don't put a tip on it so obviously it needed to be cut. In order to figure out where I needed to cut it I had to install it fully and then put the tip on to mark it. Both were pain because that back rubber hanger is the toughest one to get on and sliding the tip over 10" of pipe isn't fun either.... Anyways, finally got it marked and cut and then threw it back on. From there I made sure everything was lined up properly and then tightened all the clamps from the turbo back and aligned the tip. Threw the transmission cross member back in and then it just took a few minutes to tape and tie up all the wiring/connectors from the stock exhaust and it was good to go.
Overall it took me about 4 hours to fully tune the truck and do the exhaust. Definitely not bad considering it did it all by myself at night, with the truck up on blocks sticking halfway out my garage. lol. The 1600 Lumen Snap On work light that I bought definitely helped me get it done. It lit up the underside of that truck better than daylight!
Here are links to the videos I took at initial start up. The first one is literally the first start up. Because the truck was cold the exhaust brake kicked in after a few seconds which makes it sound a little funny. The second video is high idle with the exhaust brake on. It sounds like a jet...
I took some video clips of the stock exhaust on the truck with my Canon camera and plan on taking more of the truck now with the straight pipe to make a comparrison video. Unfortunately we had bad weather all weekend so I couldn't get them. Hopefully next weekend I will be able to get some and then I'll put the video together and post it up.
I didn't take any pictures of the exhaust underneath the truck. It's pretty straight forward, it's literally a straight pipe from the down pipe to the axle, bends up and over the axle and then out the side of the truck. Here's a couple I quickly took this morning to show you guys: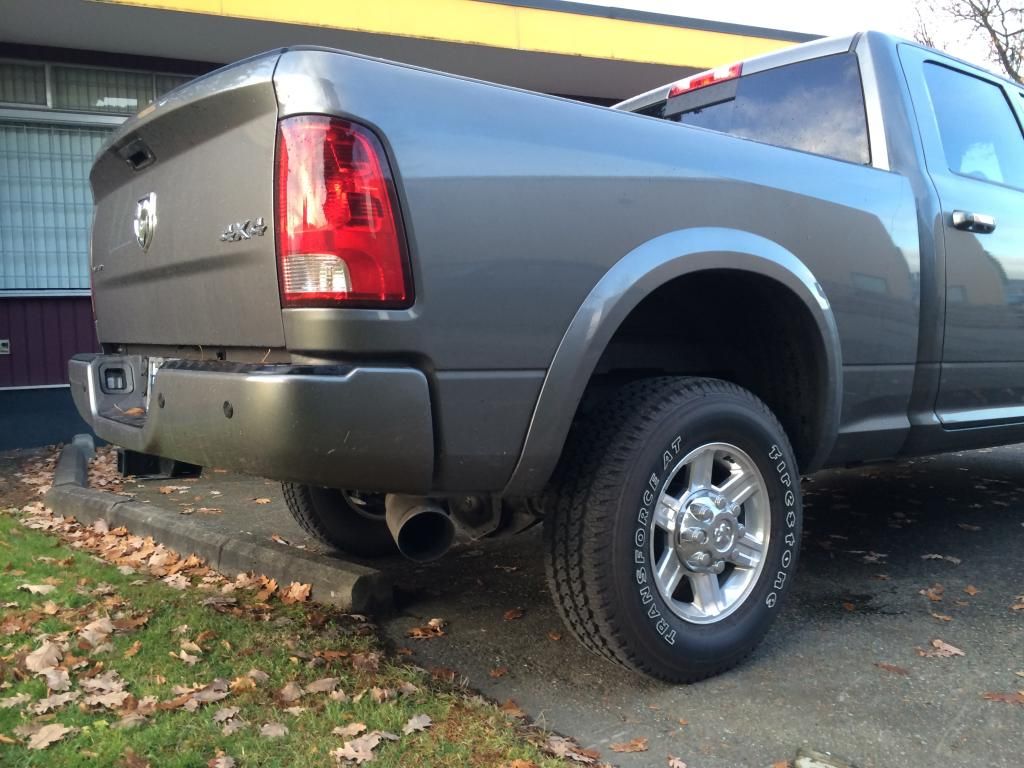 Saturday afternoon I started on the EGR and cooler delete. I'll tell you one thing... I'm very glad I have a 2ft height work platform to stand on in order to work in the engine compartment of this truck. Even at stock height it's flippin high. I was literally on top of the engine or rad for half of it just to be able to reach stuff.
Deleting the EGR itself wasn't a problem at all. Plugged it, unbolted it, put the block off plate on and that was done. Most of the work was the EGR cooler. There's quite a bit involved in taking it all off (lots of random bolts, cross over tubes, coolant lines etc.). Most of it went pretty smooth and easy. The worst part was getting at the back bolts for the cooler which are pretty much at the very back of the engine which backs way under the cowl. They're hard to see let alone get a tool on. Without a swivel and a few long extensions there'd be no way of getting the inside one off. After I got them off it was just a matter of throwing the block off plates on, a few brackets, adapters and a coolant line, refill the coolant and she was good to go. Fired it up and there was no intake, exhaust, or coolant leaks. :smiley_thumbs_up:
Before EGR and cooler delete: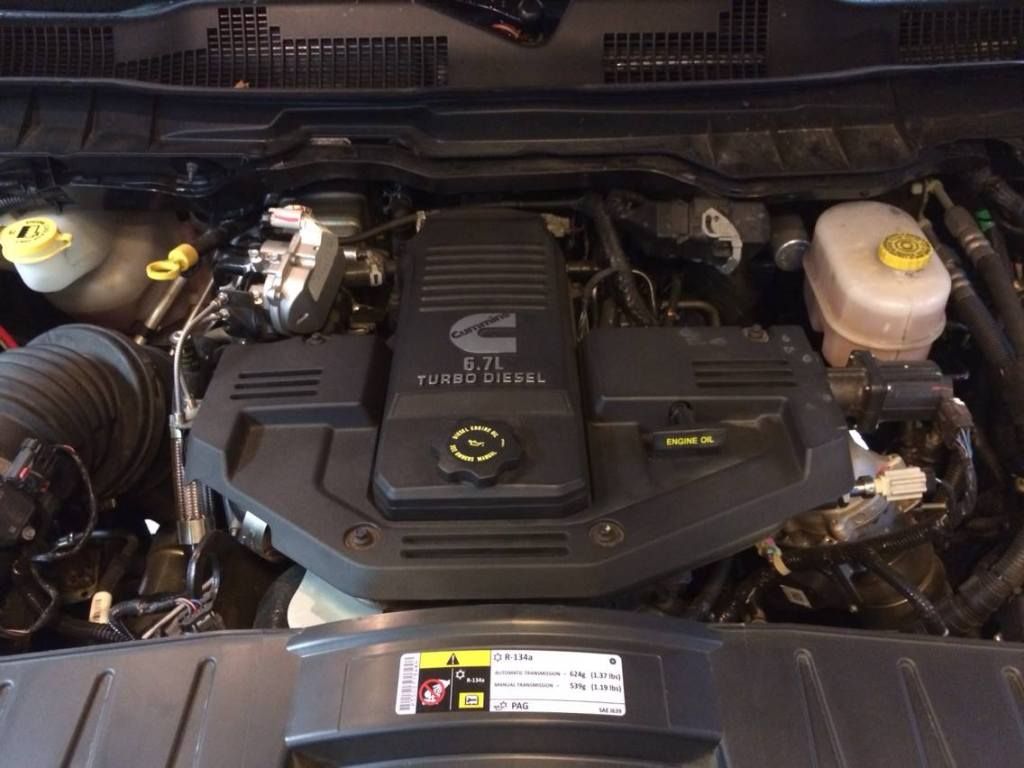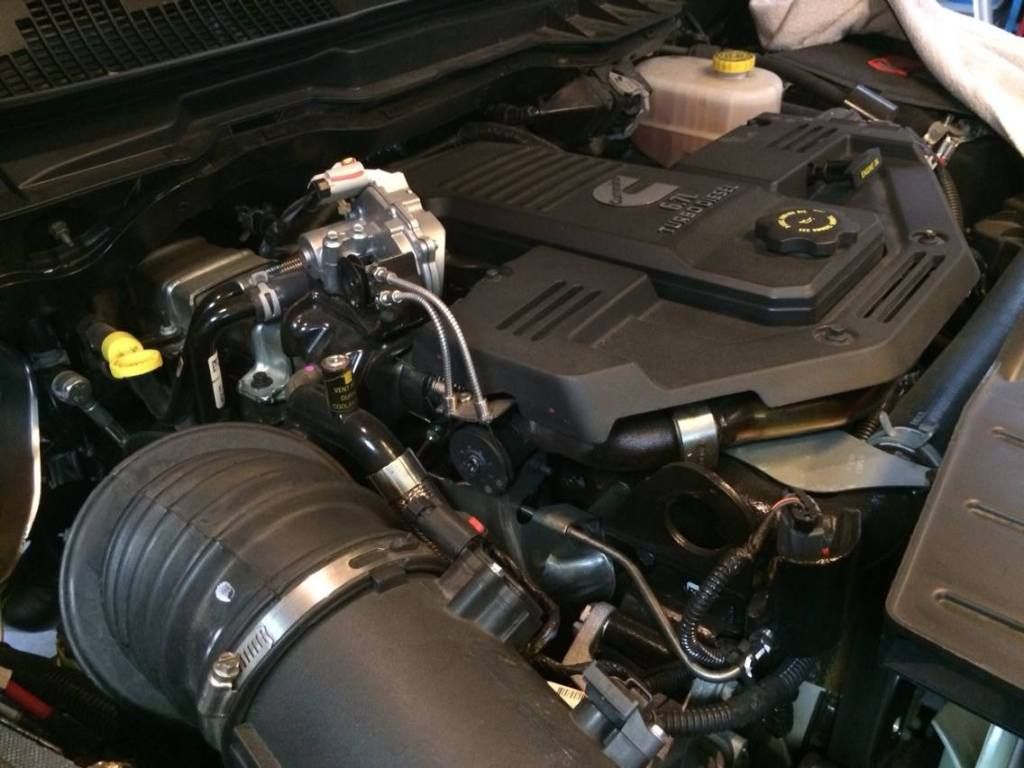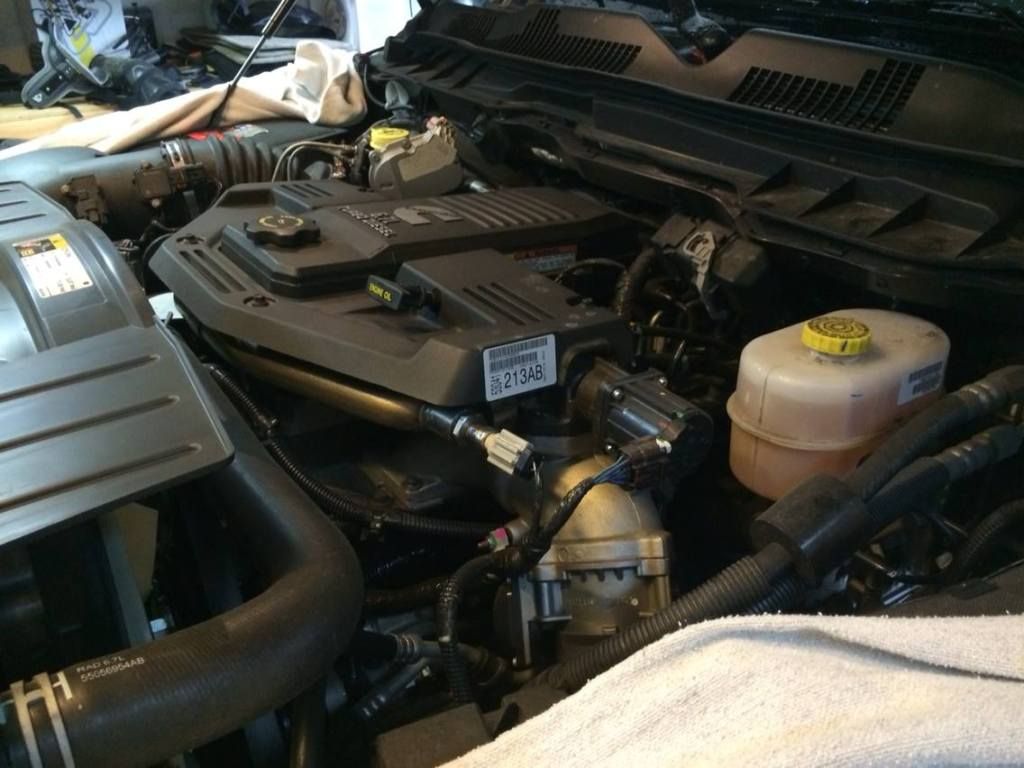 After EGR and cooler delete: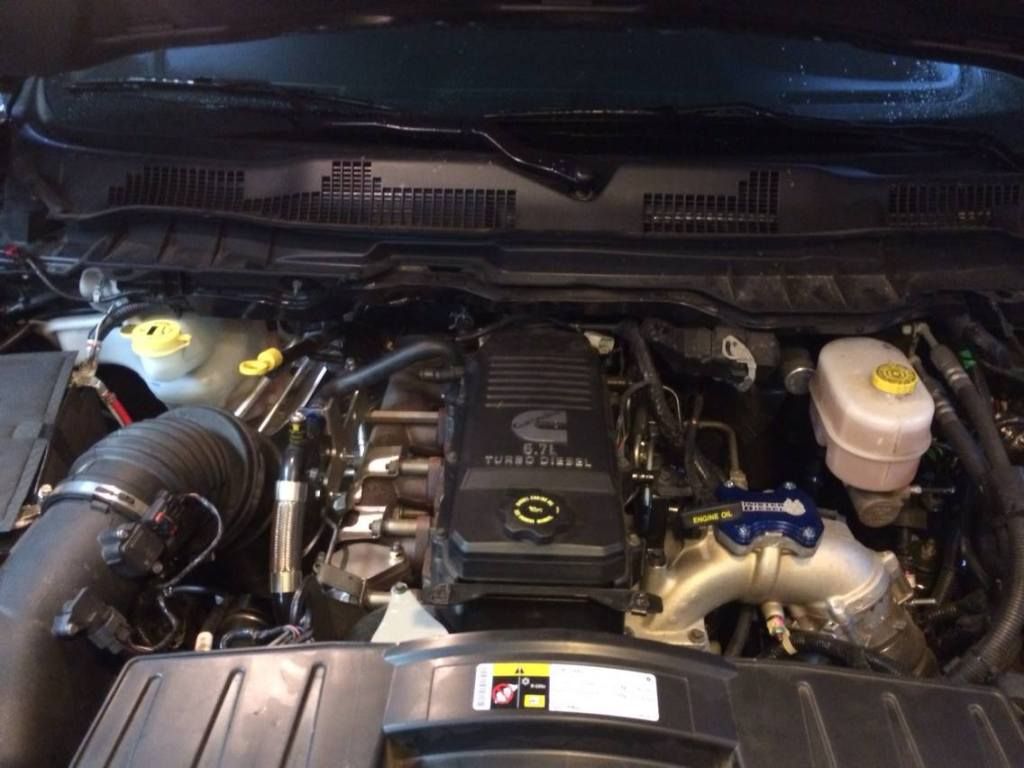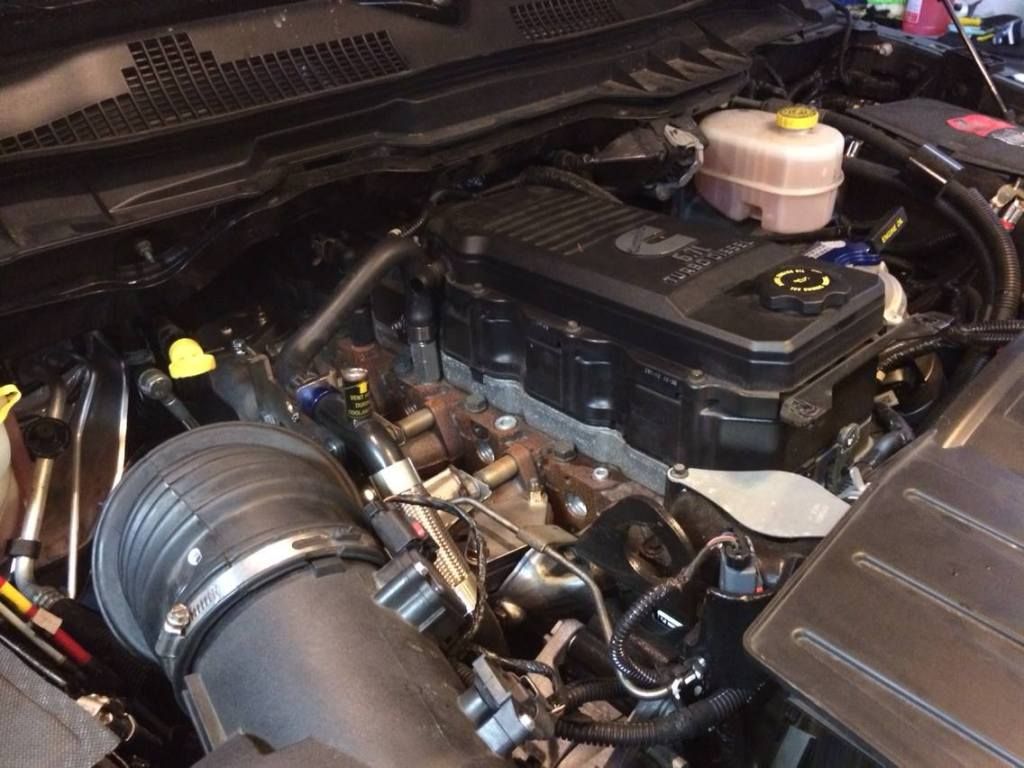 I wouldn't mind buying or building some brackets to put the engine cover back on because I kind of like the looks of it.... It just finishes off the engine compartment that much nicer.​
First Impressions:
Finally the part the a lot of you are waiting for. My thoughts on the truck now that it's deleted. Well I can tell you this, when guys say it's a completely different truck once deleted they aren't exaggerating at all. I am blown away by how amazing this truck is to drive now. Now keep in mind I'm not sure how much of that is because of the deletes and how much of that is because of my custom tunes. Both obviously play into this.

Obviously the truck sounds and runs amazing now that it can finally breath and has all the useless crap removed from it. The throttle response is amazing and the power it has now is unbelievable. So far I've only been running my mileage and tow tunes just to give the truck a chance to get used to everything, break in, and play it safe and it's still insane! It builds boost so much better now and if you start putting your foot into it you better be holding on. Even just gradually giving it fuel up to 60-70% throttle it starts spinning (on wet roads). But even on dry roads it will spin if you want it too. It's just insane.... It's actually hard to describe what it really feels like without taking you for a ride. The torque it has is crazy... it goes from 60 kph - 130 kph right now! It just moves! Oh, and the estimated torque reading on the MiniMaxx at 60-70% throttle on my tow tune was 1029 ft-lbs :SHOCKED: Now I don't believe it would dyno that high but keep in mind that's only my tow tune, which is supposed to be close to stock power. My street and street performance tunes are much higher than that.

The exhaust brake is now working much better as well. I have noticed that it doesn't come on as often... but when it does come on it's definitely slowing you down. Most hills I end up having to give it more fuel to keep the truck moving otherwise it starts pulling it down below the speed limit. Should be great when loaded, I'm excited to try it out pulling a trailer.

I am having a bit of an issue with the tuning. When I'm light on the throttle cruising on flat land around 55 kph (35 mph) at around 1300-1400 RPM the throttle is super sensitive and easily cuts out and surges. I've already emailed my tuner about it and he agrees that something is wrong and needs to be looked at. He will be fixing the tunes and sending me a new file to load up that should fix the problem.

I'm also very impressed that my exhaust has absolutely no drone at cruising speed. Driving on the highway to work this morning the exhaust doesn't sound much louder in the cab than the stock one did (until it starts getting fuel that is). So far that has affirmed my decision to stick with the straight pipe. It's pretty much the perfect volume and set up for me and the type of driving I do most of the time. When towing I can definitely see it being more droney though as the RPM will be higher.​
Here's a picture of the pile of junk I took off the truck.
My build thread is linked in my signature for those of you who do want to follow along.