Discussion Starter
•
#1
•
I have been trying identify the issue. Have had mechanics take a look. Still no plausible solution. I have checked the 60 amp fuse for the condenser fan. The fan did not shut off a few days ago and drained the battery. Unfortunately the battery also had a bad cell. Replaced the battery and was hoping that may have been the issue.
I have pulled the condenser fan and tested and it works. I have cleaned the condenser coil.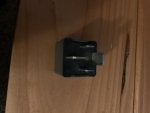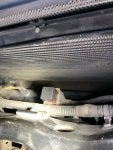 The fan stays on still. I have unplugged the condenser fan to stop it from draining the battery.
I traced it down to a relay switch that is located under the radiator shroud and attached to the hood latch assembly. See photos. I have gone to Autozone, Oreilly's and the Dodge parts department. No one can cross reference the specific part or provide me with one. I did purchase one today at Oreilly's that has the same prong locations. However they are not exactly the same. The fan seems to be cycling correctly. I will know for sure once I am able to operate the truck during the heat of the day.
I would like to know if anyone can tell me where I can get the specific part. I did locate one on Napaonline.com. However once I click the link, it says it is an air pump relay. Part #: ATM 0025422619