Discussion Starter
•
#1
•
Congratulations to our June winner!!!
RansRam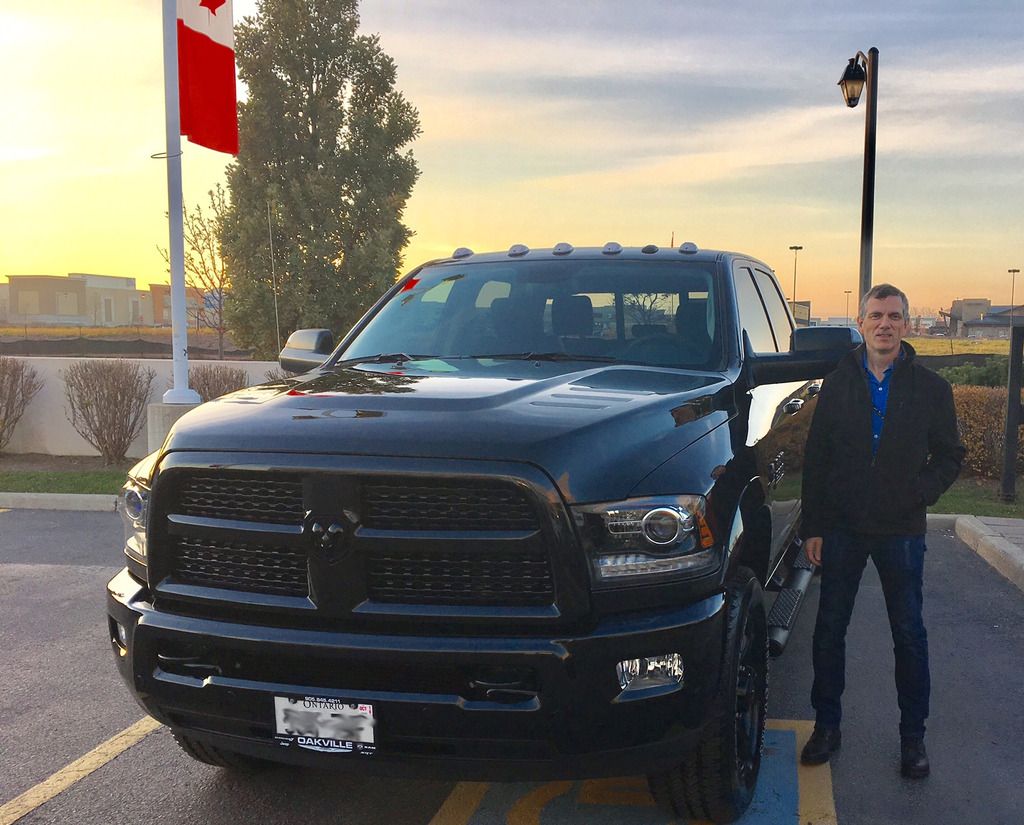 And now a word from your winner!

Hello to all RAM Forumz members. My name is Randy (aka RansRam) and I live in Ontario Canada. I'm happily married with two kids. I joined this forum back in 2010 following the purchase of my 2010 Sport Quad Cab with the HEMI. Since that time I have owned a 2014 Eco Diesel limited and recently upgraded to a blacked out RAM 2500 Laramie with the Cummins Turbo Diesel. I must say that this is the best RAM I have owned to date. I transferred some of my Mods from my 2010 sport and 2014 Eco Diesel over to it and added a few new things as well. My main reason for getting into the Diesel is for towing a future travel trailer now that I am into retirement. Even though I am retired I decided to make every weekend a four day weekend and continue to work as a consultant for a nuclear design company as an instrumentation and control system designer. In my spare time I love tinkering with and detailing my RAM. I am also an avid Scuba diver and try to get away on dive trips as often as possible. As some of you may know I am co-owner of Revel Performance, a platinum vendor on this forum. This has allowed me to help my fellow RAM enthusiasts in providing awesome products at fair competitive pricing. My goal is to keep my RAM looking and driving like I just drove it off the lot. I am always getting complimented on how great my truck looks so I must be doing something right. I definitely appreciate the honour of being voted as Member of the Month once again. My passion for RAM trucks runs deep and I'm always on the lookout for that next cool mod. One of the great things this forum has brought to me is the many friends I have made attending our local meet and greats. There have been several over the past few years. I have also participated in the Mopar Cruise for the Troops where my 2010 RAM won "Best in Show" and have been to the GTALX meets in the GTA on at least three separate occasions.
Since I took ownership of my 2500 Laramie in November 2016 I have made the following mods:
·
Edge Juice with Attitude
·
DeeZee Tailgate Assist
·
Recon Smoked Third Brake Light
·
LED Reverse and License Plate Lights
·
Recon Tailgate LightBar
·
Husky Weather Beater Floor Liners
·
Mopar Anti Theft Valve Caps
·
Nightshade sport Taillights
·
More to Come !!
I'd like to conclude by again thanking the members that nominated me this month; I am both honoured and humbled. I'd also like to personally thank the volunteers and staff who manage and run the RAM ForumZ, and all the other members of the site who post pictures and ask questions, this is by far the best online group I have ever been associated with.
​