Discussion Starter
·
#1
·
For those interested, the 2nd gen V10 radiator fits the 1500 with very little modifications. Actually, the only real modification involves the fan shroud. I'm running e-fans, so my setup may not be ideal for someone running the engine fan. Anyhow, here's a little guide.
2001 Dodge Ram 1500 2wd 390 stroker with A/C and factory transmission oil cooler mounted in front of OEM style radiator and two 14 inch e-fans rated at 2600 cfm each.
During summer months, the engine temperature will slowly creep up from 185 degrees to 200+ (most recently hitting 220 in stop and go traffic 103 ambient temperature and high humidity). As my radiator is about 10 years old, I decided to upgrade it. I looked for multi-core radiators but I was only able to find sketchy eBay all aluminum options. The V10 radiator is huge! The core is 36" x 19.5" x 2" (effectively twice the cooling area of the single core V8 radiator).
Here's a side by side
Interestingly, all 2nd Gen trucks have the mounting points for the V10 radiator already installed. The V10 radiator slides right in, clearing the factory transmission cooler lines and the A/C Condensor lines with no problems. The two bottom pic's show the mounting holes for the V10 radiator next to the existing Mounted V8 Radiator.
I built a fan shroud for my e-fans from sheet aluminum and 1 1/2 inch aluminum angle stock. The dimensions are 1.5" x 36" x 19.5". This shroud doesn't have mounting points for the radiator overflow tank or the washer fluid tank so I modified and attached the factory V8 shroud. It looks OK, and passenger side mounting tabs line up. Driver side tabs required a bit of ingenuity, LOL.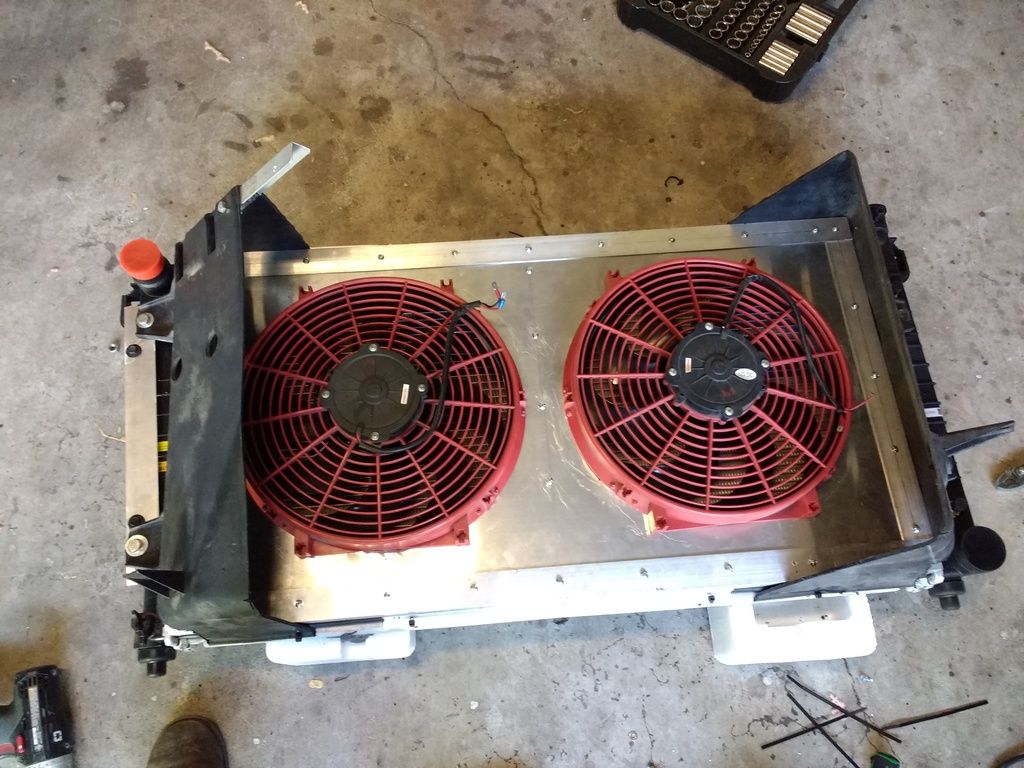 Notice the cut angle on the factory shroud. They end at the core where a slot is available to anchor the plastic to the core. I cut a slot in the plastic and used tie wraps. It's nice and sturdy with no movement, even with both bottles have full fluid levels. I did have to trim the bottom corner of the plastic shrouds to accommodate the aluminum fan shroud.
When you install radiator/shroud, you'll need to trim the corner of the battery tray for the washer fluid reservoir to fit.
Hoses fit, but are tight.
Temperature is rock solid at 185 +/- 5 degrees. Very pleased with the result.