Discussion Starter
•
#1
•
I'm making this post as a PSA. If anyone wants to argue over anything please take it to another thread.
To understand why the cam and lifters are failing in VVT hemis you have to understand something very basic. The cam to roller tappet surface is
splash oiled
with oil flung off the crankshaft. Its been noted by several posters on this forum that fleet vehicles that idle a lot seem to have more failures. My personal 5.7 sees a good amount of idling as well. Oil splash is lowest at idle. Hence the failures.
A little back story in my personal situation: I purchased a 2009 2500 5.7 hemi 4 door 4x4 long bed from texas cheap. 260K miles or so. Had no idea about hemi cam and lifter failures. I needed a crew cab and 3/4 ton or larger for towing and family etc. but had a budget that kept me away from almost everything. For the price I said to myself, if it needs an engine, trans or rear end its worth it for the clean body. By 262-265k miles a lifter had failed to the point of engine knocking and misfires on cyl. #5. Pulled the motor, new cam, upgraded lifters (i thought), all new gaskets, head job and cleaning/checking of the block bearings etc. etc. Back in business. Drove to 280k miles and i began to hear the dreaded cold start tick. Changed the oil and sure enough I could see some flakes in the oil filter. Pulled engine again and here we are.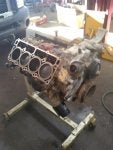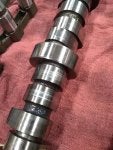 At first glance the lifters appear to be fine. But note the wear on the cam surface. After i dried some of the oil off the rollers on the lifters the problem became apparent. Several rollers in several lifters had rough spots. I also noticed axial play in some of the rollers. The lack of oil was pounding the roller in the lifter into submission but I cought it before a major failure. The wear on the camshaft shows the story, rollers were on a cam surface without oil. All the metal shavings in the filter, lifter bodies and in the VVT solenoid were very fine and NOT excessive.
So the solution is dedicated roller lifter axle oiling. 1 company makes them. Johnson lifters out of taylor, MI.
https://johnsonlifters.com/Products/HydraulicRollerLifters.aspx
Other companies claim to have "hemi upgraded lifters." I had a set of "those" in my engine. They do not solve the problem of no oil splash at idle!