The building of "Charon". A 2007 Brilliant Black Quad Cab SLT 4x4 that became something so much more than I ever imagined it could be... and it still ain't done...
Firstly, the name never developed until about a year after a had the truck and I'd made some fairly simple mods, but as soon as I saw the 'Reaper' grille badge from Billet Technologies (since discontinued, sorry guys) I knew how I wanted it to go.
This whole story started with my dad's '98 extended cab 2500 360cu. After we moved to North America it was the 2nd truck my dad bought, the first was a '95 F-150 reg cab, and it was a good truck, but nothing compared to the 2500 once we upgraded. I loved that truck; powerful, reliable, and more importantly at the age of 16 having a drivers liscence and access to a 3/4 ton, you became the go-to guy for getting gear out to the favorite camping/drinking spot every weekend. The first truck I owned myself was a '98 electric blue dakota clubcab 2wd v6. I had such high (or low hopes) for that truck, but it was my vehicle for getting around in university, and it just wasn't practical to do the static drop I wanted since it was used in Ottawa year-round. Once I moved to Alberta, the dakota just didn't cut it out here, there were 'REAL' trucks out this way. Fortune smiled on me when I met my soon-wife-to-be Melanie, and after a year we moved in together and I had said that when we moved in together I'd upgrade my truck. I had time, and I had the money, so I spent 4 months looking for the right deal. That was in '08, you remember, when gas prices were 'high' at $.90/L and everyone was trying to get rid of their 'gas guzzlers'. I found my Ram on a lot for $17K, it was 1 year old, 50,000kms, and I traded in my Dakota for another $2000 off, so I laid down the $15,000 in cash and walked away with my new truck, free and clear from day 1!
After owning it for about 3 weeks, I was quite unhappy about the '3D' taillights, and I started looking in all the truck magazines for replacements... this is how it all starts kids. Yes, the tail lights were my 'gateway' mod. I picked up a set of Recon smoked tails + 3rd brake light closely followed by a Borla dual rear exhaust and AirAid CAI.
I love the look so much, and so did the guy that stole my tail lights and tail gate when I was at work... So I went overboard, ordered new taillights, a tailgate from a yard and had it repainted to match the BB. I also figured that since it was in getting the replacement under warranty that I'd also get the tailgate shaved and a bolt-in urethane roll pan. The roll pan did entail losing my factory hitch, but I never towed anything at the time so no big loss. I was however paranoid about security now, so I also picked up a roll-n-lock tonneau cover which locked the tailgate as well, perfect, now it's secure.
I also had some focus on the front, and I didn't want to be like all the other trucks out there, so I went with a set of AnzoUSA Black projector halo heads and swapped hoods with a Suncoast ram air hood. Everytime I've looked at mods, I had always said they had to be practical, not just for show, so any hood I got HAD to be functional, so that ruled out about 75% of hoods out there. When I saw the Suncoast, I was sold. So the front end got some loving. I did also replace the mirrors with the Street Scenes CalVue dual signal mirrors because I wanted the signals on the mirrors, never an option with the 3rd gens.
After that first summer of mods I was already looking for the next thing. This is when I found the Z............
I hate you all
After seeing lots of amazing rigs on here I made the decision to 'murder' the truck, and it was all downhill from there. Over that winter I started ordering mods, piling them in a corner of our tiny little 500sqft condo, and every week the pile got bigger and bigger until the gf said I had to stop or she'd start throwing them off the balcony to make room. That winter I purchased an RBP 2-window RL grille, OEM fog light assembly, a bumper cover, BT underhood kit, the 'Reaper' nose badge, amber interior LED lights, LED turn signals, LED taillight bar, HIDs, electric fan, fan shoud delete, and lastly a few cans of vinyl dye to dye the interior black. That spring I modded my truck everyday that I wasn't working in the bush.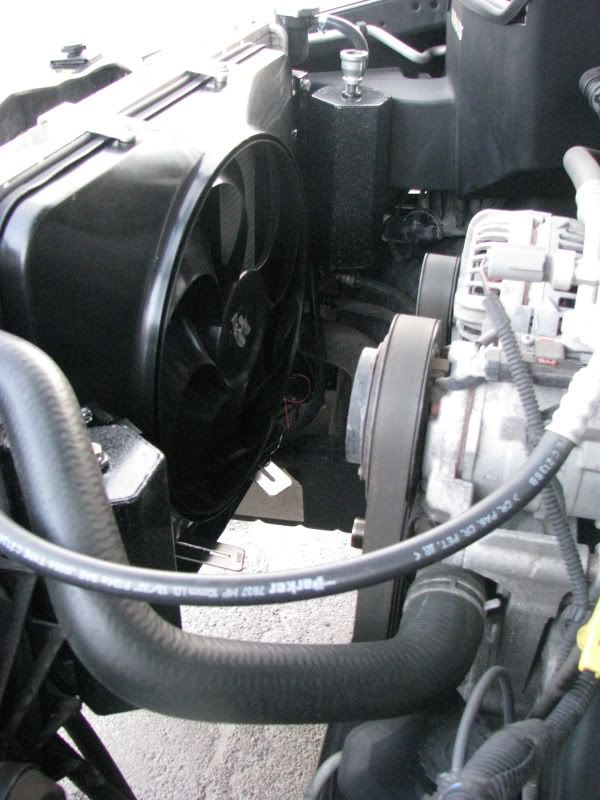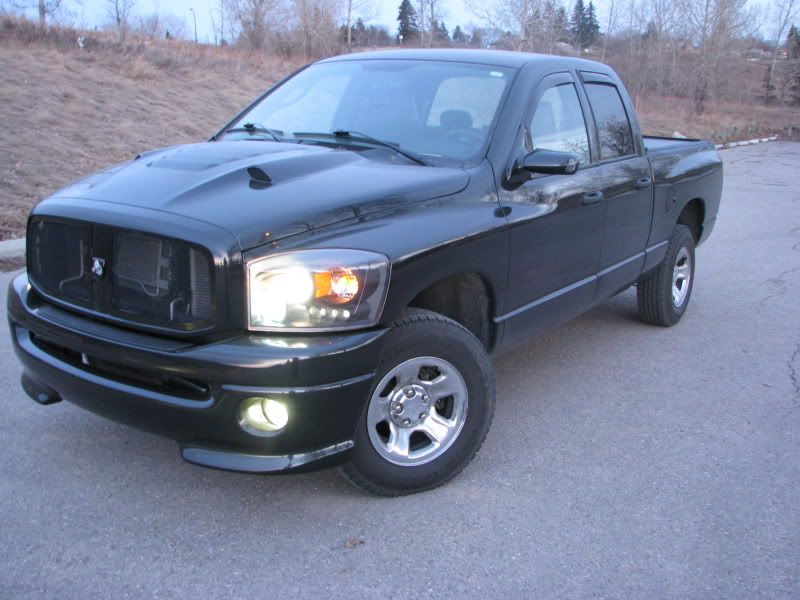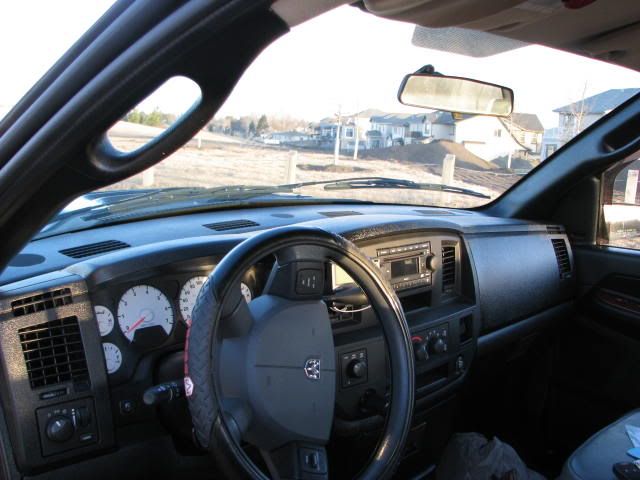 As that spring turned into summer and then into fall, more mods developed, I covered my headline in suede, got a set of Recon's LED door sills, interior LED lights, custom interior led lit handles, and custom exterior door handles.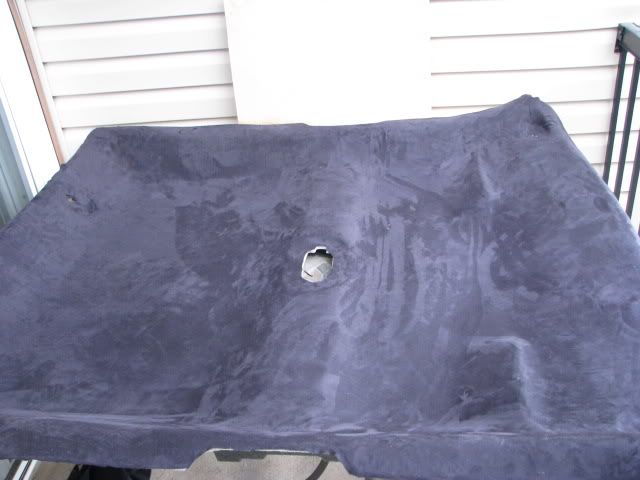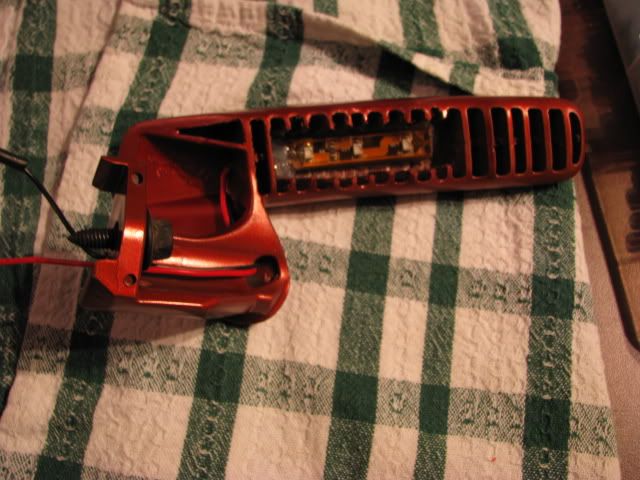 I now had what I thought was a bad ass truck, but something was missing... and that was wheels, tires, and some sort of suspension mod. Again, over the next winter I saved and spent like a kid in a candy store. I ended up getting a GroundForce 2/4 drop kit, 22" D'vinci Ragno wheels and Nitto NT02 rubber, and to stop the new wheels an upgrade to EBC sport rotors and GreenStuff pads. I also added some MGP caliper covers.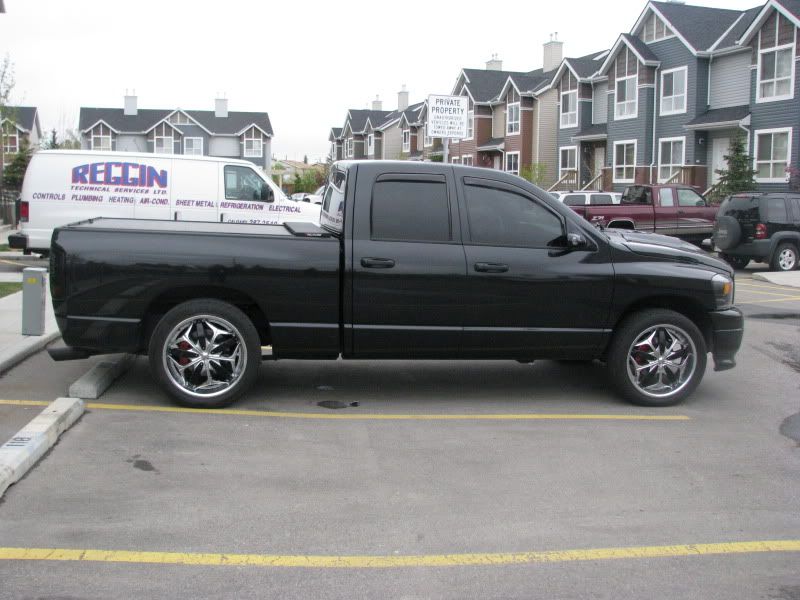 Now nearing what I though was the end of the build, I was introduced to the local chapter of LX car owners, the ALX club. These guys put me over the top because I now had a group that accepted I owned a truck and didn't shun me for not owning a LX, but I had the passion of a car nut and embraced the 'pride in your ride' mentality that they had. These guys pushed me to take a great looking truck and put it into 'bitchin' status.
The build involved Katzkin leather seats, a complete JL audio system including a 13W3 stealthbox, 2x ZR800 mid subs, 2x set of C5 6.5" components, 4" dash speakers, C5 5.25 rear fill all powered by a HD750/5, HD600/4, and a Slash v2 400/4 out of a pioneer 2-DIN h/u. I also repainted the accent color to match the custom steering wheel and katzkin color. There was much to be done before the finished product almost a 6 months later, but it was worth every penny and minute.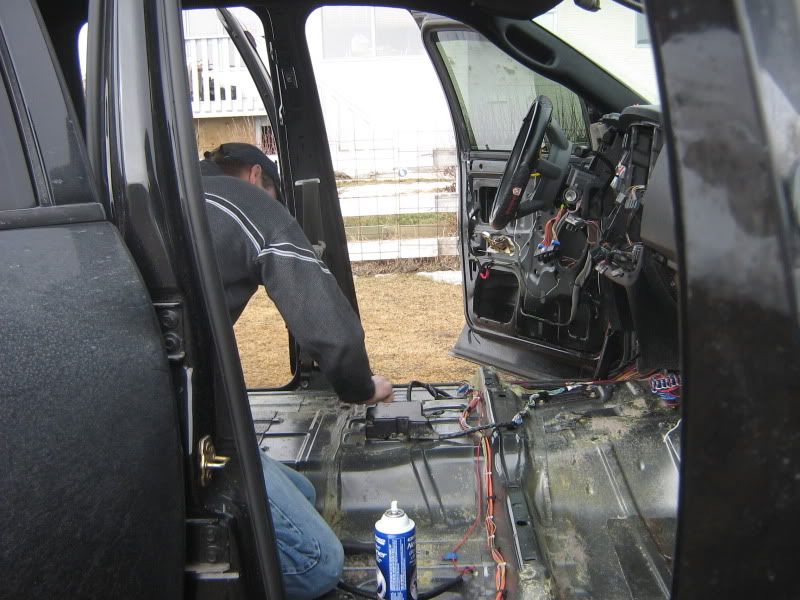 Soon followed a complete interior and audio rebuild with a little help from local members. The results blew me away.