Discussion Starter
•
#1
•
This post is a series of events that happened after installing DDP 120hp injectors. The events are true and documented.
I purchased a 2006 Dodge Ram Quad Cab 4wd (5.9 Cummins) brand new in 2005. I intended to keep this pickup for many years. I serviced it regularly and changed the oil every 5k miles. It had 98k miles on the odometer and experienced no real issues to date when I decided to make modifications for more horsepower.
Long before the time came to install bigger injectors I heard about Big Bang Injection (BBI) and that they were able to match the flow rates of each injector to near exact measurements. Unfortunately time passed and when the time came to buy injectors I had a diesel shop owner tell me to buy Dynomite Diesel Performance (DDP) injectors that they also matched flow rates and made it sound like that was a common practice by every aftermarket injector manufacturer. What I didn't know is the acceptable tolerances of what is considered matched varies greatly as you will soon read. I am only speaking to my experience between DDP and BBI's injectors. See the attached pictures for flow rate comparisons.
March 2018
My story began shortly after installing brand new DDP 120hp injectors.
May 2018
Driving home from Seattle I heard what sounded like severe timing detonation in a gas engine that continued to get louder, behind us a trail of white smoke from my exhaust. By the time I got off the freeway the engine would barely idle and there was such a
loud knock I thought I threw a rod. After a 2.5 hour wait for AAA and another 3.5 hours in the tow truck we got home. The next day I called DDP and to my disappointment without asking a single qualifying question to help diagnose the problem I was told "the problem was likely caused by installer error and or fuel contamination" as stated below in their written warranty.
"This limited warranty covers no more than one (1) injector. Statistics show that one injector failure is possible, but more than one would be caused by poor installation or contamination which is not covered by DDP."most likely installer error and/or fuel contamination and I would be charged time and materials." I've never read such an arrogant warranty statement. DDP required a shop diagnosis to confirm an injector problem had occurred before they would agree to look at them.
The shop confirmed 2 injectors were bad. They reinstalled my stock injectors. DDP acknowledged they failed to properly torque the nuts that secure the nozzles to the injector bodies of #1 and #2 injectors causing a fuel leak between the injector body and the nozzles.
October 2018
As wierd as it sounds returning from another Seattle trip I had a repeat of my last trip. Same symptoms, same long wait for AAA and a long ride home in a tow truck. I swapped my stock injectors myself and shipped off DDP's injectors. The only explanation given was an "issue" with injector #4 nozzle. They installed a complete set of nozzles.
November 2018
Less than one month later driving to a Dr's. appointment I heard what sounded like a champagne bottle pop from under the hood. Pulled over to find oil sprayed all over the left side of the engine compartment. My engine now had a severe miss. A compression test showed #4 cylinder had 100psi. Once the head was removed #4 piston had melted away from the rings and #3 piston slightly less. What exactly caused this catastrophic event? I'll never know. I bought this pickup brand new. Drove it 100k miles without any issues. My egt's were always in check. I don't drive hard, and I don't tow heavy. I never thought so much could go wrong in 8 short months.
April 2019 Rebuild complete
Finally my engine rebuild is finished. For added insurance against melted pistons I installed Mahle Monotherm steel pistons. DDP found nothing new wrong with the injectors but there was still a miss at idle and heavy surging at hwy speeds, excessively loud injector rattle. It sounded loud eerily close to what a bad injector sounds like. For peace of mind I reinstalled my stock injectors the miss dissapeared, no loud rattles, no more surging.
Big Bang Injection /The Solution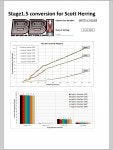 DDP's injectors have been at the center of every problem I've had with my engine to date. The money spent on DDP injectors was added to the losses column. Still needing a solution I reached out to BBI and spoke with Martin Schoppl. The most cost effective solution was to rebuild DDP's injectors to BBI's stage 1.5 injector specs. I shipped off my injectors to BBI in Austria and they had them back to me in about 10 days along with graphs showing the fuel flow rates of each injector before and after they were rebuilt. I installed them as soon as I could and what a difference they made. Smooth quiet acceleration with no injector rattle! All I hear now is my compounds spooling. My rail pressure has never been so consistent. At idle there is little to no variation and at hwy speeds the pressure varies to how my right foot varies. My engine starts with a bump of the key. I've tried almost every power configuration on my Smarty Touch and have the tuning dialed in. The missing components all along was having a solid set of injectors!!
Injector flow rates before
The fuel flow rate graphs tell the story. Notice the graph before the injectors were rebuilt. The gaps in the flow rates at lower rail pressure cause smoke, hard starts, misses at idle and loud pinging while accelerating from a stop. The same spreads at higher rail pressure explain why the pinging continued beyond acceleration at consistent highway speeds.
Injector flow rates after
The even flow rates after they were rebuilt removed all of the above symptoms and resulted in smooth acceleration, consistent rail pressures, no pinging, and excellent driveability as described.
Thank you Big Bang Injection !!
I learned many injector lessons over the course of a year. I now have a huge respect for the role of injectors and those that can build them correctly. I hope the reader gleans something from my experience.