Discussion Starter
·
#1
·
Hey all,
I've got a 2018 Ram 1500 Sport in bright white and have been working towards blacking or whiting out every last bit of chrome, silver, and shiny stuff.
Recently, I upgraded my stock wheels with Fuel Couplers in 20x10 -24 offset, but didn't like that they have a bunch of chrome on the wheel caps. So I decided to try to DIY a solution on a spare cap I have on my spare wheel and then fine tune from there...
Before:
1. Chrome fake M6 socket head inserts and two stainless M6's to hold the cap on.
2. Chrome Fuel logo.
3. Fake bolts molded into the inner cap around the logo.
After:
1. Inserts and mounting screws replaced with M6 screws that I DIY powder-coated with flat black.
2. A white plastic-dipped Fuel logo.
3. M4's powder-coated in flat black screwed into the place of the fake molded bolt shapes.
Details:
1. The M6 inserts come or easily with a little tapping force using a hex driver or similar and a light tap from the back side. I've mocked this up so far with M6x1.0x16mm bolts, but will need to trim them and the plastic bosses on the inside of the cap down to about 10-12mm in order to install nuts and have the whole assembly not interfere with the face of the wheel when mounted properly. That should be simple though...
2. The center cap comes off of the larger tapered cap via some press tabs and tensioning wire. That's easy... if you look at the back of the center cap, there are six small melted plastic tabs that you can carefully drill out. When they are gone, the front logo comes loose and it's a two-piece design! Fantastic...this means you can paint the fuel logo letters part and not have to mask the black plastic surround.
3. All I did to get M4's in the center cap was to still M4-sized holes in the back where the six fake bolt molds are. Thread them in with some lock nuts and you're good to go!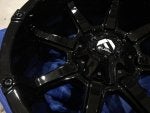 All in all, I'm quite pleased with how this came out. The flat black powder-coated bolts even match the finish of the plastic Fuel rivets on the outer lip.
I may decide to buy aftermarket, professionally powder-coated bolts for the four wheels on my truck. Also, I'm still deciding whether I want to use plasti-dip on the logos or just go with real, permanent spray paint for better durability. Your thoughts are always appreciated of you feel strongly one way or another.
Let me know if you have any questions and thanks for reading!
- Justin