Discussion Starter
·
#1
·
So i have had the Belltech 2/4 kit with SP shocks sitting in the garage for about two weeks now and i have had enough i just couldnt wait any longer. So i did the install this past saturday.
I started the with the front first just because it would give the most problems. not so. it was very straight forward, I even rented a coil spring compressor and
ended up not needing it, the springs came out pretty easy. then i turned truck around
(this is with just the front done, old school.....)
and the rear was even easier, until i tried to remove the stock shocks. I removed the wheel well liners from both sides and found out just like everyone had said, it was nearly impossible to get to the upper nut on the back of the upper mounting hardware with the standard tools i had. sockets would not fit and the standard size boxed wrenches were too long. So i had to break down and make a trip to autozone, I was looking for a stubby 21mm wrench but of course they did'nt have any. I ended up buying a set of crows foot wrenches,
and it ended up being perfect. 30 seconds and the shocks where off.
with everything double checked for correct torque i hit the road.
Ride was really close to stock. not harsh but a bit tighter, less body roll. handles very well on winding back country roads. I did bottom out the rear once. on a dip at the bottom of a low spot on the road near my house, but it was pretty bad even when it was stock. I am very pleased with the results.
and from day one to current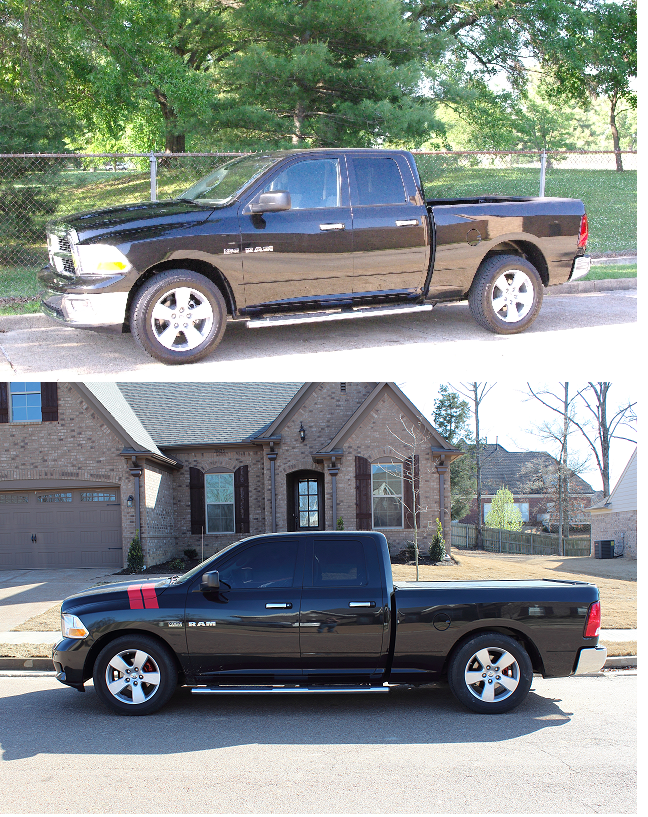 I also took measurements before and after just so you can see the difference.
Driver FT stock=36"-Driver FT lowered=34.5"
Passenger FT stock=36"-Passenger FT Lowered=34.25"
Driver RR stock=38.25"-Driver RR Lowered=34 7/8"
Passenger RR stock=38.25-Passenger RR Lowered=35.25"
At rear bumper stock=23"-at rear bumper lowered=19.5"