Discussion Starter
•
#1
•
I have noticed lately A LOT of posts about headers, catalytic converters, O2 sensors, check engine lights, etc… and thought I'd do a write up just on basics of how this all goes together to hopefully help people with their aftermarket exhaust research, purchases, check engine lights, and to understand what role the O2 sensors play in the fuel management system. This is all based on OBD 2 systems…systems prior to OBD 2 are similar but may be simpler(for example may not have downstream sensors to monitor catalytic converters).
For explanation purposes, my example engine will be based on a v8 engine with true dual exhaust. The exhaust consists of the following(one on each side of the engine): exhaust manifold, downpipe, catalytic converter, exhaust pipe, muffler, tail pipe…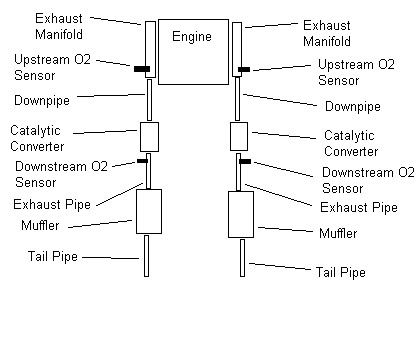 There are basically two "zones" of O2 sensors; upstream and downstream. Upstream O2 sensors are the ones located nearest to the engine(usually in the manifolds) and downstream O2 sensors are the ones located further downstream in the exhaust system(usually after the catalytic converters). When you use a scanner to read a check engine light and it gives a description on the sensors it will usually read something similar to this: "bank 1 sensor 1", "bank 1 sensor 2", "bank 2 sensor 1", "bank 2 sensor 2" or something similar. What this means: I think bank 1 is driver side, and I think bank 2 is passenger side, sensor 1 usually is upstream, and sensor 2 usually is downstream. So, "bank 2 sensor 1" would be the passenger side upstream sensor. There are other combinations depending on engine and exhaust configuration but this is the basics for our example.
On our example engine, there are four O2 sensors; there are two upstream sensors(one on each exhaust manifold) and two downstream sensors(one after each catalytic converter). O2 sensors have two purposes. The primary purpose is to give the ECM(engine control module) input on air/fuel ratios by comparing how much oxygen is in the exhaust stream to fresh oxygen outside of the sensor. The secondary purpose is to monitor catalytic efficiency(how well the catalytic converter is working). Both of the upstream sensors sole purpose is to provide input to the ECM on air/fuel ratios. Both downstream sensors are primarily used to monitor catalytic efficiency(on every vehicle except Chryslers as far as I know). I have found that on Chrysler vehicles, however, the downstream sensors are also used to give the ECM input on air/fuel ratios along with monitoring catalytic efficiency. This is the basic operation of the O2 sensor "system".
What does this mean….
If you were to remove the catalytic converter and replace it with a straight pipe on a non Chrysler vehicle, there would be no ill effects on performance or fuel consumption. The only negative thing that would happen(besides polluting the environment) is that you'd get a check engine light and if you scanned it the code would be P**** and it would have something to do with the O2 sensor or catalytic converter. To resolve this you can either reinstall the catalytic converter, or make an O2 simulator that tricks the computer. See below for O2 simulator instructions. We all have Chyrslers though, that's why we are on this site….so, if you remove the catalytic converter and replace it with a straight pipe on a Chrysler vehicle, you will be polluting the environment, you will have a check engine light, AND you may hurt performance and fuel consumption. I do not have experience with the O2 simulator trick on Chrysler vehicles, but I believe it would resolve the check engine light, along with poor performance and fuel consumption…
A lot of people running long tube headers or aftermarket catalytic converters still get check engine lights. This is because there is a drastic change in airflow from stock. Even though nothing is "wrong", the stock computer does not understand the increased airflow, so a code is set off by the downstream sensors. In this case if you do the O2 simulator trick to the downstream sensors it should resolve the issue(s). The upstream sensors will read properly, do not attempt the O2 simulator trick on the upstream sensors in any circumstances.
O2 simulator "non fouler" trick:
All this basically does is put a spacer in between the downstream sensors and the exhaust stream. What you do is buy two spark plug non foulers per downstream O2 sensor(can get them at any auto supply store such as autozone). You may have to experiment to find the correct thread size. Bore out one of the "spacers" with a drill bit so that the O2 sensor will fit inside it. Do not bore out the other "spacer". Screw the O2 sensor into the bored out "spacer", then screw that into the unaltered "spacer", then screw the entire assembly back in place in the exhaust pipe. You may have to reset the ECM by either using a scanner to clear the check engine code, or you can usually unhook the battery for about 30 minutes. If the light doesn't come back on and give the code(s) referring to the downstream O2 sensors and catalytic converters, it worked.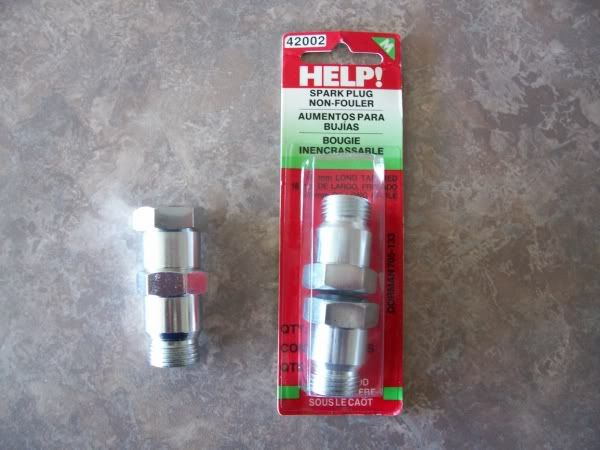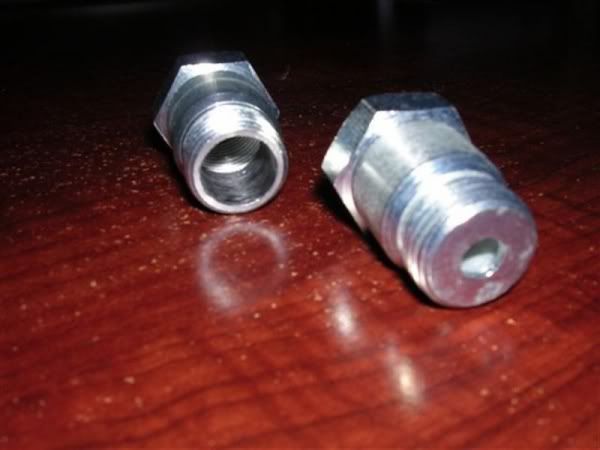 Pictures courtesy of chefred (except the sweet exhaust sketch up above, that's my beautiful artwork...)
I hope this info can be of use to you all....let me also say I am not a mechanic so I do not know everything(not that mechanics do) but I have good experience with this so this should be at least a very good starting point for you...