Introduction
After being on Ramforumz for about 10 months now the questions I see popping up more often than anything relate to leveling and wheel and tire sizing. Although there is a TON of information throughout the forum that would fully answer all the questions that come up, none of it is pulled together in one thread that is easily accessible for everyone to find. Brandon Riley (Canadian Hemi Pride) messaged me the other day with the idea of putting this thread together to help answer the majority of the questions people will have about leveling their trucks or putting larger wheels and tires on them. This thread is by no means something to outline the only way of doing things. Just because I don't mention it in this first post doesn't mean it won't necessarily work. I will try to include as much information as I can that will be applicable to most people but there are always going to be exceptions.​
Leveling
Determining Your Level Height
A lot of guys will start out their post asking whether or not they need a 2" level or a 2.5" level, or in the base of Bilsteins to set them at 2.1" or 2.8". While we can give you a pretty good idea on what you need to set them at we cannot be 100% exact. Every truck is built slightly different from the factory; what works on one truck might not necessarily work on another. The best way to determine how much of a level you need is to go out and measure your own truck.

Start with putting your truck on a flat surface (having it on a slope will change the weight distribution and give you inaccurate measurements). Then, running the tape measure from the bottom of your tire straight up through the center of the hub, measure each fender height on the 4 corners of your truck. Write them down labelling each one (LF, RF, LR, RR). From there you will be able to determine what your factory rake is (subtract your front height from your rear height). I would expect most people will see anything between 2.25" and 3.25". Yes they can be that different, it all depends on the truck.

From there you can determine how much front end lift you will need in order to level your truck. Keep in mind you want to retain AT LEAST 0.5" of rake to avoid looking nose high (bulldogging). But you can have more if you like. This can be achieved by either less lift on the front end or by adding rear coil spacers or blocks to the back end which I will go in to later.​
Leveling Options
There are two different ways you can level the front of an 06+ Ram; Bilstein 5100 adjustable front struts or spacers.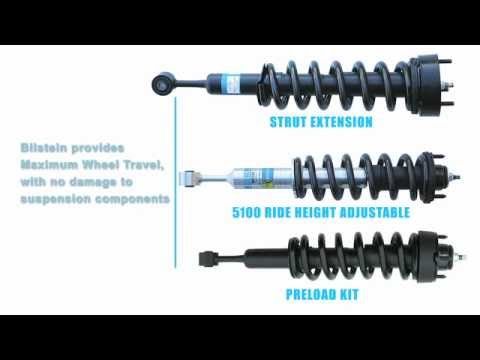 Bilstein 5100 Adjustable Front Struts
The Bilstein 5100 adjustable front struts allow you to raise the front end of your truck by raising the lower spring seat on the strut assembly. There are 5 different height settings, 0 (stock), 0.7", 1.4", 2.1", and 2.8". By setting the lower spring seat at any of those heights you will gain that much front end lift on your truck.
Bilstein 5100 Product Brochure
There are a number of advantages of running Bilsteins over strut spacers:
• You will improve ride quality by installing the Bilstein shocks on your truck. I find they make the front end slightly stiffer but more controlled in doing so. There's less bouncing which provides a smoother ride.
• The install is "cleaner" and provides fewer areas for things to come loose or break. Because it is still one strut assembly there are only 3 bolts on the top and one on the bottom unlike spacers where you have 6 bolts on top with weak point where the spacer meets the strut.
• The Bilsteins limit the amount of downward suspension travel which will not allow the control arms to overextend which is hard on CV shaft joints, ball joints, and tie-rod ends.
• The Bilsteins DO NOT limit the amount of upward travel giving you more articulation and flex and less chance of bottoming out.​
I would recommend Bilsteins to 95% of people who want to level their trucks. In my opinion (and many others) they are the best way to level 06+ Rams. They will provide you with the leveling you need in order to clear larger tires and improve the look of your ride plus they can be used with a lift down the road if you plan on going that route.
Bilstein Install
The install of Bilsteins is not much more complex than strut spacers. The disassembly of parts on your truck is exactly the same. The difference is what you do with the strut once you have it removed from the truck. The only difference with the Bilsteins is that you need a spring compressor in order to disassemble the stock strut and then assemble the Bilstein. You should be able to rent spring compressors from most local auto part stores.
Spacers
Leveling spacers are installed on top of your factory strut to raise the front end of your truck. Typically there are two heights that guys will use; 2" and 2.5". The amount of lift you will get from them is fairly straight forward; it's whatever the spacer size is listed as. Now keep in mind the spacer itself will not actually measure the same as the lift height it provides. Spacers are used in conjunction with rotating the strut 180 degrees and giving it a steeper angle to achieve the front end lift.
There is only one advantage to using spacers over Bilsteins in my opinion….. cost. Spacers are obviously cheaper than Bilsteins but you have to remember what you are getting in comparison. Yes you will achieve your front end lift but you are also missing out on things and putting your front end at slightly more risk at the same time.
Here are the cons of using spacers rather than Bilsteins:
• You are not replacing the front shocks (struts). Therefore your ride quality will be the same if not worse than stock. The reason it could be worse is because now the strut is being used at a different angle (therefore a different rate) than what it was tuned for. Are most people going to notice that difference? No, I'm just giving you the heads up that it is a possibility.
• Because the spacer is simply installed on top of the factory strut the entire strut assembly is now too long when fully extended. This will put your control arms and CV shafts at steeper angles which can be harder on CV shaft joints, ball joints, and tie-rod ends. Again, not everyone will notice this problem. If you're only driving your truck on the street and never going somewhere that your suspension will be fully extended you having nothing to worry about.
• Spacers limit the amount of upward suspension travel which can lead to bottoming out​
All that being said, tons of guys will be able to run standard spacers with no issues at all. I ran them on my 1500 for 8 months with no issues whatsoever. However I do regret not buying the Bilsteins from the get-go because I did end up buying them when I lifted it (and was very impressed with them).
As far as I'm concerned, if you're buying spacers you better be buying them from Hell Bent Steel. They have the best price on them. If you're looking at getting them from someone else (where you'll be spending more money) you might as well pony up the little bit of extra cash, do yourself a favor and buy the Bilsteins.
Spacer Install
The install of strut spacers is fairly straight forward. The strut just needs to be removed, the spacer installed on top of it, and then put back in place.​
Links
Leveling Kit Installation
The install of both Bilsteins and spacers are essentially identical until you actually have the strut removed from the truck. Hell Bent Steel has very detail instructions on how to remove and reinstall the strut which can be found
HERE
. The only thing I recommend doing that Hell Bent Steel does not is that you remove your caliper from the spindle and tie it up to your frame. It will make removing and reinstalling the strut much easier as you won't be fighting with the brake line to get the lower A-arm to drop far enough down in order to remove the strut.
If you're installing spacers you can follow the Hell Bent Steel directions as that is what they were written for. For guys installing Bilsteins I will add a bit of information to help you out as Bilstein does not give very good instructions at all.
As mentioned above you will need a spring compressor in order to disassemble the stock struts and then reassemble the Bilstein struts. They should be available from most of your local auto part suppliers for rental. First off, spray the top retaining nuts with LOTS of penetrating oil and let them sit for a while to let it all soak in. When you disassemble the stock strut you will want to put the spring compressors on but only snug them up. You will want there to be lots of pressure on the spring seats from the spring otherwise you're going to have a heck of a time getting the top retaining nut off. Once you have the compressor snugged on just take an impact gun and spin the retaining nut off. It should come fairly easy. If not, you're going to have to spend some time with a wrench and vise grips to hold the strut while spinning the retaining nut off. When you take everything apart be sure to remember what order it comes off in; that's the order you need to put all of it back together. There's a small cap on the strut that you will have to tap off with a hammer in order to get the lower spring seat off.
The assembly instructions for the Bilsteins are somewhat poor as far as showing how the entire assembly goes back together. First off set your desired front end lift height by putting the snap ring in the right position. Obviously the lowest one is the stock height setting and they go up from there. The first mistake that I've seen guys and even auto shops make is putting the lower spring seat adapter and spring seat on upside down. Both should go on to full cover the snap ring as shown in the Bilstein instructions
HERE
. You then install the spring (which should still be compressed) and upper spring seat/hardware (in the order it was taken off). The washer supplied with the Bilsteins goes on BEFORE you put the upper spring seat and hardware on; that's the second mistake a lot of guys make. It is meant to go on before the upper spring seat and to prevent it from sliding down on the shock rod since the diameter of the rod and the diameter of the hole in the spring seat are very similar. If you put it on after the spring upper spring seat rather than before you will most likely have a clunking sound. After you install the upper spring seat and hardware, install the nut that came with the Bilsteins. You will then tighten the nut, decompress the spring and it should all be ready to go back on the truck. From there you can follow the Hell Bent Steel instructions for reassembly.
Obviously if you are not mechanically inclined, do not have the tools, or do not feel comfortable installing the Bilsteins or spacers yourself bring it to a local shop and have them do the install for you.​
Alignment
You need an alignment after leveling your truck. No if, ands, or buts! I don't care if you installed a spacer, Bilsteins, change the height of your Bilsteins, or if your buddy told you that you didn't…. you need one. You also need to get the alignment done before you take the new measurements of your truck. Don't come on here saying that your front end is now higher after leveling if you haven't taken your truck in for an alignment yet. Of course it looks wonky, your camber, caster and toe are all going to be wrong.​
Stacking Leveling Kits
The answer is no! Again, this is one of those things where I don't care what your buddy told you or what you think… there's no if, ands or buts. You cannot stack a spacer on top of Bilsteins to get additional front end lift. Typically you do not want to lift your front end any higher than 2.8" without doing a control arm and front diff drop. You will be putting your entire front end out of spec, your control arms and CV shafts will be at ridiculous angles which will be wearing everything out very fast and I doubt any shop will be able to align your front end. If you want that much height you need to start looking into lift kits rather than leveling kits.​
Front End Vibrations/Wobble
A lot of guys are worried about possible front end issues once they level or lift their truck. While this is a possibility, very few guys actually have any issues. If you're installing Bilsteins at 2.1" or 2" spacers you don't have anything to worry about at all. Bilsteins at 2.8" or 2.5" spacers do slightly increase the risk. Overall it comes back to the A-arm and CV shaft angles. When they get to steep they will vibrate… But again, most people will not have a problem with this. If that's what's keeping you on the fence, don't worry about it… go ahead and level your truck!​
Rear Coil Spacers/Blocks
There are some guys who want to lift the front end of their truck as height as possible for either looks or to gain clearance for larger tires but also want to retain either factory rake or a slight amount of rake. Well if that's you then rear coil spacers (4th gen guys) or blocks (3rd gen guys) are for you. I will be focusing more on coil spacers than blocks as that is what I am familiar with. There are many different sizes available anywhere from 0.75" to 3"+. For guys that want to use them with a leveling kit the max you'll probably need to go is 1.5" to achieve the look you're going for. Keep in mind if you start lifting the back end up more than 1" or so you're probably going to want to start looking at aftermarket shocks that are longer than factory to avoid bottoming out or a rough ride.

Top Gun Customz is probably the best place to get the rear coil spacers. They are priced well and provide fairly good quality products.
Install is very easy. You simply have to undo the rear shocks and sway bar links, drop the rear diff, pull the springs out and install the spacer on top. Then just put it all back together. I will warn you guys though, be prepared to hear some clunking sounds and movement back there with the spacers. I had them on my 1500 and was very happy to remove them once I lifted it.​
To be continued on post #2....