Discussion Starter
·
#1
·
Hi,
I'm really not finding a good place to mount my switches. I plan two horn buttons and 3 or 4 light switches. There is not good place to put all 5 or 6 switches.
So here's what I'm thinking. Perhaps using an electronics project box with wires in a loom. That way, I could put the box on my center console when I need the switches or leave it on the transmission hump when not needed.
A standard Radio Shack type project box would do the trick. Maybe 6" x 3" x 2".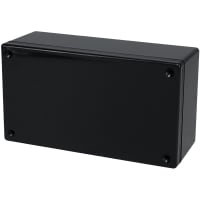 Mount my switches in the box and then put it where it need it when I need it.
My wire loom would come out from under the dash in the center with enough length to reach up to the center console. I'm using relays for everything, so this would all be low amp wiring in the cab. I might be able to use a CAT5 cable with RJ45 jacks on the box and under the dash so I could disconnect the whole thing if needed.
Thoughts?
Thanks,
Doug