Discussion Starter
·
#1
·
Hey guys. Wanted to do a little write up on my remote start installation.
I searched and searched to try and find someone who had written about this before and couldn't, so I figured I would give it a shot. I apologize if this information has already been presented here.
What:
This post is about easily installing an inexpensive remote start in a 2009 Dodge Ram. A Xpresskit DB-ALL is used along with a T-Harness to quickly add remote start capability to the Ram using the OEM key fob.
DB-ALL
CHTHD1 T-Harness (for 09-12 models)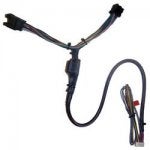 Cost:
Typically under $100 depending on where and what you buy. I spent $83. You can spend as little as $55, or as much as $115. These are of course best online prices at the time I write this.
How it works:
Start your truck with OEM key fob by pressing the lock button 3x.
What is installed:
1 module is installed. The module is a DB-ALL and it is Plug and Play with the optional CHTHD1. No wire splicing, no wire cutting. After flashing the module on your laptop or desktop, you only have about a 10 minute install to get your remote start working. Maybe 20 if you take your time.
If you want to skip the commentary, you can skip on down to the Install portion.
Note: This applies only to a 2009 Dodge Ram. I think the 3x OEM Remote Start can be used on Multiple Chrysler vehicles, and 06-12 Ram, but I'll leave it up to you to check your particular vehicle at the Xpresskit website to see what works. The programming sequences and wiring are similar for other Chrysler vehicles, but may be different.
My truck is a 2009 Ram CC Black 4x4. I had been looking for a remote start since it started getting cold last year. I've had one on my other Ram for about 10 years, and when I got this truck it was a big adjustment not having it. On my old truck, I installed a Viper 550. This was back when I worked at Circuit City. It was a lot of wires, but very few if any electronic deterrents to deal with. No factory alarm, no chip in key, just straight wire to wire.
With the new truck, I've been apprehensive to tear into the wiring. With the 1 wire multiplex stuff, I didn't want to mess anything up. When I started looking for RS systems, I decided I wanted to use my key fob and not have to use an additional remote. Everybody wants a little remote that sings and dances and talks to them, with a mile range, and to each their own (I think those are really cool), but I didn't want that. My old RS was supposed to have a 2000 ft range. I don't think in ten years I've ever been farther than 200 ft away and started it. The only time I use it is from inside the house, and that's about 30 ft away. I have nothing against the fancy ones, they're just not what I was looking for.
I saw that a lot of guys are buying the Mopar RS systems and putting most of the unit in themselves and then having the dealer do the rest. I thought at first I would do this. But after hearing the stories of $300, $400, $500 being spent on them total, I realized I didn't want to go down that road. Plus I'm not all that excited about visiting the dealership.
I will say that the reason I'm doing this little write up on this process is because I have spent the better part of a month and a couple hundred dollars getting this process to work. I first bought an Avital 4003 and a CHALL unit. The first Avital was defective, so I got another one. The new one worked, but the only way to trigger it to start the vehicle was to pulse it with a lock signal. I didn't want to get that involved, so I kept looking for other solutions. I will say I've got an Avital 4003 and a CHALL unit laying around if anyone wants a good deal on them. I say all of this mainly to show my disgust with how DEI and Xpresskit has convoluted the whole process of Remote Starts. They have taken this process and added so many layers to it that it becomes this conglomerate of confusing thoughts that becomes very annoying. You would see what I mean if you have ever went online and tried to decide on a particular setup, and find the modules for it. I guess it is their way to keep the money at the Installation Houses and dealers. I think the lack of transparency in a company will ultimately hurt them in the long run. They have about four of five different "Brand Names" that is virtually the same product. And that is just for the parent company DEI. Xpresskit does the same thing with their modules. They make so many different ones that are just a little bit different. But hey, that's capitalism. And I like it. I'll get off my soap box here.
Install
So here is my install.
Features:
1) Use Factory Key Fob remote to start and stop engine.
2) Only 1 remote to start and run truck
3) No trip to dealer
4) Much cheaper than Mopar.
5) Plug and Play. NO splicing wires.
6) 10 minute install (No joke, 10 minutes under the dash, well maybe 20)
7) Inexpensive: $50 for DB-ALL ($55 for pre-flashed unit from thebay) + $28 for CHTHD1 T-Harness +$29 for the XKLoader2
8) If you are really strapped for cash, you can do the whole thing for $55 by buying a pre-flashed DB-ALL and hardwiring it to your key module.
Parts:
DEI Xpresskit DB-ALL
CHTHD1 T-Harness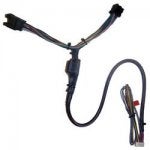 XKLoader2 (if you program yourself)
Step 1: Flash DB-ALL
Flashing the DB-ALL is done by using the XKLoader2 to link up to the Xpresskit website and download the right platform for whatever vehicle you're installing it in.
I did not use the XKLoader2. Actually I didn't even buy one. I had thought about it, but decided to give it a go and see if it would work with having someone flash it for me. I bought my DB-ALL from a guy on the electronicbay and he programmed it for me. I paid an extra $5 for this service. It saved me from spending $30 on the XKLoader2.
Whatever way you decide to do it, you'll end up with the same result.
Note:
When the XKLoader2 is setting up the DB-ALL, make sure that Program Option 1 is set to RF Out ON. This is what allows the DB-ALL to be a stand-alone starter. No aftermarket starter required. Only with this set to ON will the OEM remote FOB be able to signal the DB-ALL to start the truck.
Step 2: Hook Up DB-ALL
This is a really simple process.
First you take the knee panel off. There are two Phillips head screws that hold it on*.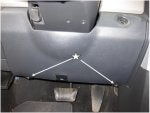 After you take the two screws out, the bottom just pulls straight out, and then the whole thing shifts vertical to be lifted off the lower dash. The OBD2 connector and the Hood Release will still be attached. You can leave these on the panel and just lay it down. You will certainly see where the dust has been collecting. I just want to say that I do keep my truck clean and you can't judge a vehicle based on the back side of a dash panel.
At this point we need figure out how to take the plug out from the back of the key module. We can take the four screws out of the module and pull it out to work on it, or we can just remove the plug from the rear of the key module. This is done by pushing down the plastic notch on top of the connector on the left hand side and gently pulling the male connector out from the key module. If you study the connectors on the CHTHD1 T-Harness, you'll quickly get the idea.
Here is a picture of the Key module with the knee panel off. You can see the four torx screws.
Reaching around and pulling out the connector is by far the quickest easiest way to do it. I took the module out to take the pictures, but that was the only reason. I would first try and pull the connector out by hand, and if that doesn't work in a minute or so, then you could take the four torx screws out and pull the module out to look at it.
Key module removed.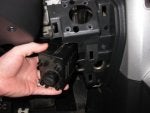 In this picture you see the key module with the plug. Your plug probably won't look so taped up, but I earlier hard-wired the DB-ALL during some troubleshooting, and then later had to solder, heat shrink, and tape the wires back up.
You'll see the notch on the top that when depressed will allow the plug to come out .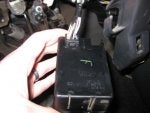 Now that the plug is out we can hook up the CHTHD1 (or CHTHD2 or hardwire) T-Harness. This is pretty self explanatory. The male plug from the truck goes into the female plug on the harness, and the male plug from the CHTHD1 T-Harness goes into the back of the key module. The male plug from the T-Harness on the one I got was a little rough. The plug is an AMP Research plug that has little wings on the sides that snap closed after the pins have been inserted. On mine, a little wing on each side had not quite been closed by the machine, and left the plug out of square by a few mils. This made it an akward fit. I'm sure that yours will go straight in and you won't have any problems though…
Here is a picture of the rear of the key module ignition unit in case anyone is interested.
Picture of the CHTHD1 T-Harness with the DB-ALL and key module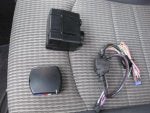 The male end plugged into the key module
The male plug from the truck plugged into the female plug from the CHTHD1 T-Harness. The key module has been re-installed.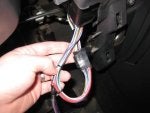 Step 3: Program DB-ALL to Truck
Plug the CHTH1 T-Harness into the DB-ALL. You will get a solid red or a flashing orange LED.
If you have a solid red or flashing orange LED, you then put the key in the ignition and turn to on. The LED will start flashing green.
You then take the key out of the ignition and push the lock button on the remote. The LED will will turn solid green or orange for 3 seconds then go off. The DB-ALL is now programmed.
To test your remote start: Take the remote and press the lock button 3x within 3 seconds. The DB-ALL will click and the green LED will flash and the truck should begin its start sequence.
Two safety items that I did not mention are, a hood pin switch and a neutral safety switch. You should definitely hook these up.
Results:
Mine has been reliably starting now for a couple days. The headlights and parking lights come on when it is started if the lights are set to auto and it is dark, otherwise no lights come on. There is a wire that can be hooked up to make your parking lights come on if you want that. One big thing that works great is the ability to remotely unlock the doors while the truck is running. I was afraid that the remote wouldn't unlock the doors since the truck thought that the key was in the ignition, but everything works as it should.
I started it as I was coming out of a department store, maybe 250 ft or so, but it was line of sight. It takes a couple tries to get the 3x push down pat, but after a few times you get the hang of it.
Overall I'm very happy with the setup. It is exactly what I set out to do. Except that the time frame was stretched out much farther than I would have liked to see it. I think anyone wanting a basic remote start will enjoy this. It doesn't roll down the windows or anything fancy, but my wife's suv will roll down the windows and open the sunroof with the remote and we have never one time used that.
Sorry that the pics are the small attachments. I couldn't figure out how to show the large pictures.
I hope this helps someone who may be having trouble with their install, or are having trouble deciphering the code that is DEI Xpresskit.
Sorry for all the commentary. It was kinda built up from about a month of messing around with this stuff.
I made a video that I will put on UTube of the install if anyone is interested.
If anyone has any questions, feel free to ask.
--Kyle