Greetings! Bear with me, this will be a long post, I'm not into intro threads, so leave this one here please, this is going to be a long term thread, but I'll do the intro here in this section, as the whole purpose is to make a quality decision to buy a truck in about 6 months.
Midwest Dodge guy here. Been into Dodges my entire life. Could run through all of them, but I'll condense it into "a bunch of FWD Mopars in the 1990's" as my starting point. I've probably done about 40 to 50 FWD engine swaps on all sorts of Mopars. Yes, lots of busted knuckles and swearing.
In 2003, dated a girl with a 2002 Dodge Ram quadcab, first year of the new (at that time) body style. Girl and I ended up getting married, no not because of the truck, but it didn't hurt
(Winter 2011, hard to tell but that was 3'to4' drifts, had to dig out by hand)
Wonderful truck. In 125,000 miles, had only a couple of issues, had to replace the rear differential because of a failure in a pin that allowed something to tear things up (sorry, my experience with differentials is limited and this happened about 3 years ago). Had to replace the passenger side front axle because the splines got all chewed up (we rarely ever used 4WD, so it was strange). Oh and the entire life of the truck it would seep steering fluid when it was cold out, until I finally got sick of it and redid the lines at about 110K miles.
The truck was light blue, 1500, had tow package, info center up top with MPG and all sorts of other info, black cloth interior, I believe it was an SLT Sport, not really sure. Had a plastic bed liner with a roller type tonneau cover, and the 4.7L engine. The 4.7 was a great little motor, but emphasis on "little", is just lacked the power/tq to really do what it should, resulting in awful mileage. Over the life of the vehicle, the average MPG was right around 12.9, mixed highway and city.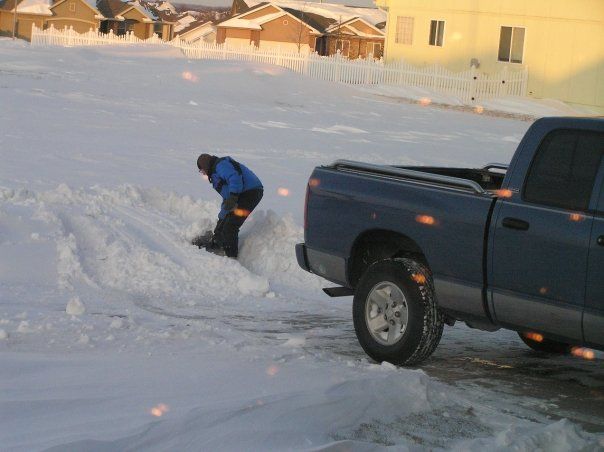 (Me digging, we had been snowbound for 3 days, I wanted pizza)
So, fast forward, wife on facebook, wife lies, cheats, marriage over. I have the kids, she took the pickup, I bought a Chevy Cruz. Now 2 years later, Cruz is too small, great gas mileage, great car, but I REALLY miss having a truck. You don't know how often you use it, becomes second nature, then you are stuck relying on other people who have trucks when you need to haul or two anything. That blows.
So, in the next 6 months, I'm going to determine what I'll purchase. I'm still considering several vehicles. The Ram is at the top of the list, but the Durango, Grand Cherokee, 300, and the new model GM mid size pickups are all on the list. I do NOT buy new, I'm not looking to private sale purchase, and I'm not soliciting here for dealers to contact me, this is an informational thread only. I'm looking to spend about 25K or so, and keep the mileage under 35K with the balance of factory warranty still existing. Tow package, quad cab, 4WD, all a must if I select a pickup.
I'm not going to do much towing, not much heavy hauling. I'd love to get the Ecodiesel but the way the dealer are gouging the living hell out of the MSRP, I doubt that will happen. I'm very impressed by the V6 Pentastar, but that's based on what I hear from Durango and Jeep owners, I don't know any truck owners who have that engine so I'll be interested in what you guys that do have to say. I'm not a mudder, not looking to jack my truck up or add thousands in accessories, I want a functional picking and hope to improve on the MPG from before.
I got to know the shortcomings of the 4.7L motor, and the issues with that 2002+ generation pickup, I'm wondering about 2011-2014, what the differences are, I'll be doing research on my own too, on which ones have gas saving cylinder deactivation, actually MPG on all of the different models. It cant' be as bad as the 4.7 was for me. But I digress about that, the truck itself was wonderful, better than the girl was. I removed her head from the next photo, not allowed to do that IRL though heh heh.
(Ah how I miss that truck... even with the crappy door accessory :smileup: )
HEY HEY, found one really good photo: