Time for the filter (p/n 05058693AA) . I'm sure they could have found a bigger box.....but....maybe not.....
Taking careful note of the air flow direction arrows, install the filter. It just slides in, and sticks out a bit (~3/4"). It's a little tricky to slide in, as the hole is partly blocked by the dash. I only took about 10 seconds of patience to slip it in with any damage.
Next, the cover (p/n 68052292AA).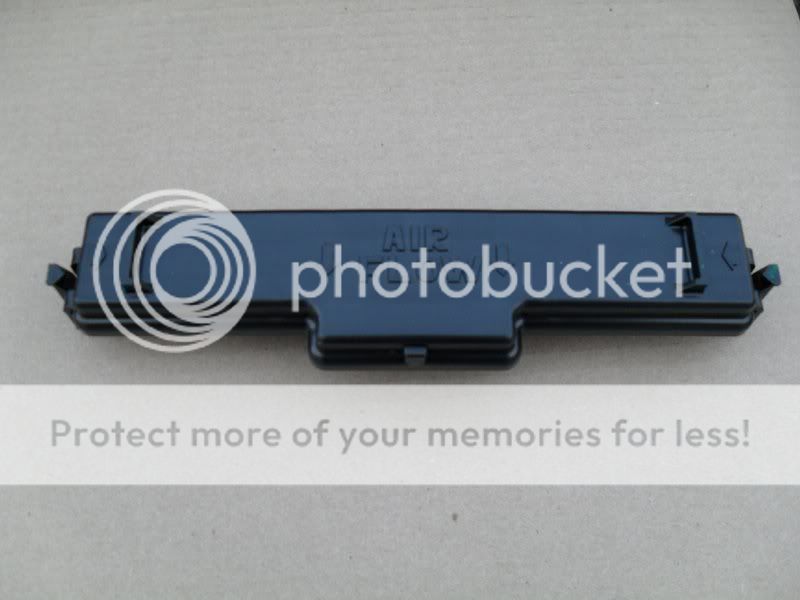 Slip the cover in place, and press the 2 end tabs toward each other. They will 'click' once in place.
Put the fan back in (about 30 seconds) and this is what it should look like.
Here is comprhensive list of tools.
This mod took a total of 25 minutes. Had I not stopped to take pix, it would have been between 10 & 15 minutes.
Couple of items of note -
1) Make sure you have 'sharp' knife with a good point. I DO NOT remommend using a knife with break-off blades (even the HD version). You will be putting a fair amount of pressure on the knife, and a break-off blade would likely lead to injury.
2) Went cutting out the plastic, cut the bottom first, then the top. If you cut the top first, there is nothing substantial to hold the bottom, so there is some (not a lot, but some) risk of breaking the housing.
3) With the fan removed, you can easily reach inside to puch the plastic piece out. Wit the fan in place, you may end up droping the piece into the fan, and will have to remove it anyway, so for the 60 seconds it takes to R&R, it's well worth it.