Discussion Starter
•
#1
•
Replaced the stock OEM black honeycomb grille inserts with OEM chrome horizontal inserts on my truck. I've always loved the look of a billet style grille and for mods like this I'm definitely a fan of keeping OEM parts that fit correctly and properly. I definitely didn't want to add the cheep inserts that you can attached to your existing grille. Really half assed if you ask me....
Got these inserts off Amazon for around $160 plus shipping (which was around $20 I believe? Not sure as I ordered few other things at the same time) Here's the link if anyone is interested:
http://www.amazon.com/dp/B009NUJQSU/ref=pe_385040_30332190_pe_175190_21431760_3p_M3T1_ST1_dp_1
As far as the install goes it was fairly simple. Remove the plastic cover on top of the radiator. Remove the 4 bolts along the top of the grille. Then tilt it slightly forward and pull outwards. It's a little nerve wracking as it seems as if you're going to break something but they will come, don't worry. Also you don't have to tilt the grille very far forwards. I read a few threads saying it had to be at about 45 degrees... not true at all. It only has to be about 10 degrees in order to clear the plastic "locks" on the bottom clips.
From there I placed the grille face down on a soft surface and slowly undid all the clips holding the insert onto the grille shell. A few of them were definitely a pain to get off. I found the best way was to have two small flat head screw drivers and try to get at the clips from both sides. It also helps to have someone available to hold the grille if needed.
Once all the clips were off the inserts just pull right out and the new ones can go back on. Then it's just the reverse steps to attach it back to the truck. Definitely an easy mod even if you don't have much mechanical experience. It just takes some patience with the removing the clips.
And because I know what people would say if I didn't show these, here are the pictures! :smiley_thumbs_up:
Stock OEM black honeycomb grille:
No grille (big gaping hole):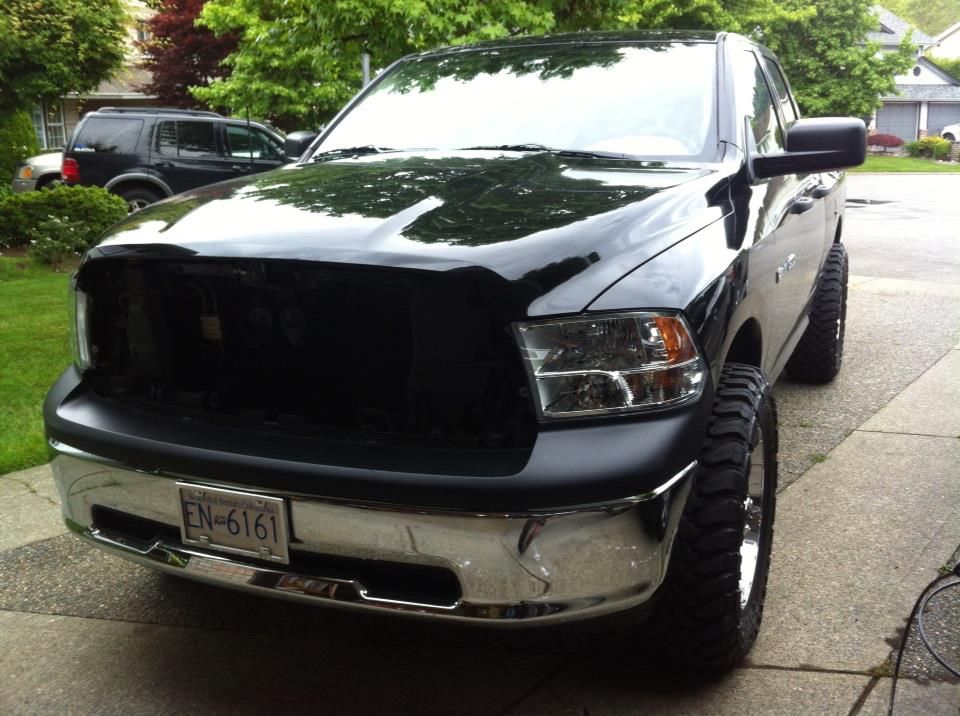 New OEM chrome horizontal grille:
Also on a side note.... because of my busy schedule and wanting to get this mod done before a road trip this weekend I took the grille out Wednesday night and left it out Thursday until I could install the new one. I drove about 160 kms (100 miles) Thursday for work and definitely noticed that I wasn't getting as good of fuel economy. I could feel it and my Bully Dog verified with numbers (about a 1-2 MPG drop). It was also a very rainy day so that might have played into it a bit. I'm assuming it was the combination of changing the front end aerodynamics and allowing much more air into the engine compartment aka more wind resistance. Who knew a grille could make the much of a difference. :4-dontknow: