This is a 2003 Ram 2500 Quadcab short bed with a 5.7L Hemi to start. When I purchased the truck, it had been rolled by some joyriding teenage auto-thieves. More of the history behind the start of this project can be found in my newbie thread...
http://www.ramforumz.com/showthread.php?t=106363
As it sits now, Project StormTrooper (yes, a reference to Star Wars - but also to the EF-5 Tornado out of which this project was born) is in early stages of development. I'm trying to sell many of the good parts that I no longer need (like axles, wheels, tires, bumpers, glass, lifts, brush guard....). The bed has been removed, the frame shortened slightly to give me a little more room in my garage, the dash and all components in it have been removed (no need for a heater core or AC on a truck without windows). The truck had a 4" lift that is being removed along with the 3" body lift. Also, planning to trim the front fenders (planned trim can be seen in the picks below.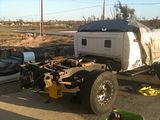 I plan to boat side the cab for clearance, start fabricating a custom roll cage, build an electric cooler into the dash, build a double triangulated 4-link for the front and rear for the 2.5 ton steering axles that will go under the truck. I have no intention of creating a street legal rig. This will be a pure off-road monster.
I'll try to keep this tread updated as I go. Since I will be replacing or rebuilding tools as I go, this may be slower moving than I hope.