Discussion Starter
•
#1
•
First I would like to say thanks to everyone for all of the wonderful information in these forums. RamForumZ Rocks is all I can say.
I have had my truck now for about three weeks now and I love it. Coming from a life long Chevy,
particularly
Silverado's, I am really enjoying my RAM. So far I added some subtle graphics. The full white truck seemed like it needed something to break up all of that glaring White in the Arizona sun.
Next came the Chrome Dodge/Mopar side steps. I found a set from a guy with a 11' Crew Cab that didn't want them and mounted them up to my Quad Cab. I really like the over extension. It gives me a step up to reach into the front of the bed and that is always helpful for us short guys.
Last but not least is the Bilstein 5100 adjustable/Leveling shocks. Installed them this morning with some help from my father-in-law. It all went together in about 3 hours. If we had a better spring compressor, it would have been closer to 2 1/2 hours. I set them at the 2.1" setting. Before the 5100's my front had a 3 1/2" gap and the rear at 7". Now I am sitting at 6 1/4" front and 7" rear. I can live with the 3/4" rake.
Here are some pics for anyone interested.
When I purchased it.
With the graphics and the side steps added.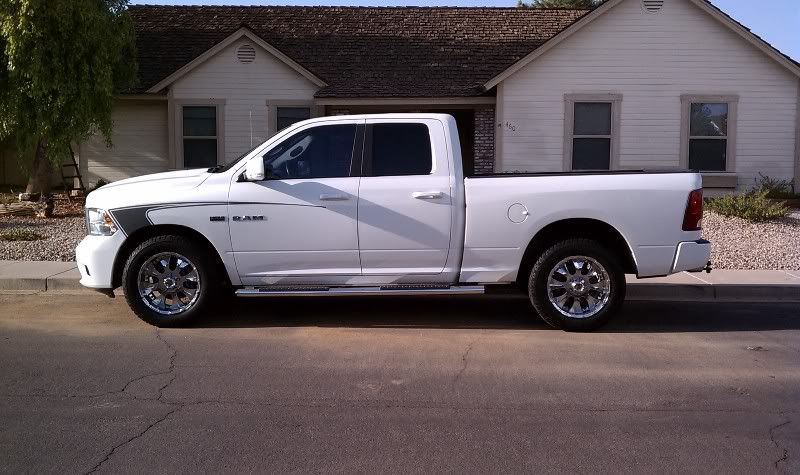 After the 5100's