Okay so it's technically Deep Molten Red Pearl, but as a USC Gamecock I'm calling it GARNET. I ordered the truck on 1/18, and it's been a long time coming. In the mean time I lost my dad (2/5 RIP DAD) who would've have loved the truck even though he was a bowtie fanatic. He was a gearhead and I grew up with grease and splinters (wood worker too) under my finger nails. He would LOVE the growl of this beast! Then I had to leave her sitting in the drive way barely touched the day after I brought her home due to work travel. I'm just now getting to tell the story of my MegaCab 2500 4WD 5.7 Laramie with Ramboxes. I did delete the NAV option because I like my droid for this purpose. Sticker on the truck was 49,695 built to MY specs (Laramie, Towing mirrors, Leather interior, 3.73 LSD, 430radio, ramboxes, marking lights up top, ect). With FULL lifetime MAXX care ($ 100 deductible) and 5yr 80K service package the jumping off point was $53K (already a decent deal as I had gotten the warranty down $1400 from the jump). I ordered when Dodge had a $2500 rebate, and $500 customer rebate (additional $500 military rebate as well thanks to Father-In-Law). By the time I took delivery on 3/14 Ram had added another $500 rebate AND I dug up a $500 rebate for work trucks with the Rambox option. I also got the dealer to pay for most of the upgrades I will show in the pictures to come. I traded my '08 Mega Laramie 1500(last of the batch) 4WD in on her and got about $2K over book giving me about 7K equity. The dealer kicked in for catback duals, black brush guard, black locking fuel door, chrome bugshield (X2 as F-I-L got one on his Laramie Crew ordered the same night), vent visors for the Crew, Airraid CAI, the install on the in headrest DVD's I purchased from Best Buy, and even did the 60K service on my '08 for free to keep me in the Lifetime PTW while I waited on this beauty to come in. He gave me well over 2K in labor and goodies. I did install the CAI, Guard, and fuel door, but that was fun (minus the freaking weather stripping for the CAI :mad3::mad3::mad3
.
Out the door on the truck I was at $37500 at 2.85% plus the $1K I put down to order her. Bear in mind I also got around $2k in goodies and services on top of what I feel was a great deal. As one last cherry on top one of the service guys lives only about 15 min from me (Dealership is over an hour), and will pick my Beast up, leave me a nice loaner, service the Beast, and return her to me same day at no extra charge!
Before I show pictures... many of these add ons came from
[email protected]
so if you need something for your Ram contact him first and save yourself the hassle of looking around for pricing. He got me some GREAT deals on the grill guard, CAI, fuel door, and had some very nice black tube steps worked out but his supplier dropped the ball on him and I had to go Mopar on those (by the way Mopar makes BLACK 5" steps for those who like them you just have to press the dealer). Anyway on to the pictures...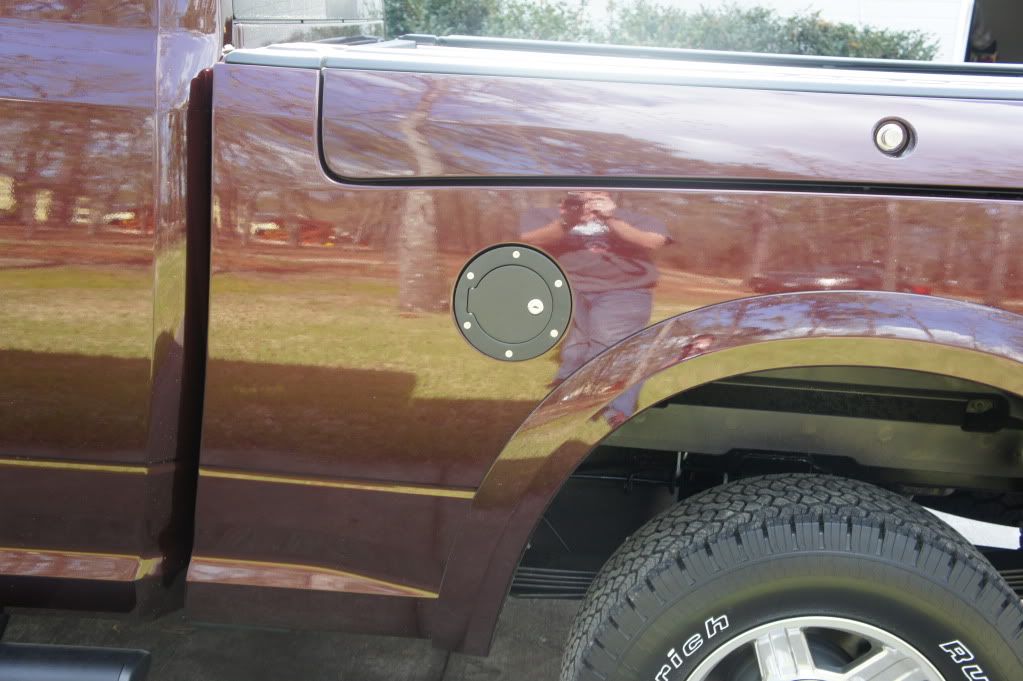 first self mod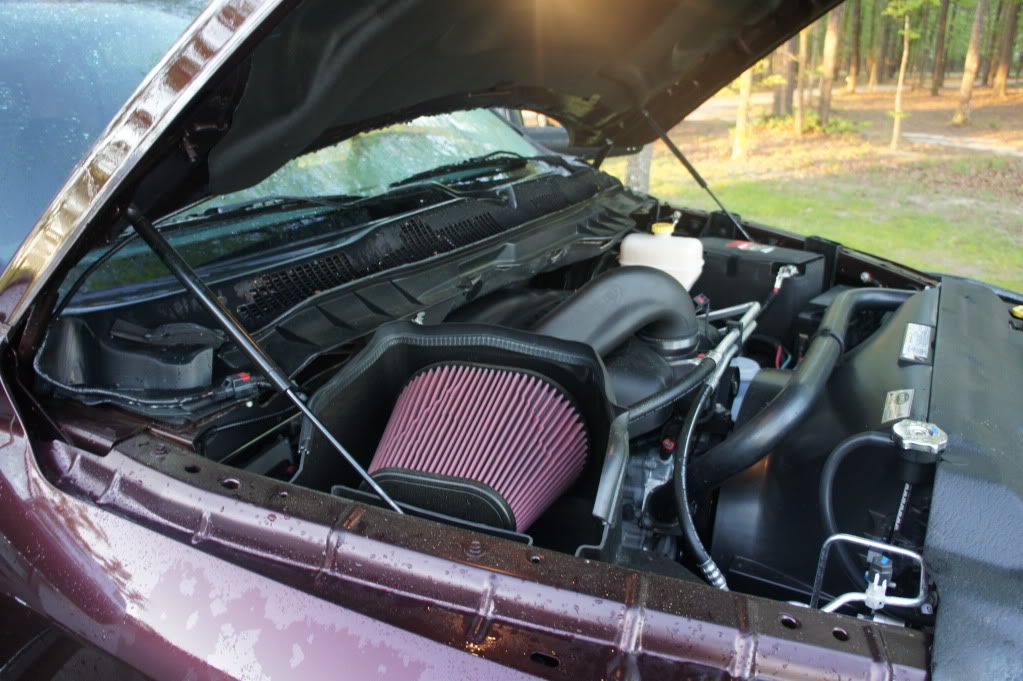 second self mod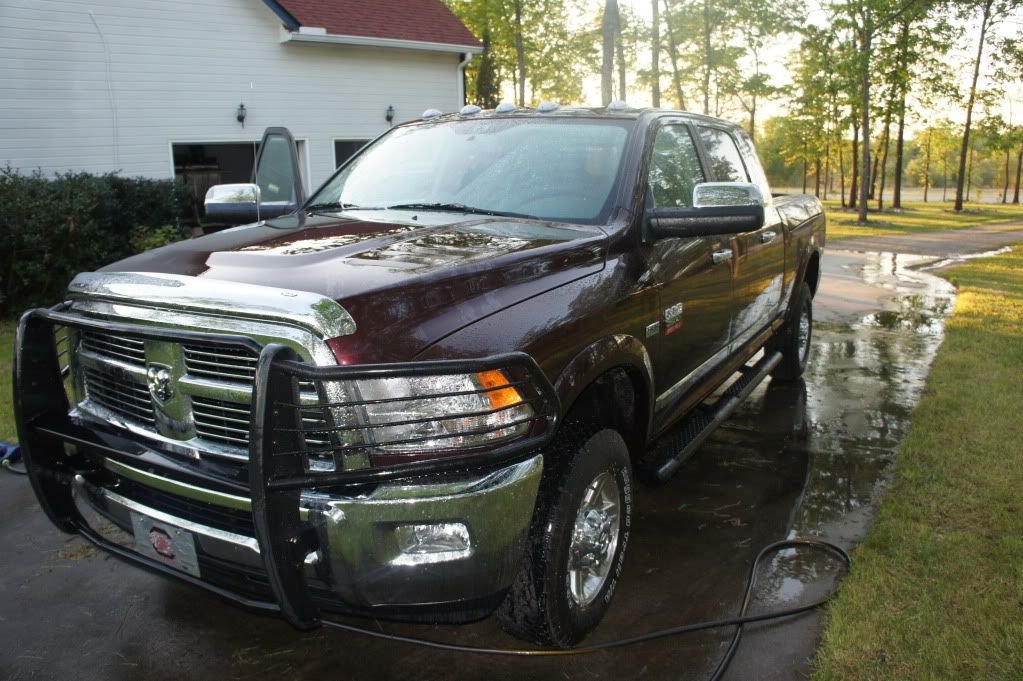 third self mod
Dealer Mods
Duals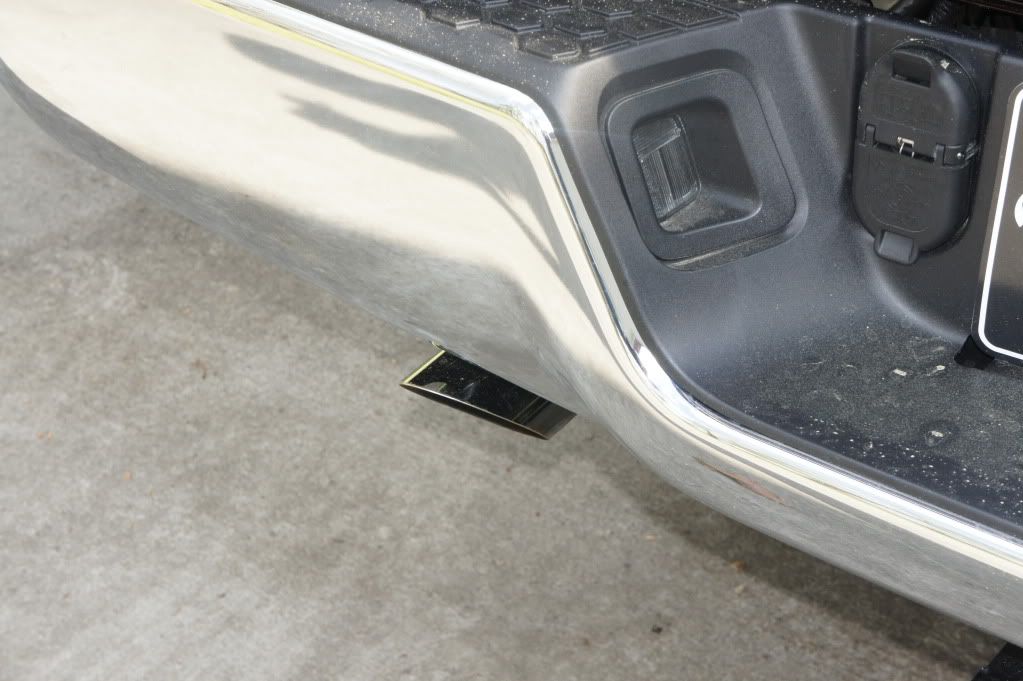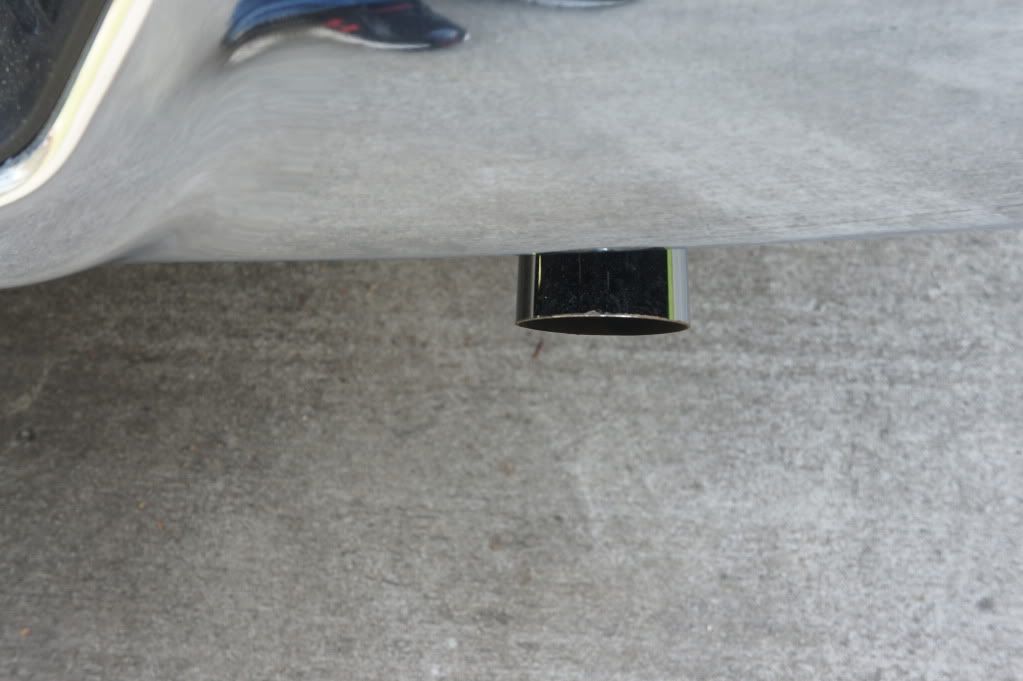 DVD players one on each side. I don't like the Ram idea of the center fold out thingy. A if you have two kids (don't yet but plan to) you have a fight, and B it's in your mirror and JMO a hazzard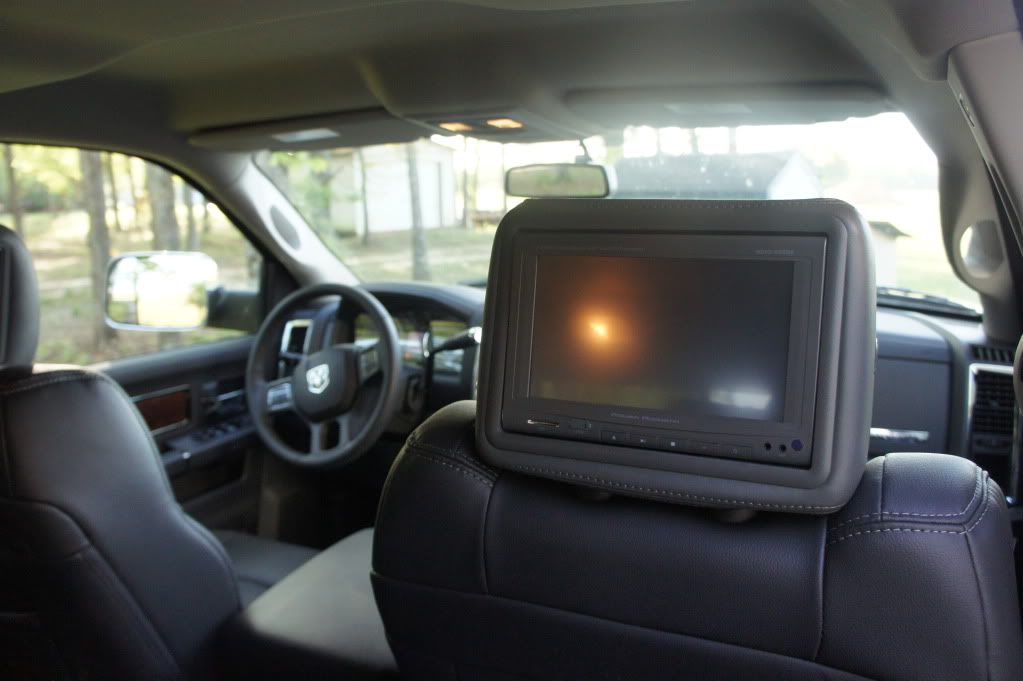 Black steps and Chrome Accents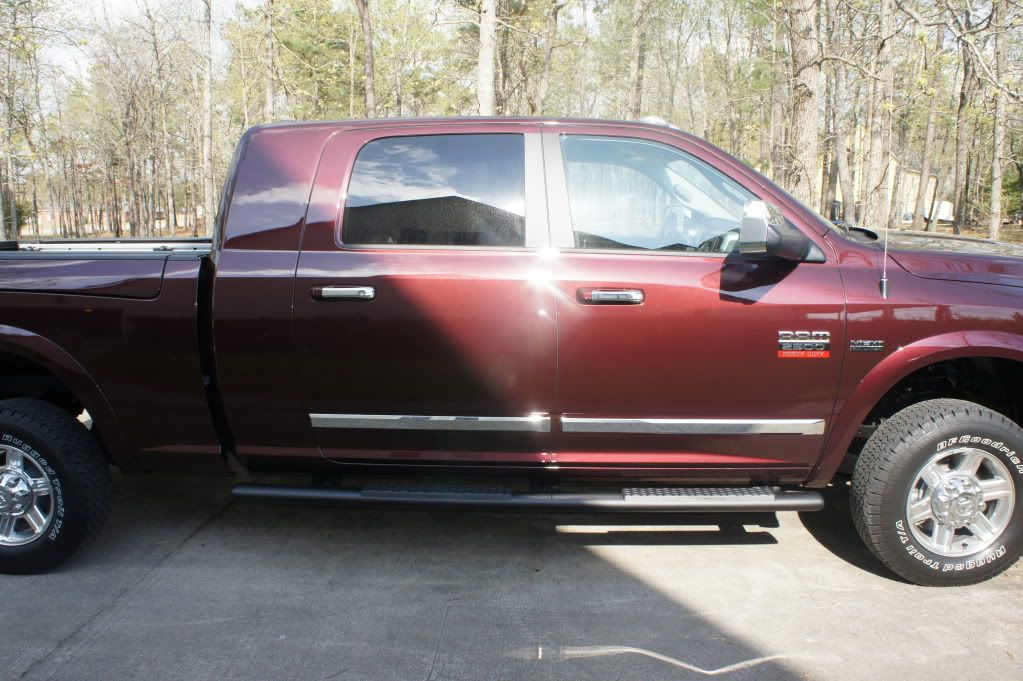 overall pictures of my Beast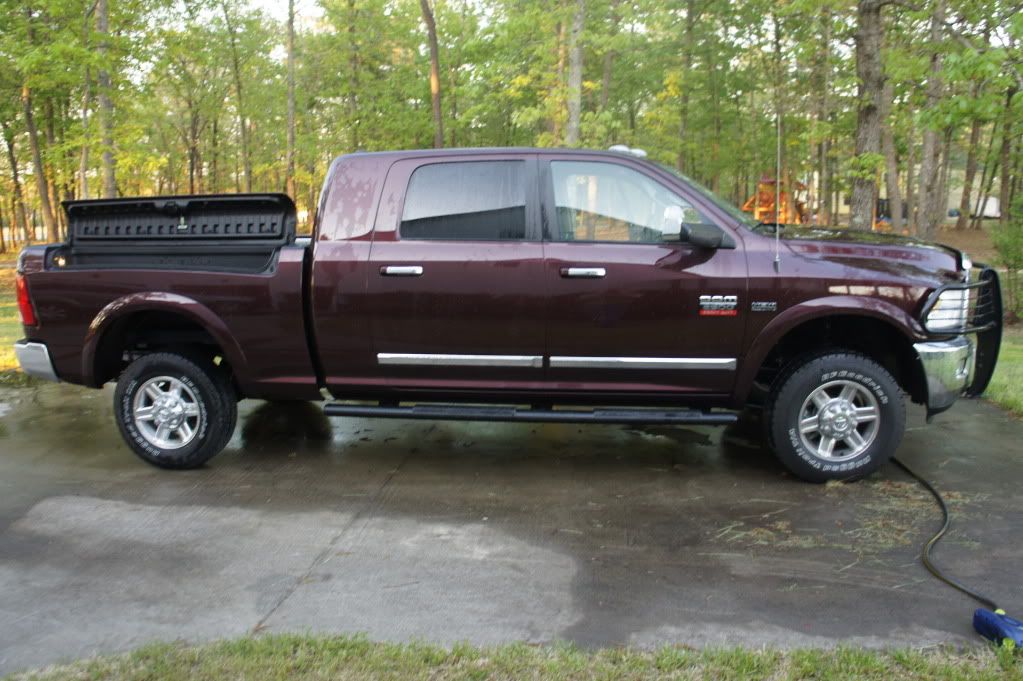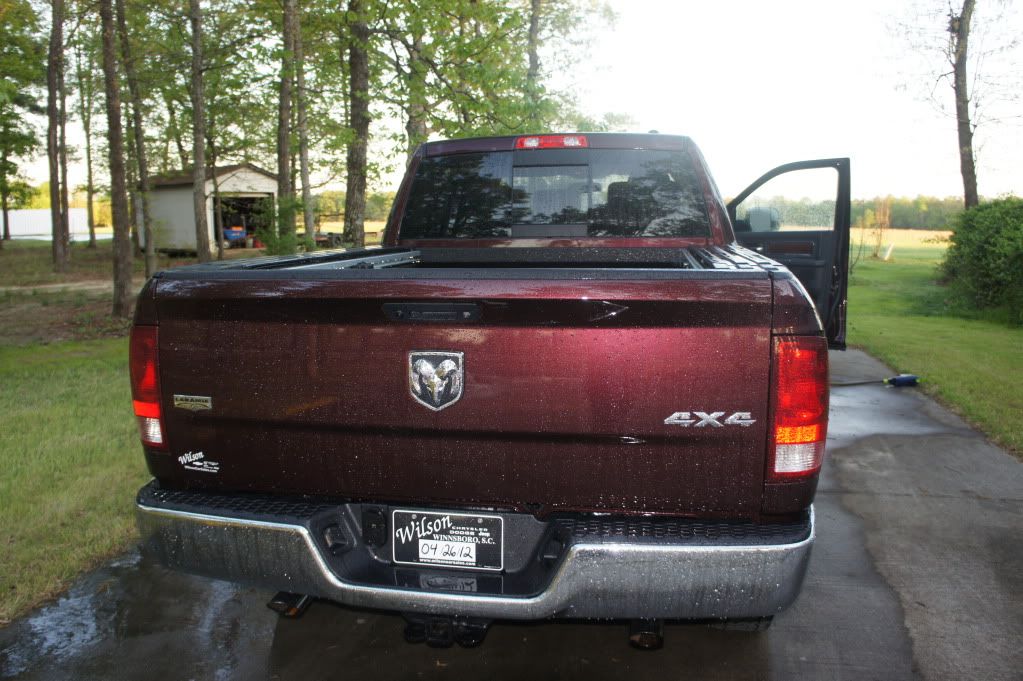 So far I have a little over 900 miles on her. FIL has over 6K :SHOCKED: on his (picked it up and left for San Diego two days later with about 2800lbs in the bed). He got around 17 coming home mostly empty and has a heavy foot. I know the 4WD is gonna drink some and I haven't even hit 1K yet, but I thought the CAI would help a little more. No complaints though. I need a big HD truck so I have to pay what the SOB oil companies can gauge us for. I drove mine to Atl last week with about 2500lbs in the bed and she rode great although I was hoping for a little better mpg. My brother in law drove her back though so the EVIC maybe skewed a little by him not being used to hearing what a HEMI is supposed to sound like (his Grand Cherokee barely burps). EVIC was showing 13.8 when I got home Sunday and took my daughter to school the next morning. I leave today for Atlanta again, but with a much lighter load so I'll get a better feel and will hand calculate and compare to the EVIC. I love the way the leather seats feel. The seem to be of higher quality than my '08. The ride is also a bit softer in general, and the cab seems a little wider. I used to have my daughter's car seat in the middle of the back seat and she could see the strap on dvd player fine, but with this one she was having to turn too much and I noticed I was reaching further to get her in the middle so I moved the car seat out to the passenger side seat. I really really like the truck, and it sucks I don't have a car guy to talk to about it with my dad having passed before I got her home (VERY quick illness took him at 67).
I do see two engineering flaws that I can't believe they let get by. Why is the blasted camera in the tailgate? It's useless when you drop the gate, which I have to do pretty regularly to back up to a loading dock. Also, why is the interior lighting so weak and why did they remove the extra dome light from the megacab? One more thing and this isn't a flaw but a :WTF:. My FIL's Crew has this nice little hideaway spot beneath the floor mat in the back on the passenger side. Is this an option I some how missed that was maybe in the chrome step package (that and the NAV are the only package differences). I'm not complaining about storage lord knows the MegaCab with Ramboxes has tons just wondering. To quote Billy Bob from Varsity Blue's the truck gets "A TEN A #$&@*$(! TEN" or if you like Joe Pesci and Danny Glover "it's a ten border line leven!". I do still have to get the mud flaps on and may try to squeeze that in before I leave to night to cut down on any rock dings.
Clark you are the man thanks for all your help!