Discussion Starter
·
#1
·
So, I am on my way to the grocery store and I happen to find myself behind a very nice Ram 3500 from Alberta when this almost happened!
(click the pic for the video)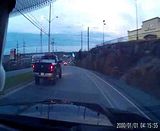 He swerved out of the way of a dim witted lady who was driving in the wrong direction in his lane. The lady was too stunned when she left the parking lot down the hill to realize she had to drive on the right hand side of the median.
Could have been bad for all involved.
When we pulled up to the light side by side, he rolled his window down and thanked me for being aware enough not to run into him. He was as incredulous as I was how the woman was driving.
When I told me wife about it, she mentioned that there was people talking about a drunk lady driving around in the shopping district. Unknown if that was her or not.
Craziness!